Toxic In-Laws: Loving Strategies for Protecting Your Marriage (Paperback)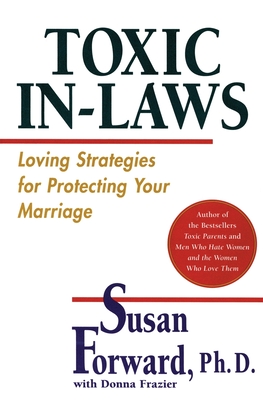 $16.99

Usually Ships in 1-5 Days
Description
---
From Susan Forward, Ph.D., the New York Times bestselling author of Toxic Parents and Men Who Hate Women and the Women Who Love Them, comes a practical and powerful book that will help couples cope with terrible and toxic in-laws.
Toxic in-laws are in-laws who create genuine chaos through various assaults—aggressive or subtle—on you and your marriage. Toxic in-laws come in a wide variety of guises: "The Critics," who tell you what you're doing wrong; "The Controllers," who try to run you and your partner's life; "The Engulfers," who make incessant demands on your time; "The Masters of Chaos," who drain you and your partner with their problems; and "The Rejecters," who let you know they don't want you as part of their family.
Susan Forward draws on real-life voices and stories of both women and men struggling to free themselves from the frustrating, hurtful, and infuriating relationships with their toxic in-laws. Dr. Forward offers highly effective communication and behavioral techniques for getting through to partners who won't or can't stand up to their parents. Next, she lays out accessible and practical ways to reclaim your marriage from your in-laws. She shows you what to say, what to do, and what limits to set. If you follow these strategies, you may not turn toxic in-laws into the in-laws of your dreams, but you will find some peace in your relationship with them.
About the Author
---
Susan Forward, PhD, is an internationally renowned therapist, lecturer, and author. Her books include the number-one New York Times bestsellers Men Who Hate Women and the Women Who Love Them and Toxic Parents. In addition to her private practice, she has served as a therapist, instructor, and consultant in numerous Southern California psychiatric and medical facilities.
Praise For…
---
"A useful challenge to accepted wisdom about the normally taboo subject of mother love, with helpful tips on how to jump-start the healing process." — Kirkus Reviews on Mothers Who Can't Love
"A riveting, compassionate guide to helping women transcend the wounds inflicted by their rejecting or abusive mothers. Forward doesn't dole out unearned forgiveness, but teaches daughters to rise above the violation of the past, claim a healthy view of themselves, and have the courage, vision, and separate sense of self to claim their own lovability and express their love to the next generation of children." — Janis Abrahms Spring, Ph.D., author of How Can I Forgive You? The Courage to Forgive, The Freedom Not To on Mothers Who Can't Love
"Breathe a sigh of relief! Susan Forward helps you identify and correct an intensely destructive and confusing pattern of relating with those you love. I highly recommend this important book!" — Susan Jeffers, Ph.D., author of Feel the Fear and Do It Anyway, on Emotional Blackmail