The Success Principles(TM): How to Get from Where You Are to Where You Want to Be (Hardcover)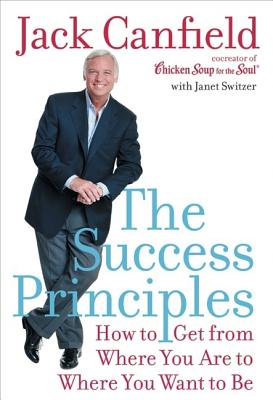 $29.99
Email or call for price.
Description
---
Get ready to transform yourself for success. Jack Canfield, cocreator of the phenomenal bestselling Chicken Soup for the Soul series, turns to the principles he's studied, taught, and lived for more than 30 years in this practical and inspiring guide that will help any aspiring person get from where they are to where they want to be.

The Success Principles is a watershed book and platform for a renewed era of Success-oriented culture, touching on every aspect of our 21st-century lives. As Napoleon Hill's Think and Grow Rich was an innovative and durable touchstone for readers last century, so this book will become the new self-improvement standard for our own. From graduates and teachers to parents and self-starting business aspirants, Canfield offers readers practical help and inspiration for getting from where they are to where they want to be. The book includes:
•Success Basics- Take 100% Responsibility For Your Life; Clarify Your Vision; Decide What You Want; Be Willing to Pay the Price; Stay Focused on Your Core Genius; Unleash the Power of Goal-Setting; Build a Powerful Support Team; Surround Yourself with Successful People; and more.
• Success Thoughts & Attitudes- Acknowledge Your Positive Past; Fuel Your Success with Passion and Enthusiasm; Have an Attitude of Gratitude; Transform Your Inner Critic Into Your Inner Coach; Stay Motivated with the Masters; Transcend Your Limiting Beliefs; and more.
• Success Is a Verb- Take Action; Feel the Fear and Do It Anyway; Use Feedback to Your Advantage; Slow Down to Go Faster; Commit to Never-Ending Improvement; Reject Rejection; Practice Persistence; Practice the Rule of 5; and more.
• Building Successful Relationships- Drop Out of the 'ain't it awful' Club; Practice Uncommon Appreciation; Be Hear Now; Speak with Impeccability; Tell the Truth Faster; Keep Your Agreements; Forgive and Move On; Treat Everyone with Respect; Create Win-Win Solutions; Trust in Trust
• Success & Money- Spread the Wealth Around; Pay Yourself First; Fund Your Future; Master the Spending Game; Give More to Get More; Find a Way to Serve
• Becoming a Success Warrior- Practice Radical Awareness; Maintain the Witness Position; Inquire Within; Become a Spiritual Warrior; Create Reservoirs of Boundless Energy; Make Room for REM; De-Stress for Success
• Success Starts Now- Go For It!; Empower Yourself by Empowering Others
Filled with memorable and inspiring stories of CEO's, world-class athletes, celebrities, and everyday people, The Success Principles will give you the courage and the heart to start living the principles of success today. Go for it!

About the Author
---
Jack Canfield, America's #1 Success Coach, is the cocreator of the Chicken Soup for the Soul® series, which includes forty New York Times bestsellers, and coauthor with Gay Hendricks of You've GOT to Read This Book! An internationally renowned corporate trainer, keynote speaker, and popular radio and TV talk show guest, he lives in Santa Barbara, California.
Janet Switzer is the New York Times bestselling coauthor of The Success Principles with Jack Canfield, co-creator of the phenomenal Chicken Soup for the Soul franchise. She has also developed successful campaigns in media, direct mail, and specialty marketing for many of the most renowned celebrity entrepreneurs in the world.
Praise For…
---
"A guide to how to lift your life to where it can be." — OPRAH WINFREY, Super Soul Sunday
Praise for the first Edition of The Success Principles: "Canfield's principles are simple, but the results you'll achieve will be extraordinary!" — Anthony Robbins, author of Awaken the Giant Within and Unlimited Power
"If you could read only one book this year, you have it in your hands." — Harvey Mackay, author of the New York Times #1 bestseller Swim with the Sharks without Being Eaten Alive
"Great book, great read, great gift for anyone committed to becoming a Master of Life!" — Michael E. Gerber, author of The E-Myth books
"I have personally learned a lot from Jack Canfield and I trust you will too." — John Gray, Ph.., author of Men Are from Mars, Women Are from Venus
". . .an illuminating and easy-to-read book. Jack's teaching is highly effective. . . ." — Ken Blanchard, author of The One Minute Manager(R) and Customer Mania!(R)
". . .the best success classic to come along in decades. . . ." — Les Brown, author of Live Your Dreams and Conversations on Success
". . .a must-read for everyone who is looking to attain new heights in his or her life." — Arielle Ford, author of Hot Chocolate for the Mystical Soul