Fragile Things: Short Fictions and Wonders (Paperback)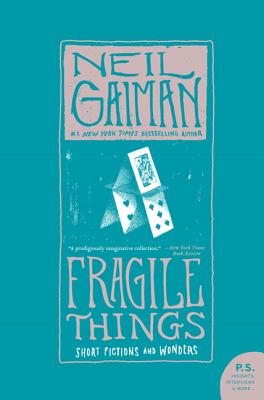 $16.99
Email or call for price.
Description
---
"A prodigiously imaginative collection."
—New York Times Book Review, Editor's Choice
"Dazzling tales from a master of the fantastic."
—Washington Post Book World
Fragile Things is a sterling collection of exceptional tales from Neil Gaiman, multiple award-winning (the Hugo, Bram Stoker, Newberry, and Eisner Awards, to name just a few), #1 New York Times bestselling author of The Graveyard Book, Anansi Boys, Coraline, and the groundbreaking Sandman graphic novel series. A uniquely imaginative creator of wonders whose unique storytelling genius has been acclaimed by a host of literary luminaries from Norman Mailer to Stephen King, Gaiman's astonishing powers are on glorious displays in Fragile Things. Enter and be amazed!
About the Author
---
Neil Gaiman is a #1 New York Times bestselling author of books for children and adults whose award-winning titles include Norse Mythology, American Gods, The Graveyard Book, Good Omens (with Terry Pratchett), Coraline, and The Sandman graphic novels. Neil Gaiman is a Goodwill Ambassador for UNHCR and Professor in the Arts at Bard College.
Praise For…
---
"Dazzling tales from a master of the fantastic."
— Washington Post Book World

"The tales of Fragile Things are nibbles and bits of Gaiman's immensely satisfying inner landscape. They are fiercely playful and very grim, wisps of whimsy and wonder buoyed by the happy heart of a tragic poet."
— USA Today

"Neil Gaiman at his unique best is terrific . . . compelling and dreamy . . . Readers will be reminded most in these stories of that master craftsman yet to be superseded, Ray Bradbury."
— Baltimore Sun

"Think of it as a month with Scheharazade . . . No Gaiman fan can be without [Fragile Things] . . . If you've never encountered Gaiman's unique voice before, this volume is an excellent introduction, with easily digestible stories that can be devoured in one sitting. Still, you may find yourself gorging at this narrative feast, not stopping until you've read two or three or even half a dozen at a time."
— St. Louis Post-Dispatch

"Charming, at times creepy, and good fun. . . . Well-worth adding to any collection; highly recommended."
— Library Journal

"A prodigiously imaginative collection . . . The best of these clever fantasy metafictions explore the mysteries of artistic inspiration."
— New York Times Book Review, Editor's Choice

"Strange, or sweet, or eerie, or heartfelt stories . . . wonderfully peculiar . . . Gaiman relishes the sacred act of telling stories."
— Entertainment Weekly

"A powerful and oddly unified collection, a perfect introduction to Gaiman's work for new readers and a thrilling reminder to his long-time fans . . . [T]he shorter prose form allows Gaiman a greater freedom of whimsy and provocation than even his graphic work, with stunning results."
— Toronto Star

"Those with a taste for inventive idiosyncracy will find themselves fully rewarded."
— San Francisco Chronicle Book Review

"One delight after another."
— Booklist (starred review)

"Lush prose...and a winning faith in the enchantment of stories. Expect the unexpected. Then savor the chills."
— Kirkus Reviews, starred review

"FRAGILE THINGS is a delightful compendium...[Gaiman] is indeed a national treasure."
— Washington Post Book World

"Fiercely playful and very grim, wisps of whimsy and wonder buoyed by the happy heart of a tragic poet."
— USA Today

"Readers will be reminded most in these stories of that master craftsman...Ray Bradbury...Gothic tales of high caliber."
— Baltimore Sun

"A prodigiously imaginative collection...The best of these clever fantasy metafictions explore the mysteries of artistic inspiration."
— New York Times Book Review