The Indifferent Stars Above: The Harrowing Saga of the Donner Party (Paperback)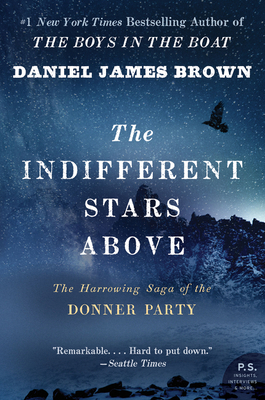 $18.99

Usually Ships in 1-5 Days
Staff Reviews
---
Anyone who has ever been or plans to go to Tahoe needs to read this. Even if you think you already know the story, trust me: you will learn many shocking things!
— Donna
Description
---
From the #1 bestselling author of The Boys in the Boat and Facing the Mountain comes an unforgettable epic of family, tragedy, and survival on the American frontier
"An ideal pairing of talent and material. … Engrossing. … A deft and ambitious storyteller." — Mary Roach, New York Times Book Review
In April of 1846, twenty-one-year-old Sarah Graves, intent on a better future, set out west from Illinois with her new husband, her parents, and eight siblings. Seven months later, after joining a party of pioneers led by George Donner, they reached the Sierra Nevada Mountains as the first heavy snows of the season closed the pass ahead of them. In early December, starving and desperate, Sarah and fourteen others set out for California on snowshoes, and, over the next thirty-two days, endured almost unfathomable hardships and horrors.
In this gripping narrative, New York Times bestselling author Daniel James Brown sheds new light on one of the most legendary events in American history. Following every painful footstep of Sarah's journey with the Donner Party, Brown produces a tale both spellbinding and richly informative.
About the Author
---
Daniel James Brown is the author of The Boys in the Boat and Under a Flaming Sky: The Great Hinckley Firestorm of 1894. He lives in the country east of Redmond, Washington, with his wife and two daughters.
Praise For…
---
"An ideal pairing of talent and material. . . . Engrossing. . . . A deft and endearing storyteller." — Mary Roach, New York Times Book Review
"Remarkable. ... Hard to put down." — Seattle Times
"A compelling retelling of the ghastly events surrounding the Donner party. Daniel James Brown, using one survivor's experience as his focus, moves beyond the cardboard figures depicted in previous accounts and shows how the lucky few endured and survived." — Irvin Molotsky, author of The Flag, The Poet and the Song: The Story of the Star-Spangled Banner
"A skillful, suspenseful study of the Donner Party. ... Brown creates a thorough and unique narrative. A moving man-against-nature tragedy that still resonates today." — Kirkus Reviews
"Daniel James Brown brings the myth to life, transforming faint history class memories into gripping reality. ... Utterly compelling." — BookPage
"[Brown] tells the tale with a novelist's touch." — Boston Globe
"A fresh and intriguing telling . . . . engrossing and appalling in equal measure. Never melodramatic or maudlin, Brown's work gracefully balances graphic depictions of extreme privation with humanizing glimpses of the emigrants' everyday hopes and fears. Brown also skillfully weaves relevant historical, cultural, and scientific information . . . creating a rich and contextualized background." — Library Journal
"In this gripping narrative, Brown reveals the extremes of endurance that underlie the history of this nation, and more than that, of humanity in any part of the world, even today, surviving great peril in search of a better life." — Nina Burleigh