Pineapple Grenade: A Novel (Serge Storms) (Hardcover)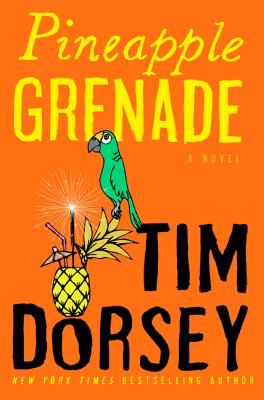 $25.99
Email or call for price.
Description
---
"The undisputed king of the comic crime novel."
—Providence Journal
"I guarantee Dorsey will never win the Nobel Prize for Literature—he's far too funny."
—Richmond Times-Dispatch
"If you've never read Dorsey, you need to start…You won't be disappointed."
—Miami Herald
Gloriously unrepentant Florida serial killer Serge Storms is back—and he's finagled his way into becoming a secret agent in Miami—in another outrageous crime comedy from New York Times bestselling author, Tim Dorsey. In Pineapple Grenade, the incomparable Serge takes up spying for the president of a banana republic, and now Homeland Security wants to bring him down. It's always a wild ride when Dorsey's at the wheel, and with Pineapple Grenade he delivers his most explosively hilarious road trip to date.

About the Author
---
Tim Dorsey was a reporter and editor for the Tampa Tribune from 1987 to 1999, and is the author of twenty-five other novels: Mermaid Confidential, Tropic of Stupid, Naked Came the Florida Man, No Sunscreen for the Dead, Pope of Palm Beach, Clownfish Blues, Coconut Cowboy, Shark Skin Suite, Tiger Shrimp Tango, The Riptide Ultra-Glide, When Elves Attack, Pineapple Grenade, Electric Barracuda, Gator A-Go-Go, Nuclear Jellyfish, Atomic Lobster, Hurricane Punch, The Big Bamboo, Torpedo Juice, Cadillac Beach, The Stingray Shuffle, Triggerfish Twist, Orange Crush, Hammerhead Ranch Motel, and Florida Roadkill. He lives in Florida.
Praise For…
---
"Dorsey fans clamor for Serge. Dexter just can't compete with this guy. For non-stop spy-jinks and neo-crusted cackles, head down to Miami for Tim Dorsey's explosive Pineapple Grenade." — Miami Herald
"Pineapple Grenade is a topsy-turvy, slap-happy romp through Florida." — Sun-Sentinel
"Pineapple Grenade displays Dorsey's talents as a comedian, a Florida historian, a political and social commentator, and a well-seasoned writer." — Gainesville Times
"A "guy" book, a real "man's man" kind of novel. But kind of fun for the ladies to enjoy as well - they kind of give women an insight into the weird, wonderful way a man's mind works when the boys are let loose with their toys." — Ventura County Star
"A blast… side-splitting satire." — Richmond Times-Dispatch
"Bestseller Dorsey dishes up his Miami mayhem with a side order of mordant wit … neither Dorsey's fast-paced prose nor his delight in skewering human foolishness has lost its mischievous sparkle." — Publishers Weekly
"Hilarious" — Oklahoma City Oklahoman
"A successful blend of high stakes thriller action a la Miami Vice with laid back beachcombing style." — Denver Examiner
"Up a notch … Dorsey's 15th pits Serge against what may be the only folks as dysfunctional as he is: members of the international intelligence community." — Kirkus Reviews
"Bestseller Dorsey dishes up his Miami mayhem with a side order of mordant wit … neither Dorsey's fast-paced prose nor his delight in skewering human foolishness has lost its mischievous sparkle." — Go386.com
"A rollicking ride" — All Good Things and More