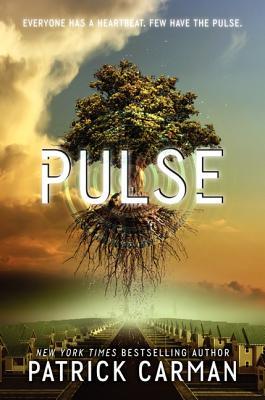 $17.99
Email or call for price.
Other Books in Series
This is book number 1 in the Pulse series.
Spring '13 Kids List
---
"Pulse is a brilliant combination of thriller, mystery, and dystopian adventure. Set 30 years in the future in a world of amazing technology, dwindling energy, and imminent environmental disaster, this is a story of an independent teenager whose life is turned upside down when she discovers she can move objects with her mind. Can she master her new abilities in time to save herself and her friends from those who would hurt them? A fantastic beginning to a mind-bending new series that will leave readers eagerly waiting for the next book."
— Peter Glassman, Books of Wonder, New York, NY
Description
---
Fans of action-packed sci-fi thrillers such as I Am Number Four and The Maze Runner will love bestselling author Patrick Carman's Pulse, with its epic action scenes and memorable love story.
In the year 2051, who has the power called a pulse?
With the help of her mysterious classmate Dylan Gilmore, Faith Daniels discovers that she can move objects with her mind. This telekinetic ability is called a "pulse," and Dylan has the talent, too.
In riveting action scenes, Faith demonstrates her ability to use her pulse against a group of telekinesis masters so powerful they will flatten their enemies by uprooting streetlights, throwing boulders, and changing the course of a hurtling hammer so that it becomes a deadly weapon. But in order to save the world, Faith will have to harness not only the power of her mind, but the power of her heart, too.
The first in a stunning trilogy, Pulse is a triumph about the power of the mind—and of love.
About the Author
---
Patrick Carman is the New York Times bestselling author of over thirty books, including the acclaimed series the Land of Elyon and Floors and the teen superhero novel Thirteen Days to Midnight. A multimedia pioneer, Patrick authored The Black Circle, the fifth title in the 39 Clues series, and the Dark Eden, Skeleton Creek, Trackers, Fizzopolis, and Voyagers series. An enthusiastic reading advocate, Patrick has visited more than a thousand schools, developed village library projects in Central America, and created author outreach programs for communities. He lives in Walla Walla, Washington, with his family. You can visit him online at www.patrickcarman.com.
Praise For…
---
"The successful mix of suspense and romance combines with unexpected twists to keep readers engrossed from the start and begging for more." — Kirkus Reviews
"[An] impressive take on the postapocalyptic novel." — Publishers Weekly
"Compelling and original, with pulse-pounding action and a poignant love story." — Pittacus Lore, #1 NY Times bestselling author of I Am Number Four
"Engrossing and suspense-filled." — School Library Journal