Two Awesome Hours: Science-Based Strategies to Harness Your Best Time and Get Your Most Important Work Done (Paperback)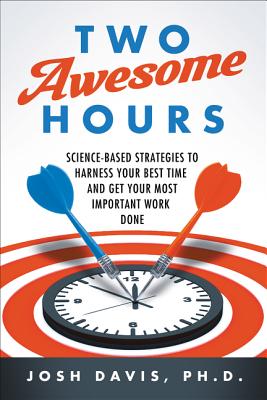 $16.99

Usually Ships in 1-5 Days
Description
---
International Bestseller
Feeling overwhelmed with work and life demands? Rushing, multitasking, or relying on fancy devices and apps won't help. The answer is to create the conditions for two awesome hours of peak productivity per day.
Drawing on cutting-edge neuroscience, Josh Davis, director of research at the NeuroLeadership Institute explains clearly that our brains and bodies operate according to complex biological needs that, when leveraged intelligently, can make us incredibly effective. From what and when we eat, to when we tackle tasks or disengage—how we plan our activities has a huge impact on performance. Davis shows us how we can create the conditions for two awesome hours of effective mental performance by:
Recognizing when to effective flip the switch on our automatic thinking;
Scheduling tasks based on their "processing demand" and recovery time;
Learning how to direct attention, rather than avoid distractions;
Feeding and moving our bodies in ways that prep us for success;
Identifying what matters in our environment to be at the top of our mental game.
We are capable of impressive feats of comprehension, motivation, thinking, and performance when our brain and biological systems are functioning optimally. Two Awesome Hours will show you how to be your most productive every day.
About the Author
---
Josh Davis, Ph.D., is the director of research and lead professor at the NeuroLeadership Institute, a global institute dedicated to synthesizing scientific research and guiding its use in the business and leadership domains. He has taught at Columbia University, New York University, and Barnard College of Columbia University. He has written for HBR.org, strategy + business, Psychology Today, and People & Strategy. He lives in New York City.
Praise For…
---
"Most of the 'personal productivity' advice out there—and there is plenty of it—seems designed to make the hamster run a little faster in the wheel…You are NOT a hamster. Two Awesome Hours will show you how to stop working like one." — Heidi Grant Halvorson, Ph.D., Associate Director of the Motivation Science Center at Columbia Business School, and author of the national bestseller Nine Things Successful People Do Differently
"Exceedingly interesting and exceptionally practical. Davis offers suggestions that are straightforward, easy to apply, and immediately useful. I spent two awesome hours reading this book last night and it changed the way I'm working today." — Peter Bregman, bestselling author of 18 Minutes and Four Seconds
"Josh Davis has proposed a counter-intuitive solution to a problem plaguing us all: We can't get everything done—not even close—anymore. So maybe we should stop trying. And instead follow the research on how to have a few hours of breakthrough productivity, just on the things that truly matter." — David Rock, Director of the NeuroLeadership Institute and author of Your Brain at Work
"Josh Davis shows us that trying to emulate a computer's efficiency to manage our time is a lost cause. His approachable and enjoyable writing style brings behavioral science to life, pointing out the moments that really can make a difference in a productive work day, and…a more satisfying downtime." — R. Michael Hendrix, Partner, IDEO