The Child Finder: A Novel (Hardcover)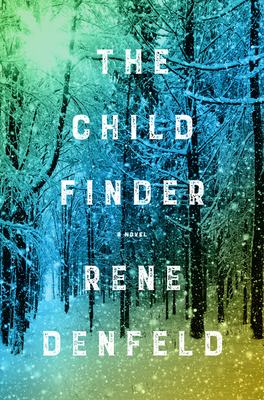 $25.99

Usually Ships in 1-5 Days
Staff Reviews
---
Part mystery, part fairy tale, part thriller. You fear for "Showgirl" and her wounded finder Naomi until the very end!
— Samantha
September 2017 Indie Next List
---
"In Rene Denfeld's new novel, a woman who searches for abducted or lost children must confront her own memoires of being abducted as a young girl. While searching for a girl recently kidnapped in her hometown, she is haunted by her past and the lies that she used to weave her present, lies that often took the form of stories. Meanwhile, the abducted girl must survive years of terror and heartbreak, all while constructing a magical mythology to shield herself from the atrocities of her captor. These characters, especially the women, are strong and imaginative. Readers who enjoyed Room will devour this literary thriller, which promises to open up Denfeld's readership to a much wider level."
— William Carl (E), Wellesley Books, Wellesley, MA
Description
---
"Aptly unclassifiable, Denfeld's compulsively readable second novel calls on elements of horror, mystery, fairy tales, and even romance to explore legacies of violence and the resilience of the most vulnerable among us." — Booklist
A haunting, richly atmospheric, and deeply suspenseful novel from the acclaimed author of The Enchanted about an investigator who must use her unique insights to find a missing little girl.
Three years ago, Madison Culver disappeared when her family was choosing a Christmas tree in Oregon's Skookum National Forest. She would be eight-years-old now—if she has survived. Desperate to find their beloved daughter, certain someone took her, the Culvers turn to Naomi, a private investigator with an uncanny talent for locating the lost and missing. Known to the police and a select group of parents as "the Child Finder," Naomi is their last hope.
Naomi's methodical search takes her deep into the icy, mysterious forest in the Pacific Northwest, and into her own fragmented past. She understands children like Madison because once upon a time, she was a lost girl, too.
As Naomi relentlessly pursues and slowly uncovers the truth behind Madison's disappearance, shards of a dark dream pierce the defenses that have protected her, reminding her of a terrible loss she feels but cannot remember. If she finds Madison, will Naomi ultimately unlock the secrets of her own life?
Told in the alternating voices of Naomi and a deeply imaginative child, The Child Finder is a breathtaking, exquisitely rendered literary page-turner about redemption, the line between reality and memories and dreams, and the human capacity to survive.
About the Author
---
Rene Denfeld is an internationally bestselling author, licensed investigator, and foster mother. She is the author of the novels The Butterfly Girl, The Child Finder and The Enchanted. Her novels have won numerous awards including a French Prix, and The New York Times named her a 2017 hero of the year for her justice work. She lives in Portland, Oregon.
Praise For…
---
"It's 'Deliverance' encased in ice… Denfeld's novel is indeed loaded with suspense, its resonance comes from its surprising tilt towards storytelling restraint, a rarity in this typical crackling genre. Elegiac, informative and disquieting… The novel gallops to a suitably heart-racing finish." — New York Times Book Review
"In the necessary and uncomfortable places where Rene Denfeld locates her haunting fiction, the lines between victim and perpetrator can be painfully blurry…. Giving voice to those who are metaphorically or even literally voiceless, Rene Denfeld reminds us that consequences continue, aftermath continues — yet we must somehow find ways of holding on to threads of hard-won hope." — Elizabeth Rosner, San Francisco Chronicle
"At times haunting, at times devastating.... Captivating read." — Bustle
"A chillingly good read that will stay with you long after you close the book." — BookPage
"Gut-wrenching, its compassion goes a long way toward healing readers' aching hearts." — Shelf Awareness
"It's stunning. From the first page... we are in a strange, forbidding territory.... I couldn't put this book down." — The Globe and Mail
"A hauntingly beautiful, chilling novel by a real-life badass heroine… Denfeld brings [her protagonist] to life with precise, lyrical prose. While the whole book reads like a fairytale for adults, Naomi herself is fully realized and deeply human." — CrimeReads
"A glittering gem of a story—part mystery, part fairy tale, and all white-knuckled, edge-of-your-seat thriller… readers will be drawn in by Denfeld's lyrical prose and undone by the brutal reality that Naomi uncovers, just beneath the snowy forest floor." — Library Journal, starred review
"Aptly unclassifiable, Denfeld's compulsively readable second novel calls on elements of horror, mystery, fairy tales, and even romance to explore legacies of violence and the resilience of the most vulnerable among us." — Booklist
"Intense.... Innovative... Heartbreaking, surprising.... The conclusion will leave readers breathless." — Publishers Weekly
"A darkly luminous story of resilience and the deeply human instinct for survival, for love. Blending the magical thinking of childhood, of fairy tales, dreams, memories and nightmares, The Child Finder is a terrifying and ultimately uplifting novel that demands to be consumed and then once inside you–lingers." — A.M. Homes, author of May We Be Forgiven
"Rene Denfeld has a gift for shining bright light in dark places. The Child Finder is a gorgeous, haunting gem of a novel. Raw and real yet wrapped in a fairy tale, as lovely and as chilling as the snow." — Erin Morgenstern, New York Times bestselling author of The Night Circus
"Rene Denfeld's novel The Child Finder renders atrocity with depth and heart—a compassion made even more credible by her career as an investigator in death-penalty cases... The Child Finder's moral lesson is not new—that hope and humanity can be found in even the darkest places. But the extent to which Denfeld practices that belief is deeply touching, if not even remarkable." — Willamette Week