The Summer Wives: A Novel (Paperback)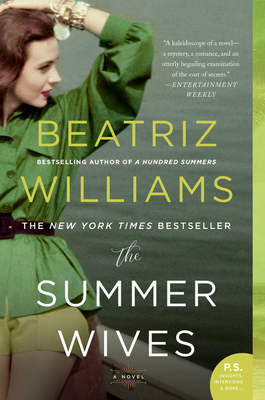 $19.99

Usually Ships in 1-5 Days
Staff Reviews
---
"Electrifying postwar fable of love, class, power and redemption" spanning two decades of the lives of two very different families and the tragic consequences of thoughtless entitlement.
— Samantha
Summer 2019 Reading Group Indie Next List
---
"The Summer Wives is a sweeping story that spans several decades and details the lives of members of an island community where old money rules and the locals and summer families are not supposed to mix—but they do anyway. This is a story of secrets, power, loss, and love, with a bit of Shakespeare to round things out. I was engaged from page one and found myself reading both the print edition and listening to an audio edition in my car so I could spend every possible moment with the characters and their stories. Even the minor characters had depth beyond what I expected."
— Myrna Mibus, Content Bookstore, Northfield, MN
Description
---
"The Summer Wives is an exquisitely rendered novel that tackles two of my favorite topics: love and money. The glorious setting and drama are enriched by Williams's signature vintage touch. It's at the top of my picks for the beach this summer."
—Elin Hilderbrand, author of The Perfect Couple
New York Times bestselling author Beatriz Williams brings us the blockbuster novel of the season—an electrifying postwar fable of love, class, power, and redemption set among the inhabitants of an island off the New England coast . . .
In the summer of 1951, Miranda Schuyler arrives on elite, secretive Winthrop Island as a schoolgirl from the margins of high society, still reeling from the loss of her father in the Second World War. When her beautiful mother marries Hugh Fisher, whose summer house on Winthrop overlooks the famous lighthouse, Miranda's catapulted into a heady new world of pedigrees and cocktails, status and swimming pools. Isobel Fisher, Miranda's new stepsister—all long legs and world-weary bravado, engaged to a wealthy Island scion—is eager to draw Miranda into the arcane customs of Winthrop society.
But beneath the island's patrician surface, there are really two clans: the summer families with their steadfast ways and quiet obsessions, and the working class of Portuguese fishermen and domestic workers who earn their living on the water and in the laundries of the summer houses. Uneasy among Isobel's privileged friends, Miranda finds herself drawn to Joseph Vargas, whose father keeps the lighthouse with his mysterious wife. In summer, Joseph helps his father in the lobster boats, but in the autumn he returns to Brown University, where he's determined to make something of himself. Since childhood, Joseph's enjoyed an intense, complex friendship with Isobel Fisher, and as the summer winds to its end, Miranda's caught in a catastrophe that will shatter Winthrop's hard-won tranquility and banish Miranda from the island for nearly two decades.
Now, in the landmark summer of 1969, Miranda returns at last, as a renowned Shakespearean actress hiding a terrible heartbreak. On its surface, the Island remains the same—determined to keep the outside world from its shores, fiercely loyal to those who belong. But the formerly powerful Fisher family is a shadow of itself, and Joseph Vargas has recently escaped the prison where he was incarcerated for the murder of Miranda's stepfather eighteen years earlier. What's more, Miranda herself is no longer a naïve teenager, and she begins a fierce, inexorable quest for justice for the man she once loved . . . even if it means uncovering every last one of the secrets that bind together the families of Winthrop Island.
About the Author
---
Beatriz Williams is the bestselling author of thirteen novels, including Her Last Flight, The Summer Wives, and The Golden Hour, as well as All the Ways We Said Goodbye, cowritten with Lauren Willig and Karen White. A native of Seattle, she graduated from Stanford University and earned an MBA in finance from Columbia University. She lives with her husband and four children near the Connecticut shore, where she divides her time between writing and laundry.
Praise For…
---
"The Summer Wives is an exquisitely rendered novel that tackles two of my favorite topics: love and money. The glorious setting and drama are enriched by Williams's signature vintage touch. It's at the top of my picks for the beach this summer." — Elin Hilderbrand, author of The Perfect Couple
"Longtime Williams fans, readers of historical fiction and mysteries, and anyone seeking engaging plot twists will find satisfaction in these pages." — Booklist
"With just the right touch of bitters, Williams mixes a satisfyingly tempestuous—and eminently beachworthy—[follow-up] to her beloved Schuyler Sisters series." — Kirkus (starred review)
"[A] satisfying simmer of a read." — USA Today
"Another hot book for summer from the prolific Williams... A romantic, multilayered tale." — Philadelphia Inquirer
"Engrossing and gripping, you will finish this book in one sitting." — St. Louis Post Dispatch
"The Summer Wives is a compulsively readable story that will make you swear you can smell the salt air." — Popsugar
"This book is what the term "beach read" was made for." — Buzzfeed
"Romance, class issues, dark secrets, and murder—it's all here in this deliciously rich novel." — Bustle
"Williams has crafted a kaleidoscope of a novel – a mystery, a romance, and an utterly beguiling examination of the cost of secrets . . . The Summer Wives is a startling portrait of the courage it requires to make your own second chances." — Entertainment Weekly
"The Summer Wives by Beatriz Williams will give you the full order. It takes place on an exclusive island off Long Island Sound. Think: cocktails, sailing, croquet. A woman who visits as a teen falls in love with a local...who is later accused of murdering her stepfather. Intrigue, served."   — SKIMM Reads