Horse Meets Dog (Hardcover)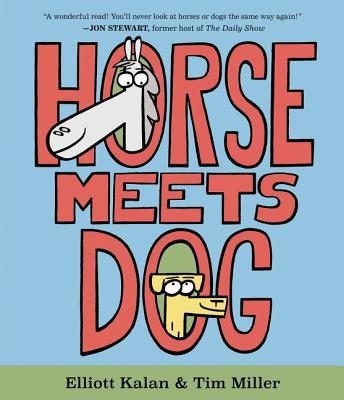 $17.99
Usually Ships in 1-5 Days
Staff Reviews
---
In the style of ELEPHANT AND PIGGY, this story has an important message about recognizing and celebrating our differences. I liked it so much that we are inviting the author to speak to our kindergarten and first graders!
— Joci Kelleher
Description
---
"A wonderful read! You'll never look at horses or dogs the same way again!" —Jon Stewart, former host of The Daily Show
Horse is just an oversize dog with funny paws…according to Dog. And Dog? Just a tiny baby horse with a weird tail. That's what Horse thinks, anyway.
Television comedy writer Elliott Kalan and acclaimed illustrator Tim Miller team up in this clever comedy of mistaken species identity.
More praise for Horse Meets Dog:
"Horse meets Dog! Kalan meets Miller! Two great teams—one SO-DARN-FUNNY book! Go get it!" —Laurie Keller
"Horse Meets Dog is a sweet, wise, and genuinely ha-ha funny exploration of not just horse/dog relations (historically strained), but also of friendship and difference." —John Hodgman, author of Vacationland
About the Author
---
Elliott Kalan has written for for teeny toes (No! TV shows!) like Mystery Science Theater 3000, The Who Was? Show, and The Daily Show with Jon Stewart, as well as atomic cooks (No, Hippo! Comic books!) like Spider-Man and the X-Men. He is the author of Horse Eats Frog (Hippo, it's Horse Meets Dog!). He lives with his wife and two sons in Gross Angeles (HIPPO!).
Tim Miller is the author-illustrator of Moo Moo in a Tutu and What's Cooking, Moo Moo? and the illustrator of the picture books Snappsy the Alligator (Did Not Ask to Be in This Book!), Snappsy the Alligator and His Best Friend Forever! (Probably), and Margarash as well as the middle grade series Hamstersaurus Rex. Raised on a farm with cows (not horses) in Washington State, he now lives a more urban life in New Jersey with his wife and their cats (not dogs). You can visit Tim online at www.timmillerillustration.com.
Praise For…
---
"A wonderful read! You'll never look at horses or dogs the same way again!"
— Jon Stewart

"Horse Meets Dog is a sweet, wise, and genuinely ha-ha funny exploration of not just horse/dog relations (historically strained), but also of friendship and difference." 
— John Hodgman

"Horse meets Dog! Kalan meets Miller! Two great teams – one SO-DARN-FUNNY book! Go get it!"
— Laurie Keller

"A terrific picture book debut, moving the wonderfully narcissistic dialogue along quickly as these two huge—and hugely mistaken—egos battle it out."
— Publishers Weekly (starred review)
Upcoming Events
October 20, 2020 - 7:00pm

November 10, 2020 - 7:00pm

November 24, 2020 - 7:00pm