The Lost and Found Bookshop: A Novel (Hardcover)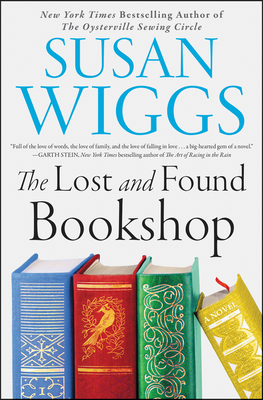 $27.99

Usually Ships in 1-5 Days
Staff Reviews
---
I really loved THE LOST AND FOUND BOOKSHOP by Susan Wiggs!
It resonated with me on several levels!
1. Natalie inherits the book store after her mother dies unexpectedly. I inherited GGP fifteen years ago when my friend Debi Echlin died unexpectedly.
2. She moved down from Sonoma and so did I.
3. And like Natalie, I discovered the book store was everything I never knew I wanted and, or, fundamentally needed.
4. She discovered the book store really belonged to the community, she was lucky enough to get to be it's steward-I've learned the same lesson!
5. She also discovers in order to have an awesome book store you need to surround yourself with the best staff, which I can say I'm lucky to have the BEST staff!
Throw in financial challenges, a few good men, a long lost book and a store full of hand sellers and you have the perfect summer read!
— Kathleen
July 2020 Indie Next List
---
"This is an absolutely splendid novel that spoke volumes to me. You have a girl who experiences a tragedy that leads to a better life, despite issues and hardship along the way, and a guy right in front of her who is perfect for her though she assumes he is not. I highlighted so many passages in this book to savor and remember. This is a perfect story for bookstore lovers and lovers of books."
— Patty Reed, Ferguson Books & More, Grand Forks, ND
Description
---
"A wonderful exploration of the past and the future and, most importantly, of what it means to be present in the here and now.  Full of the love of words, the love of family, and the love of falling in love, The Lost and Found Bookshop is a big-hearted gem of a novel that will satisfy and entertain readers from all walks of life.  Lovely!"—Garth Stein, New York Times bestselling author of The Art of Racing In The Rain
In this thought-provoking, wise and emotionally rich novel, New York Times bestselling author Susan Wiggs explores the meaning of happiness, trust, and faith in oneself as she asks  the question, "If you had to start over, what would you do and who would you be?" 

There is a book for everything . . . 
Somewhere in the vast Library of the Universe, as Natalie thought of it, there was a book that embodied exactly the things she was worrying about.
In the wake of a shocking tragedy, Natalie Harper inherits her mother's charming but financially strapped bookshop in San Francisco. She also becomes caretaker for her ailing grandfather Andrew, her only living relative—not counting her scoundrel father.
But the gruff, deeply kind Andrew has begun displaying signs of decline. Natalie thinks it's best to move him to an assisted living facility to ensure the care he needs. To pay for it, she plans to close the bookstore and sell the derelict but valuable building on historic Perdita Street, which is in need of constant fixing. There's only one problem–Grandpa Andrew owns the building and refuses to sell. Natalie adores her grandfather; she'll do whatever it takes to make his final years happy. Besides, she loves the store and its books provide welcome solace for her overwhelming grief.
After she moves into the small studio apartment above the shop, Natalie carries out her grandfather's request and hires contractor Peach Gallagher to do the necessary and ongoing repairs. His young daughter, Dorothy, also becomes a regular at the store, and she and Natalie begin reading together while Peach works.
To Natalie's surprise, her sorrow begins to dissipate as her life becomes an unexpected journey of new connections, discoveries and revelations, from unearthing artifacts hidden in the bookshop's walls, to discovering the truth about her family, her future, and her own heart.
About the Author
---
Susan Wiggs's life is all about family, friends…and fiction. She lives at the water's edge on an island in Puget Sound, and in good weather, she commutes to her writers' group in a 21-foot motorboat. She's been featured in the national media, including NPR, PRI, and USA Today, has given programs for the US Embassies in Buenos Aires and Montevideo, and is a popular speaker locally, nationally, internationally, and on the high seas.
From the very start, her writings have illuminated the everyday dramas of ordinary people facing extraordinary circumstances. Her books celebrate the power of love, the timeless bonds of family and the fascinating nuances of human nature. Today, she is an international best-selling, award-winning author, with millions of copies of her books in print in numerous countries and languages. According to Publishers Weekly, Wiggs writes with "refreshingly honest emotion," and the Salem Statesman Journal adds that she is "one of our best observers of stories of the heart [who] knows how to capture emotion on virtually every page of every book." Booklist characterizes her books as "real and true and unforgettable."
Her novels have appeared in the #1 spot on the New York Times Bestseller List, and have captured readers' hearts around the globe with translations into more than 20 languages and 30 countries. She is a three-time winner of the RITA Award,. Her recent novel, The Apple Orchard, is currently being made into a film, and The Lakeshore Chronicles has been optioned for adaptation into a series.
The author is a former teacher, a Harvard graduate, an avid hiker, an amateur photographer, a good skier and terrible golfer, yet her favorite form of exercise is curling up with a good book. She lives on an island in Puget Sound, where she divides her time between sleeping and waking.
Praise For…
---
"An unputdownable, true book lover's book that fans of women's fiction, slow-burning romance, and the novels of Nora Roberts and Kristin Hannah will love." — Library Journal (starred review)
"A wonderful exploration of the past and the future and, most importantly, of what it means to be present in the here and now.  Full of the love of words, the love of family, and the love of falling in love, The Lost and Found Bookshop is a big-hearted gem of a novel that will satisfy and entertain readers from all walks of life.  Lovely!" — Garth Stein, New York Times bestselling author of The Art of Racing In The Rain
"What a warm and deeply satisfying story! Reading it is like feeling the summer sun after a long winter."
— Erica Bauermeister, New York Times bestselling author of The Scent Keeper
"A gentle love story perfect for anyone looking for love amid personal, family, and financial crises." — Kirkus Reviews
"A feel-good family saga… A charming tale about the silver linings of unwanted detours." — People
"The Lost and Found Bookshop is an excellent story that resonates on multiple levels. Its rich variety of engaging characters live within a vivid San Francisco tapestry. The characters drive the outstanding plot, with intriguing historical mystery elements layered into the contemporary story." — Shelf Awareness