Those Kids from Fawn Creek (Hardcover)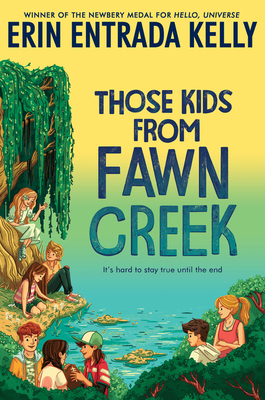 $19.99

Usually Ships in 1-5 Days
Staff Reviews
---
Nothing creates a buzz like a new kid in town--especially a new kid in a tiny town. The twelve seventh graders of Fawn Creek, Louisiana have never met anyone like Orchid Mason. When she breezes in to their classroom, with tales of New York and Paris on her tongue, and a flower tucked behind her ear nobody knows what to make of her. As the power balance in the class shifts, Orchid's fellow students discover things they did not know about themselves, each other, or for that matter, Orchid. 
Erin Entrada Kelly gives every character their due in this marvelous middle-grade book about the power of truth, kindness, actions, and what it is to be your authentic self. 
— Sarah
March/April 2022 Kids Indie Next List
---
"Erin Entrada Kelly introduces a strong cast of middle schoolers trying to figure out who they are as individuals and as a group. You will miss Orchid Mason as soon as you read the last page. This book belongs in every middle grade classroom."
— Laurie Higgins, Blue Bunny Books and Toys, Dedham, MA
Description
---
"A powerful and thought-provoking story."—Shelf Awareness (starred review)
"An emotionally resonant story about authenticity and belonging."—Kirkus Reviews (starred review)
"A raw, real exploration of belonging that's also sweetly hopeful."—Publishers Weekly (starred review)
Every day in Fawn Creek, Louisiana, is exactly the same—until Orchid Mason arrives. From Erin Entrada Kelly, the winner of the Newbery Medal for Hello, Universe and a Newbery Honor for We Dream of Space, this contemporary school story set in small-town Louisiana is about friendship, family, deception, and being true to yourself and your dreams.
There are twelve kids in the seventh grade at Fawn Creek Middle School. They've been together all their lives. And in this small factory town where everyone knows everything about everyone, that's not necessarily a great thing.
There are thirteen desks in the seventh-grade classroom. That's because Renni Dean's father got a promotion, and the family moved to Grand Saintlodge, the nearest big town. Renni's desk is empty, but Renni still knows their secrets; is still pulling their strings.
When Orchid Mason arrives and slips gracefully into Renni's chair, the other seventh graders don't know what to think. Orchid—who was born in New York City but just moved to Fawn Creek from Paris—seems to float. Her dress skims the floor. She's wearing a flower behind her ear. 
Fawn Creek Middle might be small, but it has its tightly knit groups—the self-proclaimed "God Squad," the jocks, the outsiders—just like anyplace else. Who will claim Orchid Mason? Who will save Orchid Mason? Or will Orchid Mason save them?
Newbery Medal and Newbery Honor winner Erin Entrada Kelly explores complex themes centered on family, friendships, and staying true to yourself. Those Kids from Fawn Creek will enchant fans of Rebecca Stead, Jerry Spinelli, and Kate DiCamillo.
About the Author
---
Erin Entrada Kelly was awarded the Newbery Medal for Hello, Universe and a Newbery Honor for We Dream of Space. She grew up in Lake Charles, Louisiana, and now lives in Delaware. She is a professor of children's literature in the graduate fiction and publishing programs at Rosemont College, where she earned her MFA, and is on the faculty at Hamline University. Her short fiction has been nominated for the Philippines Free Press Literary Award for Short Fiction and the Pushcart Prize. Before becoming a children's author, Erin worked as a journalist and magazine editor and received numerous awards for community service journalism, feature writing, and editing from the Louisiana Press Association and the Associated Press.
Erin Entrada Kelly's debut novel, Blackbird Fly, was a Kirkus Best Book, a School Library Journal Best Book, an ALSC Notable Book, and an Asian/Pacific American Literature Honor Book. She is also the author of The Land of Forgotten Girls, winner of the Asian/Pacific American Award for Literature; You Go First, a Spring 2018 Indie Next Pick; Lalani of the Distant Sea, an Indie Next Pick; Those Kids from Fawn Creek, named to numerous best-of-the-year lists; and three acclaimed novels for younger readers, Maybe Maybe Marisol Rainey, Surely Surely Marisol Rainey, and Only Only Marisol Rainey, which she also illustrated. She lives in Delaware.
Praise For…
---
"'A stranger comes to town and changes everything' is likely a story first told by cave dwellers. In Those Kids From Fawn Creek, Erin Entrada Kelly makes this trope feel brand-new by the sheer power of her narrative voice. Her trick is straightforward prose. She is deceptive in her simplicity. And she is working at the top of the middle grade children's literature game. . . . Her narrative unfolds slowly in chapters that alternate between different kids' perspectives. . . . [Kelly] asks us to consider not just how we see ourselves, but also how we treat one another."
— New York Times Book Review
"Small-town life for the twelve seventh graders of Fawn Creek, Louisiana, gets turned upside down . . . when new student Orchid Mason arrives . . . Kelly has created a strong ensemble cast of students . . . with realistic problems rooted in family life, friendship, and school. Having grown up pigeonholed into expected roles, how can they fit in while following their own passions? . . . An emotionally resonant story about authenticity and belonging." — Kirkus Reviews (starred review)
"In this uplifting small-town novel about friendship and identity, Newbery winner Entrada Kelly realistically captures the complex hierarchies of middle school. . . . Told by alternating narrators who each confess to feeling confined by unrealistic expectations and preconceived roles, this contemporary novel, timely in themes of self-acceptance and bullying, builds on the experiences of the author's childhood to create a raw, real exploration of belonging that's also sweetly hopeful." — Publishers Weekly (starred review)
"Fawn Creek, Louisiana, is such a small town that there are only twelve students in seventh grade. . . . These dynamics are shaken up, however, with the arrival of Orchid. . . . Kelly does a brilliant job . . . . Carefully constructed protective public shields fall away as the various characters pop into fully realized 3-D and realign themselves with family and friends. . . . Orchid is the . . . a borderline magical character who appears in town and effects startling change. The novel's hopeful denouement is entirely earned." — Horn Book (starred review)
"Fawn Creek . . . is a tiny, tight-knit company town in Louisiana. The seventh graders . . . have their cliques and are used to living within those confines. . . . Then, in floats Orchid Mason . . . She voices unasked questions, offers different perspectives, and refuses to be pigeonholed. . . . Newbery medalist Kelly has captured the middle-school mindset, with its attendant anxieties, dreams, and hopes. . . . Another gem in the crown of Erin Entrada Kelly." — Booklist (starred review)
"An outsider inspires twelve kids from a sleepy Louisiana town to see their inner strengths and share their best with each other in Erin Entrada Kelly's heartfelt and inspirational Those Kids from Fawn Creek. . . . Newbery Award-winner Kelly delivers another poignant and pitch-perfect middle-grade novel and lays bare quiet truths and universal childhood experiences with tremendous emotional resonance. . . . This powerful and thought-provoking story champions acceptance and serves as a bittersweet reminder to see the beauty in oneself as well as others." — Shelf Awareness (starred review)
"Fawn Creek, LA, isn't the kind of town where much changes, so the seventh grade students are instantly intrigued when Orchid arrives. . . . Kelly shakes up the idealized small-town story trope by showing the realities of life in a small, poor town, and the limitations the characters face as they worry that they might never see what else the world has to offer. . . . A well-told, relatable novel about misfits and outsiders that will ring true with middle grade readers." — School Library Journal