Written in the Stars: A Novel (Paperback)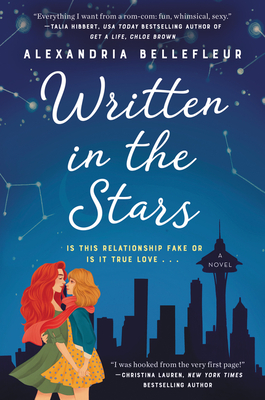 $18.99

Usually Ships in 1-5 Days
Staff Reviews
---
Take two opposites: Elle, a bright, optimistic social media astrologer and Darcy, a cynical, no-nonsense insurance actuary. Elle is avidly looking for her soulmate, while Darcy, who has been badly burned by love, doesn't know if she believes in soulmates anymore. Add a disastrous first date, a meddling brother, a disapproving family dynamic, and a fake dating plot. And what do you have? All the makings of a really amusing love story. This is my favorite of the series, an easy delightful read!
— Zinna
November 2020 Indie Next List
---
"This fake-dating, opposites-attract romance is simply perfect. A social media astrologer is set up with her new business partner's actuary sister. While the date goes terribly, how helpful it would be for both of them to have a date for certain upcoming events. The two leads are wonderful, flawed women with their own baggage and hang-ups (hello, family drama!), and it's a joy to watch them fall in love with each other in spite of everything."
— Lexi Beach, The Astoria Bookshop, Astoria, NY
Description
---
"I was hooked from the very first page!" – Christina Lauren, New York Times bestselling author of In a Holidaze
"This book is a delight." – New York Times Book Review
A National Bestseller and winner of the Lambda Literary Award for Best Lesbian Romance! Featured on Shondaland, Oprah Mag, Bustle, The New York Times Book Review, Buzzfeed, POPSUGAR, Entertainment Weekly, Washington Post, NPR, Culturess, Vulture, and more. Named one of the Best Romances of 2020 by Washington Post, Bustle, and Buzzfeed!
With nods to Bridget Jones and Pride & Prejudice, this debut is a delightful queer rom-com about a free-spirited social media astrologer who agrees to fake a relationship with a grumpy actuary until New Year's Eve—with results not even the stars could predict!
After a disastrous blind date, Darcy Lowell is desperate to stop her well-meaning brother from playing matchmaker ever again. Love—and the inevitable heartbreak—is the last thing she wants. So she fibs and says her latest set up was a success. Darcy doesn't expect her lie to bite her in the ass.
Elle Jones, one of the astrologers behind the popular Twitter account Oh My Stars, dreams of finding her soul mate. But she knows it is most assuredly not Darcy... a no-nonsense stick-in-the-mud, who is way too analytical, punctual, and skeptical for someone as free-spirited as Elle. When Darcy's brother—and Elle's new business partner—expresses how happy he is that they hit it off, Elle is baffled. Was Darcy on the same date? Because... awkward.
Darcy begs Elle to play along and she agrees to pretend they're dating. But with a few conditions: Darcy must help Elle navigate her own overbearing family during the holidays and their arrangement expires on New Year's Eve. The last thing they expect is to develop real feelings during a faux relationship. But maybe opposites can attract when true love is written in the stars?
"Everything I want from a rom-com: fun, whimsical, sexy." – Talia Hibbert, USA Today bestselling author of Get a Life, Chloe Brown
About the Author
---
Alexandria Bellefleur is a bestselling and award-winning author of swoony contemporary romance often featuring loveable grumps and the sunshine characters who bring them to their knees. A Pacific Northwesterner at heart, Alexandria has a weakness for good coffee, Pike IPA, and Voodoo Doughnuts. Her special skills include finding the best Pad Thai in every city she visits, remembering faces but not names, falling asleep in movie theaters, and keeping cool while reading smutty books in public. Her debut novel, Written in the Stars, was a 2021 Lambda Literary Award winner and a 2020 winner of The Ripped Bodice Awards for Excellence in Romantic Fiction. 
Praise For…
---
"Written in the Stars is everything I want from a romcom: fun, whimsical, sexy. This modern Pride & Prejudice glitters with romance."  — Talia Hibbert, USA Today bestselling author of Get a Life, Chloe Brown 
"With perfectly woven vulnerability and playfulness, Written in the Stars is a riotous and heartfelt read. I was hooked from the very first page!"  — Christina Lauren, New York Times bestselling author of In a Holidaze
"Bellefleur has a droll, distinct voice, and her one-liners zing off the page, striking both the heart and funny bone. She has a gift for comedy, possessing more style and panache than a debut writer has any right to... There's a sparkling quality here, one that mirrors the starry title. Bellefleur writes as if she's captured fairy lights in a mason jar, twinkly and lovely within something solid yet fragile."  — Entertainment Weekly (Best Romances of November)
"This book is a delight." — New York Times Book Review
"There are many, many Pride and Prejudice retellings out there, but Written in the Stars by Alexandria Bellefleur might just be the best." — Popsugar (Best New Romance Books in November)
"Just what 2020 needs: a delightful rom com that once again gives us the beloved fake relationship trope — and the fuzzies you didn't know you needed." — Shondaland (5 Best Books of November)
"[A] distinctly modern frolic, charming and effervescent and entirely itself." — Washington Post
"In this heart-thawing holiday romance, debut novelist Bellefleur remixes Austen's indelible clash of personalities into something fresh and totally queer." — O, the Oprah Magazine (Best LGBTQ Books of 2020)
"If you love the fake-dating trope, you won't want to miss Written in the Stars." — Bustle
"A disastrous blind date kicks off Bellefleur's excellent rom-com debut... Readers will be rapt by the sensuous love scenes once Darcy and Elle throw pretense aside... A moving subplot about Elle's fight for her family's acceptance rounds out the story, while astrology memes ("What brunch food are you based on your zodiac?") and nods to Pride and Prejudice scattered throughout add texture. This is a delight." — Publishers Weekly (starred review)
"A delightful, heart-warming romance, Bellefleur's novel shows eloquently how two characters can fall in love more deeply than either dared to dream. So whether you follow astrology or not, Written in the Stars has the reading you won't want to miss." — NPR
"[A]wkward first dates lead to passionate first kisses and time spent together reveals there is more to both women than meets the eye... Fans of pop culture–inspired astrology sites will love the effortless and entertaining way the author weaves zodiac memes throughout the text. The stars align in this charming queer rom-com." — Kirkus Reviews
"Bellefleur's debut sprinkles amusing listicles throughout the text as Elle and Darcy cautiously move from uneasy allies to friends to something more. Well-developed leads, relatable conflicts, a strong supporting cast, and opposites-attract chemistry make for an engaging read. Fans of Alexis Hall's Boyfriend Material and Talia Hibbert's Take a Hint, Dani Brown will enjoy this Seattle-set love story that reads like a romantic holiday movie." — Booklist
"Polar opposites come together in Bellefleur's cheerful #ownvoices debut... A dash of Pride and Prejudice and Bridget Jones's Diary, mixed with a fresh, millennial f/f twist of opposites attract." — Library Journal
"Written in the Stars abounds with optimism and empathy for its characters, its wit always undergirded by sweetness. This is a comfort read, at a time when many of us need one badly, and a sparkling debut for Bellefleur."  — Olivia Dade, author of Spoiler Alert
"Alexandria Bellefleur is an author to watch. Her writing is joyful and heartfelt, and her voice sparkles with a delightful mix of wit, humor, and good-natured sarcasm. I can't wait to see how she wows us next!" —  Mia Sosa, USA Today bestselling author of The Worst Best Man
"WRITTEN IN THE STARS had me hooked from the first page. It's an adorable and heartfelt romance with everything I adore: a killer meet-cute, loads of cute banter, steamy love scenes, all the feels, and a happily ever after that left me in happy tears. I fell head over heels for Elle and Darcy's love story. Alexandria Bellefleur's debut will have readers seeing stars in the best way."  — Sarah Smith, author of Faker & Simmer Down
"A dazzling debut! The perfect combination of humor and heart really makes this book shine."  — Rachel Lacey, author of Don't Cry for Me
"Written in the Stars is what you might get if your favorite Instagram astrologer wrote you an adorable romance novel. Delightful, funny and sweet, with just the right touch of woo-woo."  — Scarlett Peckham, USA Today bestselling author
"Alexandria Bellefleur has crafted an impeccable debut romance in WRITTEN IN THE STARS: lighthearted and sexy, contemporary and timeless, perfect to enjoy during the holiday season or for celebrating queer love any time of the year." — Shelf Awareness
"WRITTEN IN THE STARS is the gay contemporary Pride and Prejudice retelling I've been looking to read for forever, and I so hope everyone who needs to read this book finds it. Elle's openness and positivity and Darcy's guardedness and skepticism and how they come together is a joy to read. Please check this one out. I don't think you'll be disappointed." — Culturess