Mary Jane: A Novel (Hardcover)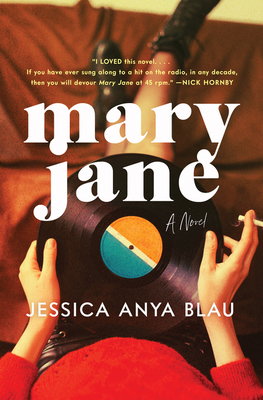 $27.99

Usually Ships in 1-5 Days
Staff Reviews
---
MARY JANE by Jessica Anya Blau is just plain awesome!
It takes place in Baltimore in 1975 and is a coming-of-age story of fourteen year old Mary Jane and what happens during that summer when everything she had always believed is turned upside down.
Mary Jane takes a summer nannying job with Cones and their precocious five year old daughter Izzy. What she doesn't know is Dr. Cone is psychiatrist who specializes in addictions. When a rock star and his famous wife move into the Cone's house for a 24 hour a day intensive therapy to kick his heroin addiction Mary Jane's eyes are opened to a completely different world.
MARY JANE is a celebration of what family is. It's also a book about letting go and learning how to really love each other despite their flaws and to embrace your own talent and creativity.
— Kathleen
Mary Jane was one of the best coming of age stories I've read in a long time. With a light touch and perfect details Blau nails what it is to be 14 and suddenly see the world with new eyes.
— Sarah
May 2021 Indie Next List
---
"Mary Jane is 14 in 1975 and her summer nannying job is filled with surprises, spontaneity, and love as she is pulled into the family of the little girl she watches. A sweet and funny story of discovering yourself, your loved ones, and where you fit in. It really hit home for me."
— Courtney Boches, Reads & Company, Phoenixville, PA
Description
---
"The best book of the summer." -- InStyle
"I LOVED this novel....If you have ever sung along to a hit on the radio, in any decade, then you will devour Mary Jane at 45 rpm." —Nick Hornby
Almost Famous meets Daisy Jones & The Six in this "delightful" (New York Times Book Review) novel about a fourteen-year-old girl's coming of age in 1970s Baltimore, caught between her straight-laced family and the progressive family she nannies for—who happen to be secretly hiding a famous rock star and his movie star wife for the summer.
In 1970s Baltimore, fourteen-year-old Mary Jane loves cooking with her mother, singing in her church choir, and enjoying her family's subscription to the Broadway Showtunes of the Month record club. Shy, quiet, and bookish, she's glad when she lands a summer job as a nanny for the daughter of a local doctor. A respectable job, Mary Jane's mother says. In a respectable house.
The house may look respectable on the outside, but inside it's a literal and figurative mess: clutter on every surface, Impeachment: Now More Than Ever bumper stickers on the doors, cereal and takeout for dinner. And even more troublesome (were Mary Jane's mother to know, which she does not): the doctor is a psychiatrist who has cleared his summer for one important job—helping a famous rock star dry out. A week after Mary Jane starts, the rock star and his movie star wife move in.
Over the course of the summer, Mary Jane introduces her new household to crisply ironed clothes and a family dinner schedule, and has a front-row seat to a liberal world of sex, drugs, and rock and roll (not to mention group therapy). Caught between the lifestyle she's always known and the future she's only just realized is possible, Mary Jane will arrive at September with a new idea about what she wants out of life, and what kind of person she's going to be. 
About the Author
---
Jessica Anya Blau was born in Boston and raised in Southern California. Her novels have been featured on The Today Show, CNN and NPR, and in Cosmo, Vanity Fair, Bust, Time Out, Oprah Summer Reads and other national publications. Jessica's short stories and essays have been published in numerous magazines, journals and anthologies. Jessica co-wrote the script for Love on the Run starring Frances Fisher and Steve Howey. She sometimes works as a ghost writer and has taught writing at Johns Hopkins University, Goucher College and The Fashion Institute of Technology. Jessica lives in New York. 
Praise For…
---
"Delightful...Blau is a deft hand with comic juxtaposition and domestic fantasy. She keeps it light, she keeps it moving and she's got terrific visuals...You can watch the movie in your mind. Lady Gaga as Sheba? I'm already casting it." — New York Times Book Review
"I LOVED Jessica Anya Blau's novel. Mary Jane is about an oppressed  teenager being given a jolt of life and joy by an eccentric found family of therapists, a child, a rock star and a movie star in the 1970s....If you have ever sung along to a hit on the radio, in any decade, then you will devour Mary Jane at 45rpm." — Nick Hornby
"I dare you to find a more winning novel than Jessica Anya Blau's Mary Jane. Filled with humor and sharpness and so much light, this book introduces an amazing cast of characters, all so unique and finely observed, held together by the clarity of Mary Jane's voice. It evokes those rare moments when your world is on the precipice of change, almost a dream, and how thrilling it is to push your way toward something new." — Kevin Wilson
"Blau's intelligent, witty novel captures the essence of the '70s with humor and immensely appealing characters. Highly recommended." — Library Journal (starred review)
"Blau's coming-of-age charmer will hit all of the nostalgia notes." — Parade
"MARY JANE is that rare thing: An utterly charming, absurdly delightful novel that also makes you think deeply about the world around you. Jessica Anya Blau's clear-eyed wit reminded me of Curtis Sittenfeld and Laurie Colwin, and, of course, Jane Austen." — Joanna Rakoff, author of My Salinger Year
"The experience of reading Jessica Anya Blau's Mary Jane is a lot like eating quality candy: super enjoyable, crazy good. I am sad to have finished it."  — Marcy Dermansky
"A serious book packed with funny moments and a lot of heart." — Boston Globe
"A charming and poignant tale of desire, image, Americana, and chosen family." — Booklist
"This novel is a week at the beach with rock stars, it's a three-part harmony at a kitchen table, it's finding a family where you fit in.  Jessica Anya Blau is a smart, generous, sensitive storyteller, and Mary Jane is a loving, sexy, funny, and beautiful book." — Gabriel Brownstein, author of The Open Heart Club
"Jessica Anya Blau is one of the funniest writers--EVER. No one captures the oddities, joys --and yes--the pain--of modern life with such frankness, humor and sly-witted style." — ZZ Packer, author of Drinking Coffee Elsewhere
"Both poignant and tremendously funny...unendingly charming and fun." — Shelf Awareness
"Wonderful...A tale of clashing cultures and a slow awakening of ideas, hope and beliefs, this is one of those novels you'll be so glad to lose yourself to. It's also perfect for fans of Curtis Sittenfeld's books – and we can give it no higher praise…" — Stylist (UK)