The Family Outing: A Memoir (Hardcover)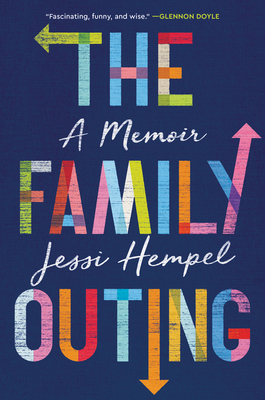 $27.99

Usually Ships in 1-5 Days
Staff Reviews
---
An original memoir.  Hemple, who has written for Wired and Fortune, captures her family's changing relationships as all of her siblings and father come out as gay/bisexual/trans.  Her father's closetedness and his coming out impacts her parents marriage and family dynamics in far reaching ways.  As she searches for her identity, she joins a cult, adopts other families, and moves across the country multiple times.  She doesn't quite find a universal theme, but her family's story is compelling. 
— Amy
Description
---
"Fascinating, funny, and wise, The Family Outing is an affirmation to all of us who know the pain and shame of hiding our truest self, and a stirring invitation into the courage, freedom, and joy of living our whole truth."—Glennon Doyle, author of #1 New York Times bestseller Untamed, founder of Together Rising
A striking and remarkable literary memoir about one family's transformation, with almost all of them embracing their queer identities.
Jessi Hempel was raised in a seemingly picture-perfect, middle-class American family. But the truth was far from perfect. Her father was constantly away from home, traveling for work, while her stay-at-home mother became increasingly lonely and erratic. Growing up, Jessi and her two siblings struggled to make sense of their family, their world, their changing bodies, and the emotional turmoil each was experiencing. And each, in their own way, was hiding their true self from the world.
By the time Jessi reached adulthood, everyone in her family had come out: Jessi as gay, her sister as bisexual, her father as gay, her brother as transgender, and her mother as a survivor of a traumatic experience with an alleged serial killer. Yet coming out was just the beginning, starting a chain reaction of other personal revelations and reckonings that caused each of them to question their place in the world in new and ultimately liberating ways.
About the Author
---
Jessi Hempel is host of the award-winning podcast Hello Monday, and a senior editor-at-large at LinkedIn. For nearly two decades, she has been writing and editing features and cover stories about work, life and meaning in the digital age. She has appeared on CNN, PBS, MSNBC, Fox, and CNBC, addressing the culture and business of technology. Hempel is a graduate of Brown University and received a master's in journalism from UC Berkeley. She lives in Brooklyn.
Praise For…
---
"Fascinating, funny, and wise, The Family Outing is an affirmation to all of us who know the pain and shame of hiding our truest self, and a stirring invitation into the courage, freedom, and joy of living our whole truth." — Glennon Doyle, author of #1 New York Times bestseller Untamed, founder of Together Rising
"What's fascinating about Hempel's memoir, aside from its striking confidence, is the way a tabloid-ready curiosity about a family becomes, in this author's hands, an ever-expanding exploration of the nature of storytelling, of memory, and of what it means to be human. This is the perfect kind of memoir. You might pick it up because you're fascinated by what seems to be an anomaly, but what you find in its pages is something far more familiar: your own perpetual quest for liberation." — Garrard Conley, New York Times bestselling author of Boy Erased
"The Family Outing is a rich and vital addition to queer literature and our understanding of intergenerational trauma. Hempel's prose is sensitive, sharp, and revelatory. I fell in love with Jessi's family and this memoir." — Alysia Abbott, author of Fairyland
"What happens when a journalist turns an investigative eye on herself? If that journalist is Jessi Hempel, she writes The Family Outing, a brave, honest, ultimately loving and hopeful memoir that examines long-hidden family secrets and searing questions of identity. This important story of fracturing and healing is a lesson to all of us on being our true selves, in and out of our families." — Ann Hood, author of Fly Girl
"Eloquent, intricately woven ... a deeply moving portrait of generational trauma and painstaking repair. This interrogation of familial fissures and bonds radiates with empathy and grace." — Publishers Weekly
"As she explores how her family healed from the secrets it kept, Hempel also offers provocative glimpses into the complexities of what it truly means to forgive and love. A thoughtful, compelling, unique memoir." — Kirkus Reviews
"Skillfully wrought ... Bringing each family member alive on the page and bringing her own story up to date, the author wisely concludes that the work of transformation is never done. And so, her story continues." — Booklist
"A stunning memoir and contemporary exploration of the diversity of family dynamics and coming-out narratives." — Library Journal (starred review)
"A stunning memoir about finding your true self and living freely in the world." — Buzzfeed