Jayson Goes for It! (Hardcover)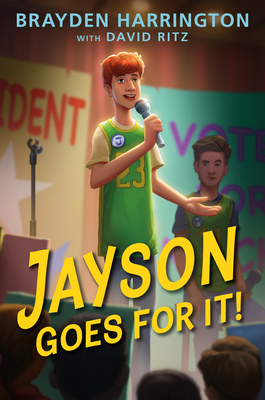 $19.99

Usually Ships in 1-5 Days
Description
---
A JUNIOR LIBRARY GUILD GOLD STANDARD SELECTION!
From fourteen-year-old author Brayden Harrington, the young boy who electrified the nation when he spoke at the Democratic National Convention in 2020, comes a fictional middle grade contemporary story about a boy named Jayson who stutters and the challenges he faces and the obstacles he must overcome as he campaigns for student-body president. 
Eighth grader Jayson Linden has had a stutter his whole life. Though his fellow classmates can sometimes be mean, Jayson tries not to let it get to him; he enjoys playing basketball and spending time with his friends. Then Jayson's best friend, Gloria, is kicked off the debate team because of her stutter and Jayson starts to notice other injustices happening at their school.
In order to make their middle school a more inclusive place and to stand up for his friends, Jayson decides to run against Mack, the most popular boy at school and captain of the basketball team, for student-body president. But as the campaign heats up, will Jayson be able to face his fears of public speaking and win the election?
This poignant middle grade debut reminds us all that nothing can hold us back when we're standing up for what's right. 
About the Author
---
Brayden Harrington is just a normal kid who enjoys spending time with his friends and family and playing baseball, basketball, and video games. He lives in Boscawen, New Hampshire, and enjoys following his favorite basketball team—the Boston Celtics—as well as learning all he can about his favorite player of all time, Jayson Tatum. When he was thirteen years old, Brayden found himself in the national spotlight after he was introduced to Joe Biden, then a candidate for president. The two bonded over their shared struggles with stuttering, and Brayden was invited to speak at the 2020 Democratic National Convention. Brayden's speech electrified the nation, going viral. During this experience, Brayden learned that his biggest challenge was actually his greatest gift, as he was able to show others the importance of persevering.
David Ritz is the author of the acclaimed novels The Man Who Brought the Dodgers Back to Brooklyn and Blue Notes Under a Green Felt Hat. He is the only four-time winner of the Gleason Book of the Year Award. He's also cowritten the memoirs of many celebrities.