Moth: A Novel (Paperback)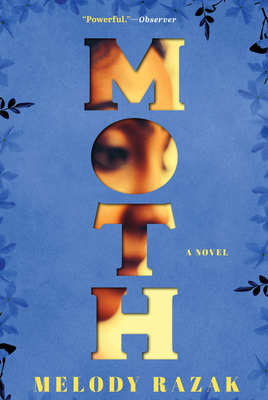 $18.99

Usually Ships in 1-5 Days
Description
---
"Both a heartbreaking and heart-warming story, Melody Razak's debut transports the reader into the home of a Brahmin family in 1940s Delhi. . . . The character portrayal is so intricate that as the plot twists and turns, you'll truly care what happens to them."—The Independent (UK)
A Millions Most Anticipated Book of 2022  • An Oprah Daily Most Anticipated Historical Fiction Novel of 2022  • A Betches Summer Pick
Melody Razak makes her literary debut with this internationally-acclaimed saga of one Indian family's trials through the tumultuous partition—the 1947 split of Pakistan from India—exploring its impact on women, what it means to be "othered" in one's own society, and the redemptive power of family.
Delhi, 1946. Fourteen-year-old Alma is soon to be married despite her parents' fear that she is far too young. But times are perilous in India, where the country's long-awaited independence from the British empire heralds a new era of hope—and danger. In its wake, political unrest ripples across the subcontinent, marked by violent confrontations between Hindus and Muslims. The conflict threatens to unravel the rich tapestry of Delhi—a city where different cultures, religions, and traditions have co-existed for centuries. The solution is partition, which will create a new, wholly Muslim, sovereign nation—Pakistan—carved from India's northwestern shoulder. Given the uncertain times, Alma's parents, intellectuals who teach at the local university, pray that marriage will provide Alma with stability and safety.
Alma is precocious and headstrong, and her excitement over the wedding rivals only her joy in spinning wild stories about evil spirits for her younger sister Roop. But when Alma's grandmother—a woman determined to protect the family's honor no matter the cost—interferes with the engagement, her meddling sets off a chain of events that will wrench the family apart, forcing its members to find new and increasingly desperate ways to survive in the wake of partition.
Set during the most tumultuous years in modern Indian history, Melody Razak recreates the painful turmoil of a rupturing nation and its reverberations across the fates of a single family. Powerfully evocative and atmospheric, Moth is a testament to survival and a celebration of the beauty and resilience of the human spirit. 
About the Author
---
MELODY RAZAK started writing Moth while studying for her MA in creative writing at Birkbeck. Previous to writing, she owned the café treacle&co and more recently worked in the kitchens of Honey and Co. in London as a pastry chef. Melody has been awarded distinctions for her short stories, and has also written articles for the Observer, Food Monthly, and the Sunday Times. Moth is her first novel.
Praise For…
---
"A heartbreaking and heartwarming novel that exposes the ugliness of religious enmities and affirms the redemptive beauty of love and homecoming. Razak unflinchingly recreates the horror of Partition and its devastating effect on one family. The result is a novel that feels surprisingly timely and relevant." — Thrity Umrigar, bestselling author of Honor and The Space Between Us
"Powerful and heartbreaking... The book's primary and unflinching focus is the female members of the household: Ma, her daughters Alma and Roop, among others, all drawn with such skill and love that they remain with you long after the final sentence." — Observer
"One of the best debuts I've ever read. It made my heart swell." — Sarah Winman, author of Tin Man and Still Life
"The depth of characterization is remarkable, as is the evocation of place. . .This is a devastating yet vital tale of suffering and strength from an exceptional debut author." — Booklist (starred review)
"I was utterly transported by Moth. In exquisite prose, Melody Razak takes us right to the heart and the heat of Partition-era Delhi - a fracturing city, a fracturing nation and a family attempting to hold themselves together when everything threatens to tear them apart. Moth is a rare, winged delight—able to stare unflinchingly into the darkness, while always illuminated by a fierce love for life. A stunning, powerful work by a brave new voice in British fiction." — Anna Hope, author of Expectation
"Moth is a powerful and moving story of a liberal, Brahmin family caught up in the violence and social unrest of post-partition India. It is written with absolute fidelity to the small rituals of daily life, the allegiances and jealousies within families, and the huge and overwhelming forces of history. Every character springs from the page, involving the reader completely in their triumphs and sufferings - the writer's skill and sympathy are immense. I loved it."  — Clare Chambers, author of Small Pleasures
"An exceptional, beautifully written story." — Publishers Weekly (starred review)
"From the first beautiful and terrifying pages I couldn't put Moth down. . . . One of the most immersive reading experiences I can remember: I loved this book." — Sally Magnusson, author of The Sealwoman's Gift
"Both a heartbreaking and heart-warming story…. Razak hones in on the strength and suffering of women; with moments as small as sharing stories, cooking food and plaiting hair becoming lifelines. Moth has a backdrop of religion, politics, class and violence, but the central focus is on family life. The character portrayal is so intricate that as the plot twists and turns, you'll truly care what happens to them. 9/10" — Independent
"Assured and powerful." — Harper's Bazaar, UK
"An exceptional novel that is historical fiction at its finest." — Kirkus Reviews (starred review)
"Gripping. . . . Razak painstakingly paints a portrait of a family; their rituals, their private languages, their shared lives. This careful characterisation pays off, heartbreakingly, when the horrors of partition wreak havoc on small, happy lives." — Times
"Indian political history is effectively played out in this intense, focused debut, with Razak's eloquent writing making historical events seem like they are just taking place now." — Library Journal, starred review
"Unfaltering over 12-plus hours, Nankani ensures another impressive aural experience." — Booklist (audio)