Reina Ramos Works It Out (I Can Read Level 2) (Paperback)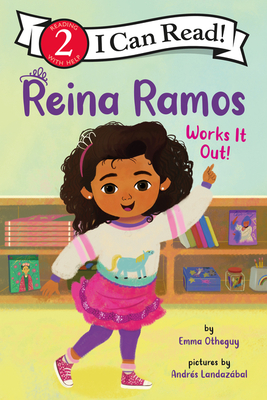 $5.99

Usually Ships in 1-5 Days
Description
---
"A sparkling tale starring a resilient young protagonist" —Kirkus (starred review)
Reina Ramos Works It Out is a Level Two I Can Read story about Reina Ramos, a loyal friend whose high-spirited antics sometimes cause chaos, but who always finds a way to make things right. Perfect for social emotional learning!
Reina Ramos is excited about dressing up as Frida Kahlo for the class wax museum. Frida was a strong person like her mami and abuela—plus Reina has the perfect headband for the costume! But when her best friend Nora picks Frida first, Reina doesn't know what to do. Who will she dress up as now?
Reina Ramos Works It Out is a Level Two I Can Read book, geared for kids who read on their own but still need a little help. Whether shared at home or in a classroom, the engaging stories, longer sentences, and language play of Level Two books are proven to help kids take their next steps toward reading success.
The story also contains several Spanish words, a glossary, and a list of famous people mentioned in the book.
"This level 2 beginning reader contains an engaging, relatable story for emergent readers that features simple text, a sprinkling of Spanish vocabulary, and sweet illustrations on each page." —Booklist
"The Spanish words and ­positive messages about managing conflict and problem-solving make this a welcome addition to beginning reader collections." —School Library Journal
About the Author
---
Emma Otheguy writes children's books about Latine identity and Latin American history and literature. She is the author of Martí's Song for Freedom, A Sled for Gabo, and Sofía Acosta Makes a Scene. She coauthored, with Adam Gidwitz, The Unicorn Rescue Society: The Madre de Aguas of Cuba. She holds a PhD in history from New York University and lives in New York City. Visit her at emmaotheguy.com.
Andrés Landazábal is an illustrator and art director based in Colombia. His work has appeared in film, television, and print. Andrés's love for drawing and painting was instilled at a young age by reading classic illustrated children's books. Visit him at andreslandazabal.squarespace.com.
Praise For…
---
This level 2 beginning reader contains an engaging, relatable story for emergent readers that features simple text, a sprinkling of Spanish vocabulary, and sweet illustrations on each page. — Booklist
A sparkling tale starring a resilient young protagonist. — Kirkus Reviews (starred review)
The Spanish words and ­positive messages about managing conflict and problem-solving make this a welcome addition to beginning reader collections. — School Library Journal