Wrong Place Wrong Time: A Reese's Book Club Pick (Hardcover)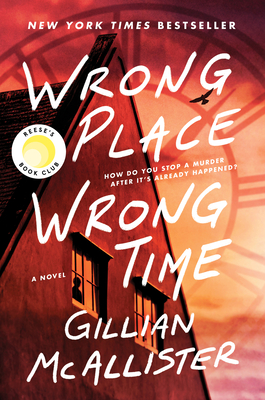 $28.99

Usually Ships in 1-5 Days
Staff Reviews
---
Wow. Wrong Place Wrong Time by Gillian McAllister had me on the edge of my seat. Mystery, suspense, science fiction are all rolled into one gripping page turner. I love stories that include time loops and parallel lives, and the possibilities of changing the course of history. Can Jen go back far enough in time to prevent her son from committing a crime, and at what cost to her family? The clues she digs up as she travels backward are twists that leave you, and Jen, guessing until the end. A perfect summer read for thriller fans!
— Genevieve
Description
---
INSTANT NEW YORK TIMES BESTSELLER • A REESE'S BOOK CLUB PICK
"It's perfection, every word, every moment. A masterpiece . . . One of the best books I've ever read." —Lisa Jewell, #1 New York Times bestselling author
New York Times bestselling author Gillian McAllister has created a thriller unlike any other in this endlessly clever, twisty story of a mother who must move backward through time to prevent tragedy from striking at the heart of her family.
Can you stop a murder after it's already happened?
It is midnight on the morning of Halloween, and Jen anxiously waits up for her 18-year-old son, Todd, to return home. But worries about his broken curfew transform into something much more dangerous when Todd finally emerges from the darkness. As Jen watches through the window, she sees her funny, seemingly happy teenage son stab a total stranger.
She doesn't know who the victim is, or why Todd has committed such a devastating act of violence. All she knows is that her life, and Todd's, have been shattered. 
After her son is taken into custody, Jen falls asleep in despair. But when she wakes up…it is yesterday. The murder has not happened yet—and there may be a chance to stop it. Each morning, when Jen wakes, she is further back in the past, first weeks, then years, before the murder. And Jen realizes that somewhere in the past lies the trigger for Todd's terrible crime…and it is her mission to find it, and prevent it from taking place.
Both the story of a mother's love and the sacrifices she will make for her child, and a thriller with a brilliant twist, Wrong Place Wrong Time is a one-of-a-kind novel that begs to be read in one sitting.
About the Author
---
GILLIAN MCALLISTER is the New York Times bestselling author of Reese's Book Club Pick Wrong Place Wrong Time, Everything but the Truth, The Choice, The Good Sister, The Evidence Against You, How to Disappear, and the Richard & Judy Book Club pick That Night. She graduated with an English degree before working as a lawyer. She lives in Birmingham, England, where she now writes full-time. She is also the creator and co-host of the popular Honest Authors podcast. 
Praise For…
---
"It's perfection, every word, every moment. A masterpiece . . . I had my mind blown apart. After I finished it, I sat with my mouth hanging open in awe. One of the best books I've ever read."  — Lisa Jewell, #1 New York Times Bestselling author
"A brilliantly genre-bending, mind-twisting answer to the question How far would you go to save your child?"  — Ruth Ware, #1 New York Times bestselling author
"Daring, inventive, exhilarating, twisted. This is virtuoso storytelling. Please dive in. It's the right place and the right time." — A. J. Finn, #1 New York Times bestselling author
"A high-concept mash-up of different genres … [and] an affecting portrayal of a family careening toward crisis. The story becomes unexpectedly tender as Jen moves further back in time, in awe of the youth she let slip by so easily, and shocked by how much she did not know." — New York Times
"The story is peppered with clever, nearly impossible to predict twists, but what sets it apart is its tender portrait of marriage and motherhood." — Washington Post
"Clever, original, and so addictive it should come with a warning." — Alice Feeney, New York Times bestselling author
"Fiendishly clever and flawlessly executed, Wrong Place, Wrong Time is a staggering achievement. I could not put this novel down—it's just dazzling." — Rosie Walsh, New York Times bestselling author of Ghosted 
"Absolutely AMAZING. The plot is astonishing—original and ingenious. But it's much more than that; the love Jen has for her son and her husband is beautiful. The stakes are so high because they're so meaningful."  — Marian Keyes, internationally bestselling author
"McAllister gives readers a chance to solve the crime from a refreshing new perspective…. This entertaining look at motherhood and memory will resonate with many." — Publishers Weekly