Good Taste: A Novel in Search of Great Food (Paperback)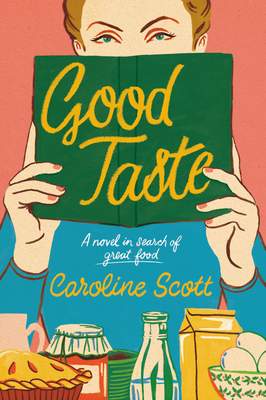 Description
---
With delectable prose, a sharp heroine ahead of her time, and an adventure across the English countryside in search of great food, Good Taste is the perfect historical novel for fans of Dear Mrs. Bird and The Guernsey Literary and Potato Peel Pie Society.
You can tell a lot about a person from what they like to eat…
England in 1932 is in the grip of the Great Depression. Stella Douglas, author of a much-loved but not very successful biography, is a bit depressed herself. When she's summoned to see her editor in London, she expects her writing career is over before it's even started.
But much to her surprise, she is being commissioned to write a history of English food. It's to be quintessentially English and intended to lift the sprits of the nation. There's just one problem: a lot of English food is actually quite terrible (and anything good is usually imported from elsewhere). 
So Stella travels across England in hopes of discovering a hidden culinary gem. What she discovers is oatcakes and gravy and lots and lots of potatoes. But when her car breaks down midjourney and the dashing and charismatic antiques dealer Freddie springs to her rescue, she is led in a very different direction . . .
Full of wit, life, and—against all odds—delicious food, Good Taste is a story of discovery and one woman's desire to make her own way as a modern woman.
About the Author
---
Caroline Scott is a freelance writer and historian specializing in WWI and women's history, with a PhD from Durham University. Born in the UK, Caroline currently resides in France. The Poppy Wife is partially inspired by her family history.
Praise For…
---
"Stella is an endearing protagonist, and Scott's sentences fly by, with great descriptions of foods and places. Devour this one during a rainy weekend, ideally paired with several cups of tea and maybe some oatcakes." — Eater
"Buttery passages are slathered with food imagery, and Scott conjures markets, pantries, and laden tables you won't want to leave. A sweet treat of a book." — Kirkus Reviews
"Scott takes readers on a journey of professional and personal discovery, making the novel an excellent pick for those who enjoy explorations of women's independence." — Library Journal
"[L]ighthearted and charming...This is an easygoing historical novel about a young woman coming into her own." — Booklist
"Wonderful on nostalgia, doing things your own way and maintaining faith. I raced through it."  — Daily Mail (UK) on Good Taste
"A fascinating, immersive, and delicious treat of a book."   — heat (Book of the Week) (UK) on Good Taste
"British historian Scott's first novel is a beautifully evocative reminder of what it means to come back from war and to face the age-old question of whether it is better to have survived or to have died. Highly recommended." — Library Journal (starred review) on The Poppy Wife
"A dazzling intersection of romance and historical fiction."  — Popsugar on The Poppy Wife
"Scott's bold novel, inspired by her own family history, is instantly appealing for historical fiction fans. But the timeless story of love, loyalty, and honor will have appeal for readers of all interests." — Publishers Weekly on The Poppy Wife