Tom Lake: A Reese's Book Club Pick (Hardcover)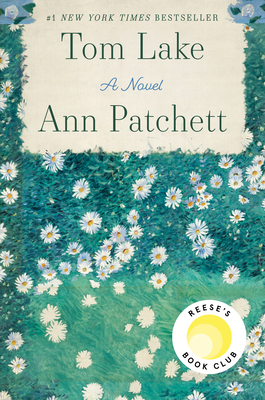 Staff Reviews
---
I just started Ann Patchett's new book, Tom Lake, which opens at auditions for a community theater production of Our Town in a small New Hampshire Town that takes the play very much to heart. I'm already in love with the book, and its nostalgic feel of young love, mothers and daughters, and the juxtaposition of past and present. Added bonus: Meryl Streep reads the audiobook! A beautiful and moving novel, Tom Lake is wonderfully set against the backdrop of Thornton Wilder's 1938 classic American play. Ann Patchett is one of my favorite contemporary American writers; this book doesn't disappoint!
— Genevieve
In Tom Lake by Anne Patchett a mother tells her grown (or nearly grown) daughters of a summer long before she was married when she had an affair with a now famous actor when they stared together in a summer production of Our Town. Patchett interlaces the tale of the past—told to the girls while they pick cherries on the family farm during the pandemic—with present moments, letting us get to know Lara and her fledging daughters. It is a story about storytelling and love of all kinds; maternal, marital, fleeting, abiding. It's a rumination on place and where we find ourselves, about secret pasts and unknowable futures. I loved that it was sweet but not saccharine and while it could be described as quiet it held several surprises. (I hear that the Meryl Streep audio versions is fantastic.) 
— Sarah
August 2023 Indie Next List
---
"This is a story of love for family, of past passions and people once loved, and their continuing influence on the present. With Ann Patchett's wit and wryness finely tuned, Tom Lake is the perfect book for a summer weekend read."
— Jenny Stroyeck, The Homer Bookstore, Homer, AK
Description
---
#1 NEW YORK TIMES BESTSELLER • A REESE'S BOOK CLUB PICK
In this beautiful and moving novel about family, love, and growing up, Ann Patchett once again proves herself one of America's finest writers.
"Patchett leads us to a truth that feels like life rather than literature." —The Guardian
In the spring of 2020, Lara's three daughters return to the family's orchard in Northern Michigan. While picking cherries, they beg their mother to tell them the story of Peter Duke, a famous actor with whom she shared both a stage and a romance years before at a theater company called Tom Lake. As Lara recalls the past, her daughters examine their own lives and relationship with their mother, and are forced to reconsider the world and everything they thought they knew.
Tom Lake is a meditation on youthful love, married love, and the lives parents have led before their children were born. Both hopeful and elegiac, it explores what it means to be happy even when the world is falling apart. As in all of her novels, Ann Patchett combines compelling narrative artistry with piercing insights into family dynamics. The result is a rich and luminous story, told with profound intelligence and emotional subtlety, that demonstrates once again why she is one of the most revered and acclaimed literary talents working today.
About the Author
---
Ann Patchett is the author of novels, most recently the #1 New York Times bestselling Tom Lake, works of nonfiction, and children's books. She has been the recipient of numerous awards, including the PEN/Faulkner, the Women's Prize in the U.K., and the Book Sense Book of the Year. Her novel The Dutch House was a finalist for the Pulitzer Prize. Her work has been translated into more than thirty languages. Time magazine named her one of the 100 Most Influential People in the World. President Biden awarded her the National Humanities Medal in recognition of her contributions to American culture. She lives in Nashville, Tennessee, where she is the owner of Parnassus Books. Visit her at annpatchett.com
Praise For…
---
"Tom Lake is a book to be savored—the once-in-a-blue-moon type." — San Francisco Chronicle
"A swoony, luminous reminder about the endurance of love and happiness in a broken world." — Oprah Daily
"A tender, absorbing tale about becoming who we are." — People
"A searching reflection on the relationships between theater and life, romance and realism, Tom Lake is perhaps Patchett's finest novel yet." — Boston Globe
"Tom Lake is about romantic love, marital love and maternal love, but also the love of animals, the love of stories, love of the land and trees and the tiny, red, cordiform object that is a cherry. . . . This generous writer hits the mark again with her ninth novel." — Washington Post
"Wise. Beautiful. With an elegant soft touch….Brilliant, of course." — Good Morning America
"A quiet and reassuring book…highly conscious of…[the] human failure to appreciate the little things."  — New York Times
"One of our greatest living chroniclers of love and marriage—and its resounding impacts over generations—is back this summer … Expect wonder; Patchett always delivers." — Elle
"The perfect summer novel." — The Atlantic
"Tom Lake is about love in all its many forms. But it is also about death and the ephemeral and how everything goes by so damned fast. It is an elegy of sorts but also a promise that there will be magic no matter what." — Los Angeles Review of Books
"Patchett's intricate and subtle thematic web…enfolds the nature of storytelling, the evolving dynamics of a family, and the complex interaction between destiny and choice….These braided strands culminate in a denouement at once deeply sad and tenderly life-affirming. Poignant and reflective, cementing Patchett's stature as one of our finest novelists." — Kirkus Reviews (starred review)
"As this spellbinding and incisive novel unspools, Patchett brings every turn of mind and every setting to glorious, vibrant life, gracefully contrasting the dazzle of the ephemeral with the gravitas of the timeless, perceiving in cherries sweet and tart reflections of love and loss." — Booklist (starred review)
"Patchett is at the top of her game." — Publishers Weekly (starred review)
"Patchett is a writer of enormous warmth." — Wall Street Journal
"A compelling narrative about the secret lives of parents—and how to find happiness in the midst of a long life." — Time
"[A] poignant novel from Ann Patchett, caring as ever." — Vanity Fair
"Tom Lake…[takes] its time to marvel over the quiet drama of ordinary living: a strong marriage, a loving family, a place to gather at the end of the day." — Houston Chronicle
"Tom Lake is a beautiful, stirring book that sneaks up on you and makes a deep impression, partly because you're left asking yourself: "What have I just read?" The moment I finished it, I wanted to go back and start again." — Sunday Times (London)
"Tom Lake is a warm, funny book about kind people who do the best they can." — Minneapolis Star Tribune
"[Patchett] writes with deep attention to our country's changing culture while never taking her eye off narrative. Each book uses a traditional storytelling structure — lyrics, midrash, folk tales — while pushing at the edges of what a form can contain, cramming it with modern human concerns, triumphs and tragedies." — Los Angeles Times
"Who is better, more nuanced, or more surprising on matters of love and family than Patchett?. . . . [A] heady voyage into the past, with a delicately observed story that is also constantly shifting the ground beneath our feet." — Literary Hub
"Subversively wise and self-aware." — New Yorker
"Fans of The Dutch House and Commonwealth will be more than satisfied with Ann Patchett's latest novelistic exploration of love and family dynamics." — Harper's Bazaar
"Patchett's prose is elegant, her wit abundant, her sense of family dynamics and the complexities of love subtle and insightful. Tom Lake is an enthralling story." — Tampa Bay Times
"Across her oeuvre Patchett has proven herself a generous, meticulous mentor, and Tom Lake is one of this year's triumphs." — Chapter 16
"Patchett, beloved bookseller and chronicler of people thrown together in patched families and hostage situations, turns her attention to love — youthful, marital, fleeting, enduring." — NPR
"Meryl Streep…is ideal for narrating Tom Lake…. Streep delivers with her signature whimsy, her cadence lilting from wide-eyed innocence to winking wisdom, blurring the nostalgia for small-town Americana with dashes of big-city dreams." — New York Times Book Review
"Tom Lake is Ann Patchett's best novel." — Hudson Review
"With her latest novel, Patchett is unabashedly Chekhovian…. If you're so inclined, Meryl Streep narrates the audiobook, which allows you to savor every word as only a consummate actor like Streep can deliver them." — Broadway Direct
"Intelligent, poignant,…absorbing….It channels great literature…[and] showcases storytelling expertise." — Washington Examiner
"Best of all in my reading experience this year was Ann Patchett's Tom Lake….It's a beautiful, loving story. And its echoes of Our Town are spot on." — Daily Kos
"Reading the book feels, deliciously, like slipping into 'Our Town' and having a conversation with it; it's both tribute to the play and a moving story of its own." — Seattle Times
"Patchett is a consummate storyteller whose fluid, naturalistic writing style makes reading her novels an effortless journey….Tom Lake does not disappoint."
— Atlanta Journal-Constitution
"Ahh…Ann Patchett has a new read and we couldn't be happier….It's cozy, and feel-good, and we recommend reading with a bowl of cherries." — The Skimm
"This rich and subtle tale is infused with insight into love, loss and the power of making the right decisions." — Woman & Home (UK)
"Patchett celebrates not just the smallest events of our lives, but "small" lives themselves." — Financial Times
"A new Ann Patchett novel is always cause for celebration... and Tom lake could be one of her best." — inews
"Patchett masterfully weaves an evocative story of love, hope, and familial bonds, offering a profound meditation on finding happiness amid life's uncertainties." — BookBub
"[This] quiet novel awakens gratitude for life's lessons." — Christian Science Monitor