Introduction to Forensic Psychology: Court, Law Enforcement, and Correctional Practices (Hardcover)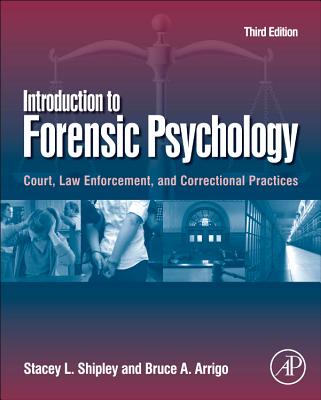 $79.95
Email or call for price.
Description
---
Introduction to Forensic Psychology, Third Edition, has been completely restructured to explain in greater detail how courses on forensic psychology are taught, making it more applicable as a textbook than previous editions. It also features more figures, tables and text boxes, making it a true textbook. What this book has that others do not is equal representation of criminal behavior, the court systems, and law enforcement/prisons. It also has equal representation of criminal and civil forensics. Other texts tend to be weighted towards just criminal behavior or just criminal justice and primarily criminal or civic forensics but not both.
This new edition also has equal representation of issues to pertaining to adults and children. It contains new coverage of cyberbullying, tests and assessments in the courtroom, mental deficiency and competency to stand trial, and information on mothers who kill their children. Adult, juvenile and family issues are dealt with separately, making it easier to find what you need. Case illustrations dramatically highlight how the lives of individuals have been (or could be) impacted by developments in psychology and law. Chapters now include pedagogy, including outlines, main points, and relevant websites.
This book is intended for professors teaching introduction to forensic psychology, as well as for students interested in adult, child, and family forensics as they apply to criminal and civic forensics law enforcement/prisons.