Birth of the Firebringer (Mass Market)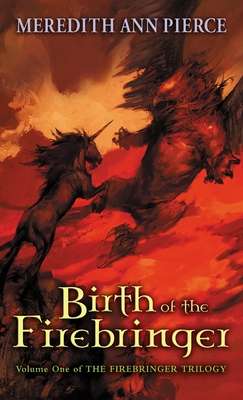 Other Books in Series
This is book number 1 in the Firebringer Trilogy (Paperback) series.
Description
---
Volume One of the Firebringer Trilogy

Jan, the prince of the unicorns, is high-spirited, reckless-and the despair of his mighty father, Korr. Reluctantly, Korr allows Jan to accompany the other initiate warriors on a pilgrimage. Soon Jan's curiosity leads him, along with his friend Dagg, and their mentor, the female warrior Tek, into the greatest dangers-deadly gryphons, sly pans, wyverns, pards, and renegade unicorns. Yet time after time they are rescued, leading Jan to wonder: Am I the heir to a special destiny?

"The language is poetic, with wonderful rhythm and sweeping images...The world is a compelling one, and Jan is a dramatic hero."—Booklist
About the Author
---
Meredith Ann Pierce is one of America's premiere fantasy writers.  Along with her Darkangel books, the Firebringer Trilogy is among her best and most well-known work-but it has never been in paperback.  This classic saga of Jan, the warrior unicorn prince and his herd's only hope, is compelling reading for horse lovers, fantasy fans, and anyone who relishes a crackling good adventure.  Meredith Ann pierce lives in Micanopy, Florida.

Visit Meredith online at www.moonandunicorn.com.
Praise For…
---
"The language is poetic, with wonderful rhythm and sweeping images...The world is a compelling one, and Jan is a dramatic hero."—Booklist

"The untangling of the satisfying plot and Pierce's ability to foster belief in her unicorns, consistently describing the action as these horse-like animals feel and sense it, are enhanced by her stately use of language and the sense of their history and culture which she creates and sustains."—School Library Journal