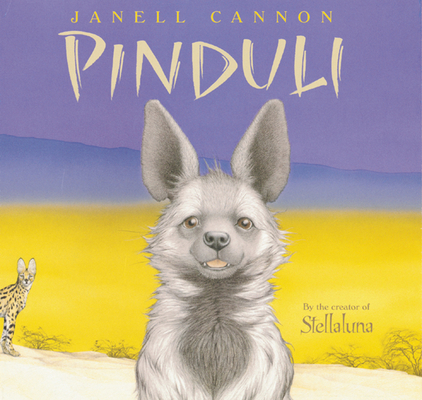 $18.99

Usually Ships in 1-5 Days
Description
---
Pinduli's mama has always told her that she's the most beautiful hyena ever. But Dog, Lion, and Zebra don't think so. Why else would they make her feel so rotten about her big ears, her fuzzy mane, and her wiggly stripes? Poor Pinduli just wants to disappear--and she tries everything she can think of to make that happen. Yet nothing goes her way. Nothing, that is, until a case of mistaken identity lets her show the creatures of the African savanna how a few tiny words--bad or good--can create something enormous.

Janell Cannon, the creator of the bestselling Stellaluna, introduces yet another endearing character in this triumphant story about self-image, self-acceptance, and treating others with respect.

Includes notes about hyenas and other animals of the African savanna.

About the Author
---
Janell Cannon's picture books have won many awards and are beloved around the world. She is the author and illustrator of Verdi, Crickwing, Pinduli, and the long-time bestselling classic Stellaluna. Born and raised in Minnesota, Ms. Cannon now lives in Southern California.
Praise For…
---
Winner of the ASPCA Henry Bergh Children's Book Award "Cannon combines an anthropomorphic story with factual endnotes about the wildlife, and the engaging artwork succeeds in making an unappealing creature sympathetic. The illustrations mix Audubon verisimilitude with Disney-like sentimentality." —Publishers Weekly   "Stunning full-page naturalistic acrylic paintings with colored pencils focus on key episodes with an emphasis on the emotions of the animals. . . . The engaging tale includes great natural history, as in Stellaluna and the author's similar other works." —Children's Literature   "The animals' expressions and antics are hilarious and endearing; Cannon has pulled off quite a feat in creating a cuddly hyena protagonist. This touching book about personal growth and self-acceptance gently demonstrates how the actions of one can have far-reaching effects on many others. An appealing and worthwhile purchase." —School Library Journal   "Cannon fans will lap it up." —Kirkus Reviews