Raising Dragons (Paperback)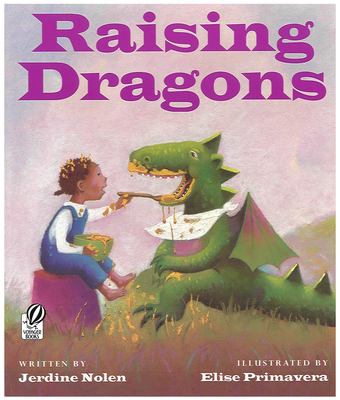 $9.99

Usually Ships in 1-5 Days
Description
---
"This magical tale of friendship will send youngsters scurrying to find (or invent) a dragon of their own." (Los Angeles Times)
When a dragon hatches on her pa's farm, a young girl finds a best friend. At first Ma and Pa are wary of Hank, but it's not long before they see him as their daughter does—and welcome the baby dragon into their family.
As it turns out, Hank is not cut out for farm life, but still, he warms the hearts of those around him and leaves a legacy that no one will ever forget.
This imagination-sparking classic picture book from two masters of the field concludes with two fun activities to share.
About the Author
---
JERDINE NOLEN is the author of the Bradford Street Buddies easy reader series and numerous picture books including Raising Dragons, Thunder Rose, Plantzilla, Harvey Potter's Balloon Farm, and Irene's Wish.

ELISE PRIMAVERA has been writing and illustrating children's books for more than twenty-five years. She has received numerous awards for her work and in 2004 was asked to illustrate the Christmas Brochure for the White House. Her Christmas classic AUNTIE CLAUS earned two stared reviews and was a New York Times Bestseller.
Praise For…
---
"A joyous tale of friendship and adventure."--School Library Journal
"This magical tale of friendship will send youngsters scurrying to find (or invent) a dragon of their own."--Los Angeles Times
[star]"Enchanting . . . Youngsters will hanker to go on this journey; it will set their imaginations soaring."--Publishers Weekly (starred review)
—