Becoming Attached: First Relationships and How They Shape Our Capacity to Love (Paperback)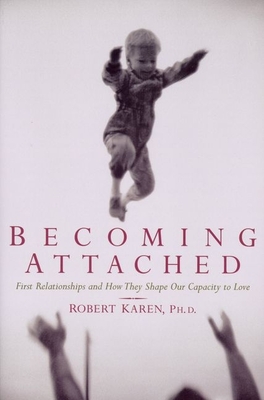 $29.99

Usually Ships in 1-5 Days
Description
---
The struggle to understand the infant-parent bond ranks as one of the great quests of modern psychology, one that touches us deeply because it holds so many clues to how we become who we are. How are our personalities formed? How do our early struggles with our parents reappear in the way we relate to others as adults? Why do we repeat with our own children--seemingly against our will--the very behaviors we most disliked about our parents? In Becoming Attached, psychologist and noted journalist Robert Karen offers fresh insight into some of the most fundamental and fascinating questions of emotional life.
Karen begins by tracing the history of attachment theory through the controversial work of John Bowlby, a British psychoanalyst, and Mary Ainsworth, an American developmental psychologist, who together launched a revolution in child psychology. Karen tells about their personal and professional struggles, their groundbreaking discoveries, and the recent flowering of attachment theory research in universities all over the world, making it one of the century's most enduring ideas in developmental psychology.
In a world of working parents and makeshift day care, the need to assess the impact of parenting styles and the bond between child and caregiver is more urgent than ever. Karen addresses such issues as: What do children need to feel that the world is a positive place and that they have value? Is day care harmful for children under one year? What experiences in infancy will enable a person to develop healthy relationships as an adult?, and he demonstrates how different approaches to mothering are associated with specific infant behaviors, such as clinginess, avoidance, or secure exploration. He shows how these patterns become ingrained and how they reveal themselves at age two, in the preschool years, in middle childhood, and in adulthood. And, with thought-provoking insights, he gives us a new understanding of how negative patterns and insecure attachment can be changed and resolved throughout a person's life.
The infant is in many ways a great mystery to us. Every one of us has been one; many of us have lived with or raised them. Becoming Attached is not just a voyage of discovery in child emotional development and its pertinence to adult life but a voyage of personal discovery as well, for it is impossible to read this book without reflecting on one's own life as a child, a parent, and an intimate partner in love or marriage.
About the Author
---
Robert Karen is a clinical psychologist in private practice and an award-winning author. In addition to two previous books, he has written articles for The Atlantic, New York magazine, Mirabella, The Nation, and The Yale Review. He is Assistant Clinical Professor at the Derner Institute of Advance Psychological Studies, Adelphi University.