Ketogenic Diet and Metabolic Therapies: Expanded Roles in Health and Disease (Paperback)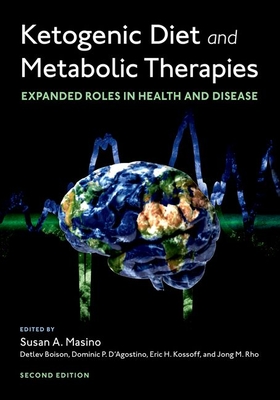 $98.50

Usually Ships in 1-5 Days
Description
---
Ketogenic diets have treated epilepsy for nearly 100 years, yet metabolic therapy has remained obscure and underutilized for most of this time. In recent decades, the clinical efficacy of ketogenic therapy was confirmed definitively for pediatric epilepsy and has now expanded to adult
epilepsy. Now, the benefits of metabolic therapy have been extended well beyond epilepsy to additional neurological, metabolic, and genetic disorders, and the importance of metabolic health is recognized as paramount. This new edition of Ketogenic Diet and Metabolic Therapies: Expanded Roles in Health and Disease highlights the growing research and clinical applications of metabolic therapies as effective in disease treatment, reversal and prevention. Emerging mechanisms include the landscape of the microbiome
and epigenetics. Consistent with the first observations in 1921, in some cases metabolism-based strategies have proven equal or superior to pharmacological treatments for specific diseases and for treating multiple comorbidities. This second edition commemorates the 100th anniversary of the ketogenic diet, shares new research in this rapidly moving field, and offers a valuable collection of high-resolution color figures. The team of editors for this edition have been working in this area for decades, and in this volume, they
have assembled world leaders in this cutting-edge research. As the first academic, interdisciplinary book on ketogenic diet and metabolic therapy, this volume will be crucial during this time of increased appreciation for metabolic health in professionals and the public alike.

About the Author
---
Susan A. MasinoVernon D. Roosa Professor of Applied Science, Trinity College