My History, Not Yours: The Formation of Mexican American Autobiography (Wisconsin Studies in Autobiography) (Paperback)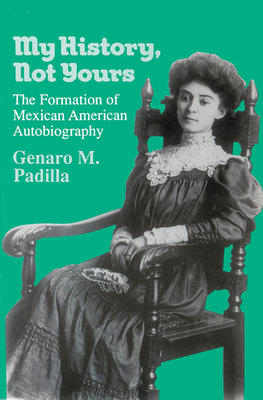 $24.95
Email or call for price.
Description
---
    "I am willing to relate all I can remember, but I wish it clearly understood that it must be in my own way,  and at my own time.  I will not be hurried or dictated to.  It is my history and not yours I propose to tell."—Mariano Guadelupe Vallejo, on "Recuerdos históricos y personales"  (1875)
    My History, Not Yours is a landmark study of the autobiographical writings of Mexican Americans in the century following the US-Mexican War of 1846-1848.  Some 75,000 inhabitants of what is now Texas, New Mexico, Arizona, Nevada, and California were suddenly foreigners on their own lands.  Faced with the deliberate obliteration of their history, culture, language, and personal experiences, these women and men set down the stories of their lives and their communities, as a means of both remembering and resisting.
    Genaro M. Padilla and other scholars have begun to uncover the huge store of literary materials forgotten in manuscript archives:  memoirs long out of print, others unpublished and unread, diaries, family histories, poetry, correspondence, and texts of corridos (ballads).  Padilla writes, "Lives are scattered on broken pages, faded, partially lost at the margins, suspended in language unread until there is a reader who opens the file and begins.  It is my intention to initiate a recovery of that autobiographical formation that emerged after a war of conquest."
    In providing an overview of this rich literature, Padilla also points out the power relations embedded in the narratives, showing that the reconstruction of the Mexican past was not merely nostalgic idealization, but often an angry and deeply politicized recovery of a world ruptured by American domination.
About the Author
---
Genaro M. Padilla is associate professor of English at the University of California at Berkeley.  He is the editor of The Short Stories of Fray Angelico Chavez and the coeditor, with Ramon Gutierrez, of Recovering the U.S. Hispanic Literary Heritage.
Praise For…
---
 "This ambitious and accessible book is the best I have seen on Chicano literary culture.  Padilla has searched archival sources diligently and has brought to our attention major personal statements—itself no small feat—that treat the definitive events of early Mexican American experience.  He offers insights on how ethnic/cultural identity is formed; on how distinct literary traditions emerge and evolve; and on the politics of literary production and publication.  Because he engages these questions so skillfully this book will have implications—and readers—beyond the circle of literary scholarship."—Raymund A. Paredes, University of California, Los Angeles

"This book is nothing less than the recovery of the nineteenth-century formations of Chicano autobiography. . . . My History, Not Yours exemplifies the best features of traditional historical research and contemporary critical methods."—William L. Andrews, series editor, Wisconsin Studies in American Autobiography