Soul Boom: Why We Need a Spiritual Revolution (Hardcover)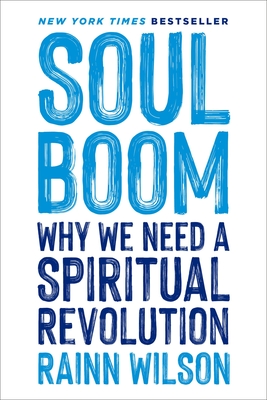 $28.00

Usually Ships in 1-5 Days
Description
---
**New York Times Bestseller**

Comedic actor, producer, and writer Rainn Wilson, cofounder of the media company SoulPancake, explores the problem-solving benefits that spirituality gives us to create solutions for an increasingly challenging world.
 
The trauma that our struggling species has experienced in recent years—because of both the pandemic and societal tensions that threaten to overwhelm us—is not going away anytime soon. Existing political and economic systems are not enough to bring the change that the world needs. In this book, Rainn Wilson explores the possibility and hope for a spiritual revolution, a "Soul Boom," to find a healing transformation on both a personal and global level

For Wilson, this is a serious and essential pursuit, but he brings great humor and his own unique perspective to the conversation. He feels that, culturally, we've discounted spirituality—faith and the sacred—and we need profound healing and a unifying understanding of the world that the great spiritual traditions provide. Wilson's approach to spirituality—the non-physical, eternal aspects of ourselves—is relatable and applies to people of all beliefs, even the skeptics. Filled with genuine insight—not to mention enlightening Kung Fu and Star Trek references—Soul Boom delves into ancient wisdom to seek out practical, transformative answers to life's biggest questions.
About the Author
---
Rainn Wilson is a three-time Emmy nominated actor best known for his role as Dwight Schrute on NBC's The Office. Besides his many other roles on stage and screen, he is the co-founder of the media company SoulPancake and host of Rainn Wilson and the Geography of Bliss on Peacock. Rainn is the author of The Bassoon King: My Life in Art, Faith, and Idiocy, as well as the coauthor of SoulPancake: Chew on Life's Big Questions, a New York Times bestseller. He lives in Oregon and California with his family and a lot of animals.
Praise For…
---
**Globe & Mail Bestseller**
**Publishers Weekly Bestseller**
**Longlisted for Inc Magazine's Non-Obvious Book Award**

"It's fantastic. It's so great….I was so moved by this book."—Angela Kinsey and Jenna Fischer, "Office Ladies" podcast

"Serving up a delicious smorgasbord of existential philosophy, self-reflection, social science, and Star Trek, Rainn Wilson explores the missing role of spirituality in the modern world. It will light up your brain, warm your heart, and tickle your funny bone."—Adam Grant, #1 New York Times bestselling author of Think Again and host of the TED podcast Re:Thinking

"In Soul Boom, Rainn Wilson explores the landscape of the world's faiths, and suggests a new and thoughtful spiritual path for seekers. If you're hungry to rediscover what makes your existence divine, this book is for you."—Arthur C. Brooks, author of Love Your Enemies, From Strength to Strength, and Build the Life You Want

"This is the insightful exploration of spirituality that we desperately need right now. As we all seek answers amidst an unceasing news cycle of chaos and doom, Rainn Wilson's Soul Boom funnily but gently and lovingly opens a door to a deeper way to process all that is happening around us. The wisdom in and on these pages will fill your soul and touch your heart."—Lisa Ling, coauthor of Somewhere Inside and host of This Is Life

"Brilliant, humorous, and deeply wise, Rainn Wilson makes the case for spiritual revolution like no other. With humility that lands in the heart, Rainn invites us into a profound conversation on death and despair, God and transcendence, and love as a revolutionary force. The result: an electrifying manifesto on how to transform the world from the inside out. Let Soul Boom ignite and inspire you, as it has me!"—Valarie Kaur, activist and author of See No Stranger

"A gracious and compassionate (and altogether engaging) book, by someone who truly believes that it is possible to love God, neighbor, and world, and to relate to them and cherish them in ways at once richly spiritual and impeccably rational. He's right, of course: it is."—David Bentley Hart, author of The Experience of God: Being, Consciousness, Bliss

"Rainn Wilson played one of the greatest comic characters of all time, but the crisis we are living through is no joke. That's why you should drop everything you are doing and read this remarkable book. It combines a seriousness of purpose, a depth of intellect and a warmth of spirit that is desperately needed today. It will lighten your load, fire your soul, and guide you on your way." —Eboo Patel, Founder and President of Interfaith America and author of We Need To Build: Field Notes for Diverse Democracy

"A terrific book…makes spirituality accessible in many different ways."—Al Roker, The TODAY Show

"It's fascinating….A great book, I really recommend it."—Kelly Ripa

"Terrific…thought-provoking, beautiful book….This is the one you want on your bedside, you can't sleep, you lean over, you read this, especially on those restless nights."—Tamron Hall

"Rainn Wilson, you know him from The Office, you think of him as funny.  He's on such a spiritual journey.  He's got a book called Soul Boom – you want to fly through it."—Hoda Kotb

"I had so much fun reading this, but then at the same time, I had to put my real brain on because it was so deep."—Maria Menounos, "Heal Squad" podcast

"By the time you've finished reading Soul Boom: Why We Need a Spiritual Revolution, Wilson sheds all hesitations and proposes nothing less the fundamentals of a new faith."—Chicago Tribune

"In this heartfelt outing, [Rainn Wilson] offers a broad array of spiritual ideas for finding hope in a cynical world….Animated by self-aware humor, this entry doesn't pretend to have all the answers, and instead offers deceptively simple yet thought-provoking musings to help readers embark on a quest of spiritual self-awareness. This is a pleasure to read."—Publishers Weekly (starred)

"Soul Boom is an energized guidebook that argues for more spiritual thinking in our daily lives. Wilson is a funny and self-deprecating thinker who traces the commonalities of the world's major religions, maintaining that embracing the general teachings of their inspirational scriptures can lead to a rich soulful life…. If you're in need of a spiritual shot-in-the-arm from a kind teacher, you've come to the right place."—Observer

"I love the book; the book is great….There is a core of hope and optimism that provides the underpinning for all of these thoughts as [Wilson canvasses] spirituality and religion and our place in the world and how to think about and approach solving some of the giant problems we face in the world right now."—"The Rich Roll" podcast

"Pop culture references, jokey humor, and an entertaining and irreverent writing style keep Soul Boom from feeling preachy…. While anyone who is spiritually seeking would likely enjoy Soul Boom, Wilson seems to have written it particularly with younger generations in mind."—CascadiaDaily

"[Soul Boom] considers our most difficult challenges and outlines nothing short of a spiritual revolution as a path to healing them….Along the way, Wilson covers numerous heady concepts, including the purpose of life (soul growth), life after death, and God….[The] book remains true to the author's thesis—that the world needs spiritual solutions to many of its ailments—and Wilson walks a razor-sharp line in addressing the most sacred of topics with the airy irreverence one might expect from the former sitcom star. With sincere enthusiasm and a playful tone, Wilson highlights the vitality of spirituality in our lives."—Kirkus Reviews

"Wilson examines the world's religious writings and practices, challenging readers to identify the sacred in their lives, and concludes that the communal aspect of our faith has declined, exacerbating narcissism and disunity. He even advocates for the creation of a new religion…combining the best elements of major world faiths and encourages his audience to cultivate these virtues to spark spiritual revolution. Wilson's wry wit and humorous comments punctuate snippets of wisdom from an array of clerics. This is entertaining and thought-provoking."—Booklist

"Rainn Wilson… takes a profound, humorous, reflective look at faith and spirituality….[He] is fearless and funny in mining the world's religious and spiritual traditions…for nuggets of truth and wisdom."—Publishers Weekly

"Filled with funny and insightful stories."—Religion News Service

"[Wilson] has a way of talking about spirituality that is funny and clever and sincere all at the same time."—Tami Simon, Sounds True

"[Wilson] is selling nothing but belief in better, and it's a really smart book that draws from so many quotes that you know and want to know.  And it's Rainn Wilson in a way you haven't seen or heard him before, which is talking not about make believe, but about what is all too real."—The Chris Cuomo Project

"Wilson is a talented writer who is both engaging and direct…. I appreciated the openness he demonstrated right away in sharing his experiences of family and faith…. his approach to spirituality is deeply inclusive…. he also demonstrates respect for spiritual wisdom found across various traditions from the major monotheistic religions.… The main thrust of this book is not didactic but invitatory…. this book provides an opportunity for contemporary spiritual seekers—those part of a classical religious tradition, something else or nothing at all—to think through some important themes…. if Wilson's book can get Christians (and Jews and Muslims and Sikhs and others) to think deeply about their own traditions, consider their own spiritual capacities and journeys while coming to respect the spiritual capacities and journeys of others, and invite those not already inclined to contemplate spirituality in these ways, then I think the book will have accomplished its goal."—National Catholic Reporter

"So refreshing and hopeful and inspiring...for the first time in years I'm getting to embrace spirituality in a way that...feels meaningful."—"Almost Heretical" podcast