The Newlyweds (Vintage Contemporaries) (Paperback)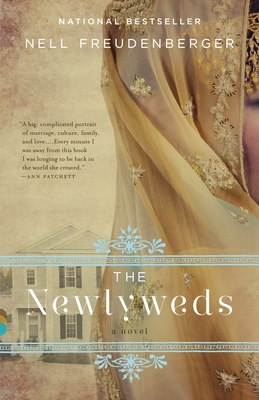 Description
---
Look for Nell Freudenberger's new novel, Lost and Wanted, coming April 2019. 

Amina Mazid is twenty-four when she moves from Bangladesh to Rochester, New York, for love. A hundred years ago, Amina would have been called a mail-order bride. But this is the twenty-first century: she is wooed by—and woos—George Stillman online.
 
For Amina, George offers a chance for a new life for her and her parents, as well as a different kind of happiness than she might find back home. For George, Amina is a woman who doesn't play games. But each of them is hiding something: someone from the past they thought they could leave behind. It is only when Amina returns to Bangladesh that she and George find out if their secrets will tear them apart, or if they can build a future together.
About the Author
---
Nell Freudenberger is the author of the novel The Dissident and the story collection Lucky Girls, winner of the PEN/Malamud Award and the Sue Kaufman Prize for First Fiction from the American Academy of Arts and Letters; both books were New York Times Book Review Notables. A recipient of a Guggenheim Fellowship, a Whiting Award, and a Dorothy and Lewis B. Cullman Fellowship from the New York Public Library, she was named one of Granta's Best Young American Novelists and one of The New Yorker's "20 Under 40." She lives in Brooklyn with her family.
Praise For…
---
"A big, complicated portrait of marriage, culture, family, and love. . . . Every minute I was away from this book I was longing to be back in the world she created." —Ann Patchett, author of State of Wonder

"Riveting. [The Newlyweds] succeeds based on Freudenberger's uncanny ability to feel her way inside Amina's skin." —Los Angeles Times 

"A delight, one of the easiest book recommendations of the year. . . . The cross-cultural tensions and romance so well drawn here recall the pleasures of Monica Ali's Brick Lane and Helen Simonson's Major Pettigrew's Last Stand. . . . The Newlyweds offers a reading experience redolent of Janeite charms: gentle touches of social satire, subtly drawn characters and dialogue that expresses far more than its polite surface. . . . On either side of the world, making a marriage work demands casting off not just old lovers, but cherished fantasies about who we are. Whether these two alien lovebirds can—or should—do that is the question Freudenberger poses so beguilingly." —The Washington Post 

 
"A marvelous book." —Kiran Desai, author of The Inheritance of Loss
 
"The relationship between reader and writer is always something of an arranged marriage, in the sense that the reader enters a stranger's sensibility, hoping for the best. Amina and George may have a complicated connection, but Newlyweds is an unambiguous success." —Meg Wolitzer, More

"A genuinely moving story about a woman trying to negotiate two cultures, balancing her parents' expectations with her own aspirations, her ambition and cynical practicality with deeper, more romantic yearnings.  . . . Freudenberger demonstrates her assurance as a novelist and her knowledge of the complicated arithmetic of familial love, and the mathematics of romantic passion." —Michiko Kakutani, The New York Times

"Parts of The Newlyweds might be about the learning curve faced by any freshly married couple. . . . Like writers such as Jhumpa Lahiri and Ha Jin, she deftly shows how strange the rituals of suburban America seem to an observant outsider." —The Wall Street Journal

"Freudenberger's central couple are more than well-crafted characters; they shimmer with believability and self-contradicting nuance. . . . Fluid and utterly confident." —Time Out New York

"The Newlyweds is so much more than a 'lost-in-translation' romp: There are soulful depths to the sociology. . . . [A] luscious and intelligent novel that will stick with you. . . . Freudenberger keeps the wonderfulness coming." —Maureen Corrigan, NPR

"Freudenberger brings impressive attributes to bear in [The Newlyweds]: a powerful sense of empathy, of being able to imagine what it is to be someone else, to feel what someone else feels; an effective writing style that avoids drawing attention to itself; and an international sensibility, which allows her to write about places outside America not as peripheral—mere playgrounds for American characters—but as central to themselves." —The New York Times Book Review

"Once in a while, you come across a novel with characters so rich and nuanced, and situations so pitch-perfect, that you forget you're reading fiction. The Newlyweds is that sort of novel. I was floored by it—captivated from beginning to end. And now that I'm done, I can't stop thinking about it." —J. Courtney Sullivan, author of Maine

"That Amina and George manage to muddle though the first years of marriage is a testament to the power of love and respect; that we care about them all the way through says as much about Freudenberger's keen observations and generous heart." —O, The Oprah Magazine

"The Newlyweds crosses continents, cultures and generations. . . . It's funny, gracefully written and full of loneliness and yearning. It's also a candid, recognizable story about love—the real-life kind, which is often hard and sustained by hope, kindness, and pure effort." —USA Today

"Freudenberger draws women's complex lives as brilliantly as Austen or Wharton or Woolf, and, with The Newlyweds, has given a performance of beauty and grace." —Andrew Sean Greer, author of The Story of a Marriage

"Rich, wise, bighearted. . . . Freudenberger works with care and respect, giving a full voice to every Deshi aunt, American cousin, and passing employee at the Starbucks where Amina finds a job. Freudenberger moves gracefully between South Asian fantasies of American life and the realities of bone-cold, snow-prone upstate New York—and turns the coming together of newlyweds Amina and George into a readers' banquet." —Entertainment Weekly, Grade: A

"A true triumph." —The New York Observer

"Captivating. . . . This engaging story, with its page after page of effortless prose, ultimately offers up a deeper narrative." —The Boston Globe

"Wise, timely, ripe with humor and complexity, The Newlyweds is one of the most believable love stories of our young century."—Gary Shteyngart, author of Super Sad True Love Story

"Amina's determination, intelligence, and resilience make her a heroine for any culture and any time." —Marie Claire
 
"Exceptional . . . Here is an honest depiction of life as most people actually live it: Americans and Asians, Christians and Muslims, liberals and conservatives. Freudenberger writes with a cultural fluency that is remarkable and in a prose that is clean, intelligent, and very witty." —David Bezmozgis, author of The Free World