Dreamhunter: Book One of the Dreamhunter Duet (Paperback)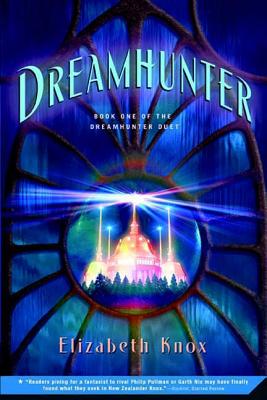 $16.99

Usually Ships in 1-5 Days
Other Books in Series
This is book number 1 in the Dreamhunter Duet series.
Description
---
Laura comes from a world similar to our own except for one difference: it is next to the Place, an unfathomable land that fosters dreams of every kind and is inaccessible to all but a select few, the Dreamhunters. These are individuals with special gifts: the ability to catch larger-than-life dreams and relay them to audiences in the magnificent dream palace, the Rainbow Opera. People travel from all around to experience the benefits of the hunters' unique visions.

Now fifteen-year-old Laura and her cousin Rose, daughters of Dreamhunters, are eligible to test themselves at the Place and find out whether they qualify for the passage. But nothing can prepare them for what they are about to discover. For within the Place lies a horrific secret kept hidden by corrupt members of the government. And when Laura's father, the man who discovered the Place, disappears, she realizes that this secret has the power to destroy everyone she loves . . .

In the midst of a fascinating landscape, Laura's dreamy childhood is ending and a nightmare beginning. This rich novel, filled with beauty, danger, politics, and intrigue, comes to a powerful crescendo, leaving readers clamoring for Book Two.

Dreamhunter is a 2007 Bank Street - Best Children's Book of the Year.

"It is like nothing else I've ever read." -- Stephenie Meyer, The Twilight Saga
About the Author
---
Born in Wellington, New Zealand, Elizabeth is the middle of three sisters.

The Knox family moved around a number of times during Elizabeth's childhood. They lived in Pomare, Wadestown, Waikanae, and Paremata. The sisters were close, and always played imaginary games. By the time Elizabeth was eleven, the games had become one game, an ongoing saga set in another world -- a game she shared with her sisters and several friends. One day, when Elizabeth was sixteen, her father interrupted a discussion the girls were having about the possible results of a secret treaty and said, "I hope you're writing some of this down." The idea hadn't occurred to Elizabeth before, and she thought it was a very good one. She, her sisters, and friends began writing letters between their characters and stories about them. Elizabeth enjoyed writing and decided that this -- writing fiction -- was what she wanted to do with her life.

When Elizabeth left her secondary school, Tawa College, which she attended from 1972 to 1976, she took a job as a clerk in the Inland Revenue department in Porirua. While workmates her age were saving for cars, weddings, and overseas travel, Elizabeth saved in order to take eight months off work and write a novel. This first novel, One Too Many Lives, completed when she was nineteen, was not to be published (though there was kind interest from a number of publishers in New Zealand and the UK). Again Elizabeth went back to work to save money, and at twenty-two took another year off and wrote another novel, Salamander, which she disliked and put away.

In 1983, Elizabeth went to Victoria University and began a degree in English literature. In 1984 she took Bill Manhire's Original Composition course and began writing After Z-Hour. Bill Manhire encouraged her to finish it (actually, he told her he'd rather see her finish her novel than her degree). After Z-Hour was published by Victoria University Press in 1987. The same year, Elizabeth graduated from Victoria University with a B.A. in English literature and was awarded the ICI Young Writers Bursary (now the Louis Johnson Bursary).

Elizabeth Knox has been a full-time writer since 1997. She has published eight novels and three autobiographical novellas. Her best-known book is The Vintner's Luck, which won the Deutz Medal for fiction in the 1999 Montana New Zealand Book Awards and the 2001 Tasmania Pacific Region Prize. The Vintner's Luck has been published in seven languages and is being made into a film by Niki Caro (Whale Rider; North Country). Elizabeth's most recent book, Daylight, was short-listed for Best Book in the South Pacific & South East Asian Region of the 2004 Commonwealth Writers Prize. Elizabeth's first book for young adults, Dreamhunter: Book One of the Dreamhunter Duet, was chosen as a White Raven by the International Youth Library, and is the winner of New Zealand's prestigious Esther Glen Medal. Its sequel, Dreamquake, will be published in March 2007.

Elizabeth lives in Wellington with her husband, Fergus Barrowman, and their son, Jack.
Praise For…
---
"It is like nothing else I've ever read. The characters are so real, you'll feel like you know exactly what they look like and how their voices sound and what they would say or do in any given situation. More than that, you'll want to hang out with them. Then the world is so amazing and unique. You will want to go there. You will want to walk into 'the Place.' And you will want to sleep in a dream opera." —Stephenie Meyer, The Twilight Saga

"Fascinating . . . will surely lure readers back for multiple readings." —Publishers Weekly, Starred Review

"A lyrical, intricate and ferociously intelligent fantasy . . . satisfies fully while pointing to the promised sequel. Provocative and compelling." —Kirkus Reviews, Starred Review

"Readers pining for a fantasist to rival Philip Pullman or Garth Nix may have finally found what they seek in New Zealander Knox." —Booklist, Starred Review

"Attention-getting." —Chicago Tribune

"This series opener is a satisfying soap opera for young fantasy readers who enjoy intricate prose." —Voice of Youth Advocates

"Powerfully portrayed . . . It will appeal to lovers of fantasy set in the real world, who will eagerly await the resolution in the second volume." —School Library Journal

"An engrossing blend of Edwardian civility, family love, and powerfully imagined dreamscape. . . . Knox's writing is rich and interesting." —The Horn Book Magazine

"Knox effectively evokes the curious intersections and distances between the ordinary, earthly world and the parched otherworldly landscape of the Place . . . the adventures of the Dreamhunters are pleasingly harrowing." —Bulletin of the Center for Children's Books

"Dreamhunter will find a large and enthusiastic audience among those who've grown up with Margaret Mahy, grown out of Harry and Hermione, or run out of Lyra and Will . . . Knox hits all the marks of adolescent fantasy fiction: gifted young people, powerful but absent parents, a mysterious place that both nurtures and threatens, a frightening conspiracy to be unraveled en route to maturity . . . This time next year, we'll all be queuing for the sequel." —Jolisa Gracewood, New Zealand Listener

"Dazzlingly inventive . . . In a book that is full of tenderness and family affection as well as presentiments of corruption and horror, Knox beguiles with vibrantly realized detail . . .A tantalizing feat of imaginative fiction." —Katharine England, Magpies magazine (Australia)"