Muse of Nightmares (Strange the Dreamer #2) (Hardcover)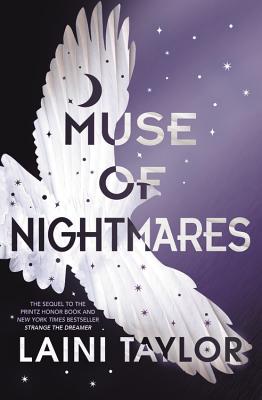 $19.99

Usually Ships in 1-5 Days
Staff Reviews
---
An exciting and imaginative sequel to STRANGE THE DREAMER! In this book, we learn more of the history of the godspawn and their strange powers. Will the City of Weep be destroyed by Minia's army of the dead, or can Strange the Dreamer save his love Sarai, Weep and its inhabitants? A thrilling ride!  
— Mike Kelleher
Description
---
The highly anticipated, thrilling sequel to the New York Times bestseller, Strange the Dreamer, from National Book Award finalist Laini Taylor, author of the bestselling Daughter of Smoke & Bone trilogy.

Sarai has lived and breathed nightmares since she was six years old.

She believed she knew every horror, and was beyond surprise.

She was wrong.

In the wake of tragedy, neither Lazlo nor Sarai are who they were before. One a god, the other a ghost, they struggle to grasp the new boundaries of their selves as dark-minded Minya holds them hostage, intent on vengeance against Weep.

Lazlo faces an unthinkable choice--save the woman he loves, or everyone else?--while Sarai feels more helpless than ever. But is she? Sometimes, only the direst need can teach us our own depths, and Sarai, the muse of nightmares, has not yet discovered what she's capable of.

As humans and godspawn reel in the aftermath of the citadel's near fall, a new foe shatters their fragile hopes, and the mysteries of the Mesarthim are resurrected: Where did the gods come from, and why? What was done with thousands of children born in the citadel nursery? And most important of all, as forgotten doors are opened and new worlds revealed: Must heroes always slay monsters, or is it possible to save them instead?

Love and hate, revenge and redemption, destruction and salvation all clash in this gorgeous sequel to the New York Times bestseller, Strange the Dreamer.
About the Author
---
Laini Taylor is the New York Times bestselling author of the Printz Honor Book Strange the Dreamer and its sequel, Muse of Nightmares. Taylor is also the author of the global sensation the Daughter of Smoke & Bone trilogy and the companion novella Night of Cake & Puppets. Taylor's other works include the Dreamdark books: Blackbringer and Silksinger, and the National Book Award finalist Lips Touch: Three Times. She lives in Portland, Oregon, with her husband, illustrator Jim Di Bartolo, and their daughter, Clementine. Her website is lainitaylor.com.
Praise For…
---
Praise for Muse of NightmaresA Chicago Public Library Best Book of 2018A 2018 Booklist Editors' Choice
* "It is here, perhaps, that Taylor shines the brightest: she's always been a wordsmith, and this book is no exception."—Booklist, starred review

"A sequel that surpasses the original."—Kirkus Reviews

Praise and accolades for Strange the Dreamer:A NPR Best Book A Goodreads Best YA Fantasy and Science Fiction NomineeA Boston Globe Best YA BookA Popcrush Best Young Adult BookA Popsugar Best Book for Women A Booklist Editors' Choice An A.V. Club Favorite Book A Tor Top Young Adult SFF BookA Christian Science Monitor Best Book A B&N Teen Blog Best Young Adult Book A Forever Young Adult Best Book

"Laini Taylor is so damn good and like no other."—Leigh Bardugo, #1 New York Times bestselling author of Six of Crows and Crooked Kingdom

"Laini Taylor set my imagination on fire so hard that it spontaneously combusted...This is the kind of story that paves dreams."—p.p1 {margin: 0.0px 0.0px 0.0px 0.0px; font: 13.0px Times}Roshani Chokshi, author of The Star Touched Queen

"[A] must-read YA!"—p.p1 {margin: 0.0px 0.0px 0.0px 0.0px; font: 13.0px Times}USA Today

"Part adventure novel, part romance and part exercise in epic myth-building, it's gorgeously written and full of surprises."—NPR

"[One of] our favorite books of the year!"—p.p1 {margin: 0.0px 0.0px 0.0px 0.0px; font: 13.0px Times}Popsugar

"An epic world of gods, moths and nightmares; a world where the dream chooses the dreamer."—p.p1 {margin: 0.0px 0.0px 0.0px 0.0px; font: 13.0px Times}Justine Magazine

"Weighty as a nightmare and as transportive as the finest of fantasy, Laini Taylor's new novel will leave readers with miracles on their minds."—p.p1 {margin: 0.0px 0.0px 0.0px 0.0px; font: 13.0px Times}Hypable

* "Gorgeously written in language simultaneously dark, lush, and enchanting, the book will leave readers eager for the next."—Publishers Weekly, starred review

* "...Characters are carefully, exquisitely crafted, the writing is achingly lovely, and the world is utterly real...This is a thing to be savored."—Booklist, starred review

* "[Strange the Dreamer] has all the rich, evocative imagery and complex world-building typical of Taylor's best work. This outstanding fantasy is a must-purchase for all YA collections."—School Library Journal, starred review

* "The luxurious prose and complex world building invites and rewards slow reading....Here readers will find characters to love and ones to hate and, ultimately, a world to be willingly lost in."—Bulletin of the Center for Children's Books

* [Readers] will dive into Taylor's gorgeous prose and brilliant imagery and relish this story about dreams, love, monsters, gods, ghosts, war, and alchemy. Told from alternating points of view, this is complex but satisfying, a story about cultures meeting and clashing."—VOYA, starred review

"[Laini Taylor] has spun another mesmerizing tale with captivating twists and turns, an array of intriguing characters, strange and beautiful language, and baroque flourishes of the imagination."—Horn Book

"Lovers of intricate worldbuilding and feverish romance will find this enthralling."—Kirkus Reviews