The Stardust Thief (The Sandsea Trilogy #1) (Hardcover)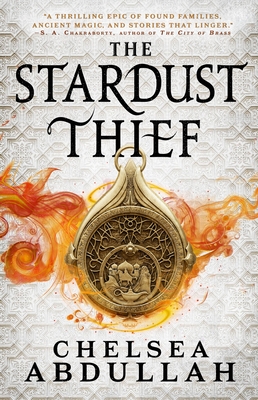 $28.00

Usually Ships in 1-5 Days
Description
---
Inspired by stories from One Thousand and One Nights, this book weaves together the gripping tale of a legendary smuggler, a cowardly prince, and a dangerous quest across the desert to find a legendary, magical lamp.
Neither here nor there, but long ago . . . 
Loulie al-Nazari is the Midnight Merchant: a criminal who, with the help of her jinn bodyguard, hunts and sells illegal magic. When she saves the life of a cowardly prince, she draws the attention of his powerful father, the sultan, who blackmails her into finding an ancient lamp that has the power to revive the barren land—at the cost of sacrificing all jinn.
With no choice but to obey or be executed, Loulie journeys with the sultan's oldest son to find the artifact. Aided by her bodyguard, who has secrets of his own, they must survive ghoul attacks, outwit a vengeful jinn queen, and confront a malicious killer from Loulie's past. And, in a world where story is reality and illusion is truth, Loulie will discover that everything—her enemy, her magic, even her own past—is not what it seems, and she must decide who she will become in this new reality.
About the Author
---
Chelsea Abdullah is an American-Kuwaiti writer born and raised in Kuwait, where she grew up listening to stories about mysterious desert creatures and wily (only sometimes likable) heroes.
 
Consumed by wanderlust, she has put down roots in various states. After earning her MA in English at Duquesne University, she moved to New York, where she currently lives. When not immersed in her own fictional worlds, she spends her free time playing video games, doodling characters, and hoarding books she doesn't have the shelf space for.
Praise For…
---
"The Stardust Thief is a dream written upon a page—absorbing, lingering, and poignantly told. Abdullah weaves a sweeping adventure of tales within tales, while laying bare the ways those we love can both uplift us and break our hearts."—Andrea Stewart, author of The Bone Shard Daughter

"A thrilling adventure about found families, ancient magic, and stories that linger...I thoroughly enjoyed it." —S. A. Chakraborty, author of The City of Brass

"You'll be charmed immediately by the characters and pulled in by this exploration of how the stories we hear and the stories we tell ourselves—beautiful and heartbreaking alike—shape us. Perfect for fans of S.A. Chakraborty's City of Brass."—C. L. Clark, author of The Unbroken

"Reading The Stardust Thief feels like being told a story on a long, moonlit night: intimate and wondrous. Filled with folkloric dangers and a lovable cast of characters, Abdullah's debut is by turns whimsical and thrilling. I was held under its powerful enchantment from the first page to the very last."—Allison Saft, author of Down Comes the Night

"Shimmering with magic, The Stardust Thief is a gripping adventure set against an immersive world. Abdullah masterfully crafts a tale, with equally chaotic and lovable characters, that reads like it is meant to be told around the fire beneath a starlit sky."—Aamna Qureshi, author of The Lady or the Lion

"Abdullah has created a sumptuous feast of richly layered classic tales, and characters who will have you hungering to unravel their mysteries. The Stardust Thief will transport you, enchant you, and revive your belief in the magic of storytelling."—Shelley Parker-Chan, author of She Who Became the Sun

"Sizzling with action and secrets, The Stardust Thief is a grand adventure with unforgettable characters, enchanting magic, and plenty of heart!"—Melissa Caruso, author of The Tethered Mage

"[The Stardust Thief] nods to such classic tales from One Thousand and One Nights as "Aladdin," "Ali Baba and the Forty Thieves," and the framing tale of Scheherazade, but then charts its own thrilling territory.... A marvelous plunge into a beautifully crafted adventure."
 —Kirkus

"Abdullah's ambitious debut, the first in the Sandsea Trilogy, weaves an intricate tale that draws from the legends of One Thousand and One Nights to create something entirely new.... Lush descriptions bring the setting to life, while the focus on myth and storytelling contrasted against the characters' harsh reality adds to the sense of mystery and enchantment. This powerful, intriguing adventure will leave readers eager for more."—Publishers Weekly

"Abdullah's Sandsea Trilogy kicks off with a beautifully crafted novel heavily influenced by the art of storytelling and personal narrative, especially that of the classic Arabian tale One Thousand and One Nights.... Abdullah is a gifted storyteller, weaving together three disparate points of view in order to bring to life a rich world, rife with magic, where anything that can be dreamed up can happen."—Booklist

"Abdullah writes stories like a sparkling, burning thing painted against the pitch-black night, ever out of our reach. Gently touched with lyrical writing, Abdullah's talent is making you feel like magic exists."—Buzzfeed

"An impressive first in an expected trilogy, one that hits high notes of several popular themes and trends (found families, classics retold), but offers fresh perspectives as well. It will delight readers who appreciate highly atmospheric books. Share widely, not just with fantasy readers."—Library Journal

"It's hard to believe that Abdullah, an American-Kuwaiti writer who grew up on some of the traditional tales she embellishes, is a debut writer. The prose is polished, the world rich with depth, and the characterizations endearing."—Paste Magazine

"Abdullah brilliantly unfolds a tale built from the threads of One Thousand and One Nights...Abdullah splendidly transports readers into this world by layering details into the story so deftly that the veil between magic and reality slips and flows delightfully."—Library Journal, "Best SF/Fantasy of 2022"