Judas: How a Sister's Testimony Brought Down a Criminal Mastermind (Paperback)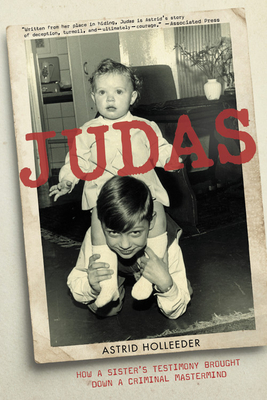 $17.99
Usually Ships in 1-5 Days
Staff Reviews
---
Chilling and full of suspense! How do you escape a murderous psychopath brother who suspects treachery at every turn? 
The narration of the audiobook by Naomi Frederick is mesmerizing!
— Mike Kelleher
Description
---
The incredible true story of a woman who risked everything to put her brother, a murderous psychopath and one of the world's most infamous crime bosses, behind bars.

Astrid Holleeder is in hiding because she had the courage to write this book. Her brother Willem Holleeder, best known for his involvement in the 1983 kidnapping of the CEO and chairman of Heineken brewing company, is one of the most notorious criminals in contemporary history. For decades, Wim ruled over his family mafia-style, threatening death if any of them betrayed him. Astrid and her sister, Sonja, watched as their brother eliminated anyone who got in his way, and they lived in terror of inciting his rage, unable to protect even their own young children from his violence. Trained as a lawyer, Astrid served as her brother's unwilling confidante.

Now, she's turning the tables on him.

Charged for his involvement in multiple assassinations, including that of his former partner and brother-in-law, Holleeder is finally on trial for murder, all due to the shocking testimony of his own family.

An international bestseller that has sold more than 500,000 copies in Holland, this stunning, edge-of-your seat memoir chronicles Astrid's terrifying experience working as a double agent, preserving her brother's trust just so that she could get enough information to put him away for life.

Judas is the intimate account of Astrid's deeply personal betrayal, set against the backdrop of their haunting family history and the astonishing world of the criminal underground.
About the Author
---
Astrid Holleeder is a Dutch lawyer and writer. She is the sister of the criminal Willem Holleeder and was, together with her older sister and a former friend of Willem, a witness to his prosecution. Her memoir Judas sold half a million copies and became the bestselling book in the Netherlands in 2016. Her second book, Diary of a Witness, also became an instant bestseller.
Praise For…
---
"A harrowing, courageous account of murder and
family...riveting, sensational, unforgettable."
—
Kirkus (Starred Review)
"Compulsively readable... [
Judas
] is not only a fascinating examination of a criminal many American readers will be unfamiliar with, but also a moving and heartbreaking tale of the toll exerted on the families of headline criminals."—
Booklist
"Written from her place in hiding,
Judas
is Astrid's story of deception, turmoil and -- ultimately -- courage . . . A stark statement about how one familial tie can strangle so many lives."—
The Washington Times
"Written while awaiting her brother's trial, Holleeder's
engrossing story reads like the last will and testament of a dead woman
walking."
—
Publishers Weekly
"Guaranteed, you've never read a memoir like
Judas
, already a runaway hit in the Netherlands where it was first published.
Judas
is the story of Astrid Holleeder, the criminal lawyer who decided to testify against her brother, crime kingpin Willem "Wim" Holleeder, knowing it would put her life in grave danger. Holleeder is currently in hiding as she waits to testify. Reading Holleeder's matter-of-fact account of the years leading to this decision gives the uncanny sensation of reading a death wish."—
Refinery29
"A
lurid crime story in the form of an intimate domestic drama."
—
The New Yorker