A Secret History of Witches: A Novel (Paperback)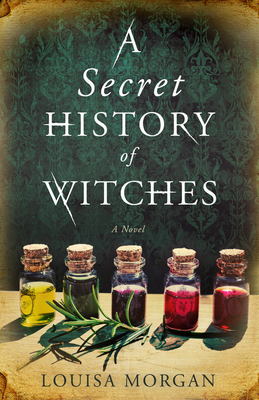 $16.99

Usually Ships in 1-5 Days
Staff Reviews
---
Do you love magic? History? A SECRET HISTORY OF WITCHES traces five generations of one magical family - it's a meaty romp through modern history - witch hunts, inquisitions and much more!
— Kathleen
Description
---
A sweeping historical saga that traces five generations of fiercely powerful mothers and daughters -- witches whose magical inheritance is both a dangerous threat and an extraordinary gift.

Brittany, 1821.

After Grand-Mere Ursule gives her life to save her family, their magic seems to die with her.

Even so, the Orchires fight to keep the old ways alive, practicing half-remembered spells and arcane rites in hopes of a revival. And when their youngest daughter comes of age, magic flows anew. The lineage continues, though new generations struggle not only to master their power, but also to keep it hidden.

But when World War II looms on the horizon, magic is needed more urgently than ever -- not for simple potions or visions, but to change the entire course of history.

Praise for A Secret History of Witches:

"I loved it. A beautiful generational tale, reminiscent of Practical Magic. . .. Grounded and real, painful and hopeful at the same time." —Laure Eve, author of The Graces

"Historical fiction at its absolute finest....Deliciously absorbing." —Boston Globe

"At once sprawling and intimate, A Secret History of Witches deftly captures the greatest magic of all: the love between mothers and daughters." —Jordanna Max Brodsky, author of The Wolf in the Whale

For more from Louisa Morgan, check out:

The Witch's Kind
The Age of Witches
About the Author
---
Louisa Morgan is the author of A Secret History of Witches, and a pseudonym for award-winning author Louise Marley. Louise lives in the Pacific Northwest where she and her Border Terrier, Oscar, ramble the beaches and paths of Washington State.
Praise For…
---
"A beautiful generational tale,reminiscent of Practical Magic if it had been set in various time periods, but much more expansive in scope. Grounded and real, painful and hopeful at the same time."—Laure Eve, author of The Graces

"Historical fiction at its absolute finest....Deliciously absorbing."—Boston Globe

"At once sprawling and intimate, A Secret History of Witches deftly captures the greatest magic of all: the love between mothers and daughters."—Jordanna Max Brodsky, author of The Wolf in the Whale

"Fresh and unpredictable.... [Morgan] depicts with visceral impact the roles of women in a male-centered world."—Historical Novel Society

"A moving multigenerational saga about strong women who work behind the scenes to save the world from tyranny. A deeply satisfying and magical work of great craft."—Carol Goodman, author of The Lake of Dead Languages

"Epic in scope and heartbreakingly tender in its portrayal of mothers and daughters...Recommended for fans of Nora Roberts and readers of feminist fantasy."—Booklist

"A Secret History of Witches examines the bonds between mothers and daughters, and the power of hidden magic to quietly save the world, particularly as the world braces for another global war."—Brit + Co

"A Secret History of Witches is an epic family saga that speaks to the strength of all women and the difference that one true heart can make, not only for herself but for the world."—Marci Jefferson, author of Girl on the Golden Coin

"Morgan's transportive words will sweep you away to a time of magic, love, and loss. Simply hold on and enjoy this mesmerizing ride."—Tish Thawer, award-winning author of The Witches of BlackBrook series