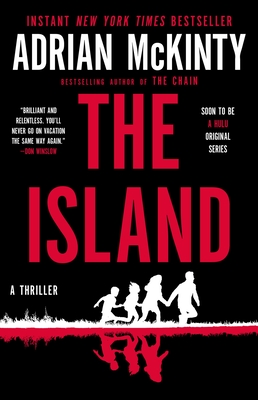 $28.00

Usually Ships in 1-5 Days
Staff Reviews
---
The Island by Adrian McKinty is one wild ride of a thriller! McKinty maintains a fast pace and menacing tone throughout. The American tourist heroine is surprisingly tough and resourceful protecting her family in the face of what seem like impossible odds on a remote Australian island inhabited by a less than a hospitable clan living by their own harsh rules. Great vacation read, as long as you're not going to remote Australia!
— Genevieve
Description
---
From the New York Times bestselling author of The Chain comes a pulse-pounding thriller about a family that must face their darkest fears--and deepest secrets--when they go on the run for their lives.
INSTANT
NEW YORK TIMES
BESTSELLER · A
NEW YORK TIMES
"BEST THRILLER OF 2022"
"Unrelenting suspense." —Stephen King
"Extraordinary."
—
T. J. Newman,
New York Times
bestselling author of
Falling
"You'll never go on vacation the same way again." —Don Winslow,
New York Time
s bestselling author of
City On Fire
IT WAS JUST SUPPOSED TO BE A FAMILY VACATION.
A TERRIBLE ACCIDENT CHANGED EVERYTHING.
YOU DON'T KNOW WHAT YOU'RE CAPABLE OF UNTIL THEY COME FOR YOUR FAMILY.
After moving from a small country town to Seattle, Heather Baxter marries Tom, a widowed doctor with a young son and teenage daughter. A working vacation overseas seems like the perfect way to bring the new family together, but once they're deep in the Australian outback, the jet-lagged and exhausted kids are so over their new mom.
When they discover remote Dutch Island, off-limits to outside visitors, the family talks their way onto the ferry, taking a chance on an adventure far from the reach of iPhones and Instagram.
But as soon as they set foot on the island, which is run by a tightly knit clan of locals, everything feels wrong. Then a shocking accident propels the Baxters from an unsettling situation into an absolute nightmare. 
When Heather and the kids are separated from Tom, they are forced to escape alone, seconds ahead of their pursuers.
Now it's up to Heather to save herself and the kids, even though they don't trust her, the harsh bushland is filled with danger, and the locals want her dead.
Heather has been underestimated her entire life, but she knows that only she can bring her family home again and become the mother the children desperately need, even if it means doing the unthinkable to keep them all alive.
SOON TO BE A HULU ORIGINAL SERIES
"Gripping and unpredictable. No one does high-stakes tension like McKinty . . . Prepare to be hooked."
—Sarah Pearse
"A haunting masterpiece."
—Steve Cavanagh
"McKinty has written another irresistible and pulse-pounding thriller about the surprising places evil hides and just how far we'll go for those we love."
—Karin Slaughter
About the Author
---
Adrian McKinty was born and grew up in Belfast, Northern Ireland. He studied philosophy at Oxford University before moving to Australia and to New York. He is the author of more than a dozen crime novels, including the Dagger and Edgar-award nominated debut Dead I Well May Be, the critically acclaimed Sean Duffy series, and the award-winning standalone thriller The Chain, which was a New York Times and #1 international bestseller. McKinty's books have been translated into over 30 languages and he has won the Edgar Award, the International Thriller Writers Award, the Ned Kelly Award (3 times), the Anthony Award, the Barry Award, the Macavity Award, and the Theakston Old Peculier Crime Novel of the Year Award.
Praise For…
---
"Unrelenting suspense. It reminded me a little of Jaws."—Stephen King

"This summer's major literary thrill ride…. Adrian McKinty is a master."—USA Today

"One of this summer's best standalone thrillers."
 —The Boston Globe

"Thriller fans, think nothing can shock you anymore? Check out The Island. It's an adrenaline rush from beginning to end."—Reader's Digest

"A tense, adrenaline-fueled thriller."—Time Magazine

"The locals aren't always friendly in vacation hot spots, but on the closed-to-the-public island Tom sneaks his family in to for fun, they're out to kill. Maybe Disney World next time?"
 —People

"What a shock it was to discover how deeply invested I became in the fate of the characters of The Island, a propulsive, insane story, about an all-out struggle for survival between an Australian family and a group of American interlopers. . . . Heather, who starts as a clueless young bride who expects her older husband to take care of her and has no love for his children, becomes not just a Charlize Theron-worthy badass but also a great stepmother who helps two damaged kids come into their own."
 —The New York Times Book Review

"Deliverance meets The Road Warrior in this harrowing survival thriller . . . McKinty is a master of suspense."—Publishers Weekly (starred review)

"Expertly choreographed and breathlessly exciting . . . both the peril and the family are like no other. The Chain was McKinty's breakthrough novel and this one could be every bit as big."—Booklist (starred review)

"Wow, this book left me breathless and on the edge of my seat from the very first page—this is thriller writing of a high order. Gripping and unpredictable, prepare to be hooked and pumped full of adrenaline as McKinty deftly weaves a compulsively readable plot with characters that you are rooting for. No one does high- stakes tension like McKinty. Put The Island at the top of your TBR—you won't regret it."
 —Sarah Pearse, New York Times bestselling author of The Sanatorium

"Heart-stoppingly tense and unpredictable, The Island twists a family vacation to a nightmarish breaking point. Adrian McKinty has written another irresistible and pulse-pounding thriller about the surprising places evil hides and just how far we'll go for those we love." 
 —Karin Slaughter, New York Times bestselling author of Pieces of Her

"The action is frenetic and relentless . . . entirely satisfying if you're looking for a reliable nightmare or two."—Toronto Star

"An exciting thriller that... pulls readers compulsively onward."—Kirkus Reviews

"McKinty delivers another skillful, blade-sharp page-turner."
 —James Swallow, bestselling author of Nomad

"A pulsating, nerve-shredding thriller. I loved it!"
 —M. J. Arlidge, bestselling author of Eeny Meeny

Praise for the instant New York Times bestseller The Chain

"McKinty hangs on to his wit and literacy even under duress...Beneath its surface of high-speed thrills, The Chain is clearly the work of the philosophical thinker McKinty has always been."—Janet Maslin, New York Times

"The pace quickens and the tension builds whenever the mother and daughter appear in a scene. In the end, what makes The Chain so frightening - and why it works so well as a thriller - is that all of Rachel's actions remain completely relatable, even as she whipsaws between terror and determination, morphing from victim to perpetrator."—Tina Jordan, The New York Times

"This is more than nail-biting; think cuticle-shredding."—Bethanne Patrick, The Washington Post

"A chilling, diabolical page-turner you'll want to savor."—People Magazine, Book of the Week

"Thrillers... don't get much more psychologically rich than The Chain." —David Canfield, Entertainment Weekly

"This nightmarish story is incredibly propulsive and original. You won't shake it for a long time."—Stephen King

"You have never read anything quite like The Chain and you will never be able to forget it. Brilliant. Beautifully written. A masterpiece of tension. The Chain scared the hell out of me but I could not put it down! I raced to the end of the book and then went back to see how Adrian McKinty pulled it all off. The Chain belongs in the elite company of world-class thrillers like Gone Girl and The Silence of the Lambs. This is nothing short of JAWS for parents."—Don Winslow, New York Times bestselling author of The Cartel and The Force