Taltos (Lives of Mayfair Witches #3) (Mass Market)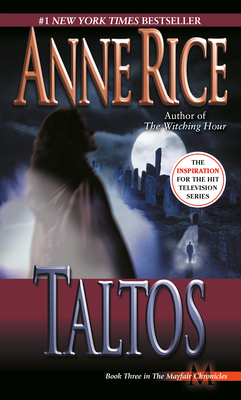 $8.99

Usually Ships in 1-5 Days
Other Books in Series
This is book number 3 in the Lives of Mayfair Witches series.
Description
---
When Ashlar learns that another Taltos has been seen, he is suddenly propelled into the haunting world of the Mayfair family, the New Orleans dynasty of witches forever besieged by ghosts, spirits, and their own dizzying powers. For Ashlar knows this powerful clan is intimately linked to the heritage of the Taltos.

In a swirling universe filled with death and life, corruption and innocence, this mesmerizing novel takes us on a wondrous journey back through the centuries to a civilization half-human, of wholly mysterious origin, at odds with mortality and immortality, justice and guilt. It is an enchanted, hypnotic world that could only come from the imagination of Anne Rice . . .

Praise for Taltos

"Taltos is the third book in a series known as the lives of the Mayfair witches. . .Their haunted heritage has brought the family great wealth, which is exercised from a New Orleans manse with Southern gentility; but of course such power cannot escape notice . . . or challenge . . . Rice is a formidable talent. . . . [Taltos] is a curious amalgam of gothic, glamour fiction, alternate history, and high soap opera."—The Washington Post Book World

"Anne Rice will live on through the ages of literature."—San Francisco Chronicle

"An intricate, stunning imagination."—Los Angeles Times Book Review

"Spellbinding . . . mythical . . . Anne Rice is a pure storyteller."—Cosmopolitan

"Beautifully written."—Kirkus Reivews (starred review)

"Her power of invention seems boundless. . . . She has made a masterpiece of the morbid, worthy of Poe's daughter. . . . It is hard to praise sufficiently the originality of Miss Rice."—The Wall Street Journal
About the Author
---
Anne Rice is the author of thirty-seven books, including the Vampire Chronicles, the Lives of the Mayfair Witches, and the Wolf Gift book series. Rice was born in New Orleans in 1941 and grew up there and in Texas. She lived in San Francisco with her husband, the poet and painter, Stan Rice until 1988, when they returned to New Orleans to live with their son, Christopher. In 2006, Rice moved to Rancho Mirage, California. She died in 2021.
Praise For…
---
"Taltos is the third book in a series known as the lives of the Mayfair witches. . .Their haunted heritage has brought the family great wealth, which is exercised from a New Orleans manse with Southern gentility; but of course such power cannot escape notice . . . or challenge . . . Rice is a formidable talent. . . . [Taltos]is a curious amalgam of gothic, glamour fiction, alternate history, and high soap opera."—The Washington Post Book World

"Anne Rice will live on through the ages of literature."—San Francisco Chronicle

"An intricate, stunning imagination."—Los Angeles Times Book Review

"Spellbinding . . . mythical . . . Anne Rice is a pure storyteller."—Cosmopolitan

"Beautifully written."—Kirkus Reivews (starred review)

"Her power of invention seems boundless. . . . She has made a masterpiece of the morbid, worthy of Poe's daughter. . . . It is hard to praise sufficiently the originality of Miss Rice."—The Wall Street Journal