The Temporal Void (Commonwealth: The Void Trilogy #2) (Mass Market)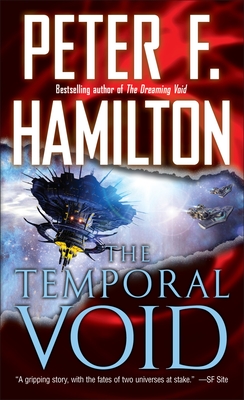 $8.99

Usually Ships in 1-5 Days
Description
---
Long ago, the astrophysicist Inigo began dreaming scenes from the life of the remarkable Edeard, who lived within the Void, a self-contained microuniverse at the heart of the galaxy. Inigo's inspirational dreams, shared by hundreds of millions throughout the galaxy, gave birth to a religion: Living Dream. But when the appearance of a Second Dreamer seems to trigger the expansion of the Void—which is devouring everything in its path—the Intersolar Commonwealth is thrown into turmoil.

With time running out, the fate of humanity hinges on a handful of people: Araminta, now awakening to the unwelcome fact that she is the mysterious Second Dreamer; Inigo, whose private dreams hint at a darker truth; and Justine, whose desperate gamble places her within the Void, where the godlike Skylords hold the power to save the universe . . . or destroy it.
About the Author
---
Peter F. Hamilton is the author of numerous novels, including The Dreaming Void, Judas Unchained, Pandora's Star, Fallen Dragon, and the acclaimed epic Night's Dawn trilogy (The Reality Dysfunction, The Neutronium Alchemist, and The Naked God). He lives with his family in England.
Praise For…
---
"A gripping story, with the fates of two universes at stake."—SF Site
 
"Fusing elements of hard SF with adventure fantasy tropes, Hamilton has singlehandedly raised the bar for grand-scale speculative storytelling."—Publishers Weekly
 
"A great, sprawling, ripping yarn reminiscent of Golden Age Science Fiction."—SF Crowsnest