Wife 22: A Novel (Paperback)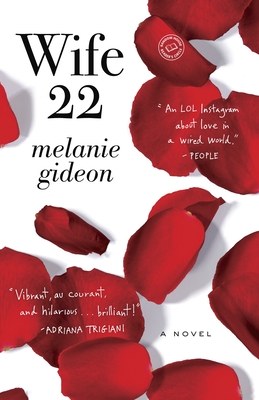 $15.00
Email or call for price.
Description
---
"A skillful blend of pop-culture references, acidic humor, and emotional moments. It will take its rightful place . . . alongside Helen Fielding's Bridget Jones's Diary, Anna Maxted's Getting Over It, and Allison Pearson's I Don't Know How She Does It."—Library Journal (starred review)

Alice has been married to her husband, William, for twenty years.  Though she can still remember the first time they met like it was yesterday, these days she finds herself posting things on Facebook that she used to confide to him. So when she's invited to participate in an anonymous online survey on marriage and love, she finds that all her longings come pouring out as she dutifully answers questions under the name "Wife 22."

Evaluating her responses is "Researcher 101," who seems to listen to her in a way that William hasn't in a very long time, and before she knows it, she finds herself trying hard not to e-flirt with him. Meanwhile, her elderly father is chatting on Facebook, her fifteen-year-old daughter is tweeting, and everything in her life is turning upside down.

Wife 22 is a hilariously funny, profoundly moving, and deeply perceptive novel about the ways we live and love in this technological age, from a dazzling new voice in fiction.

"An LOL Instagram about love in a wired world."—People
 
"Vibrant, au courant, and hilarious . . . brilliant!"—Adriana Trigiani
About the Author
---
Melanie Gideon is the bestselling author of The Slippery Year: A Meditation on Happily Ever After, which was named an NPR and San Francisco Chronicle best book of the year. She is also the author of two young adult novels: Pucker  and The Map That Breathed, both New York Public Library Books for the Teen Age. Her work has appeared in The New York Times, the San Francisco Chronicle, More, Shape, The Times, the Daily Mail, and Marie Claire. She was born and raised in Rhode Island. She now lives in the Bay Area with her husband and son.
Praise For…
---
"An LOL Instagram about love in a wired world."—People

"Vibrant, au courant, and hilarious . . . brilliant!"—Adriana Trigiani

"This modern-day, mixed-media comedy of manners is as up-to-the-minute as your favorite Twitter feed."—The Washington Post

"A skillful blend of pop-culture references, acidic humor, and emotional moments. It will take its rightful place . . . alongside Helen Fielding's Bridget Jones's Diary, Anna Maxted's Getting Over It, and Allison Pearson's I Don't Know How She Does It."—Library Journal (starred review)

"Channels the playful but incisive vibe of Nora Ephron's You've Got Mail."—NPR

"Fresh and funny . . . a delightful, thoroughly modern, guilty pleasure of a read."—San Francisco Chronicle