Staked: The Iron Druid Chronicles, Book Eight (Mass Market)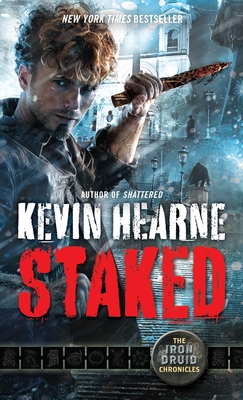 $7.99

Usually Ships in 1-5 Days
Other Books in Series
This is book number 8 in the The Iron Druid Chronicles series.
Description
---
NEW YORK TIMES BESTSELLER • In the eighth book in The Iron Druid Chronicles, two-thousand-year-old Druid Atticus O'Sullivan faces the clan of vampires who have been bent on destroying him—including Leif, his former best friend turned enemy.

When a Druid lives as long as Atticus does, he's bound to run afoul of a few vampires—make that legions of them. Even his former friend and legal counsel turned out to be a bloodsucking backstabber. Now the toothy troublemakers—led by power-mad pain-in-the-neck Theophilus—are no longer content to live undead and let live. Atticus needs to make a point—and drive it into a vampire's heart.

As always, Atticus wouldn't mind a little backup. But his allies have problems of their own. Ornery archdruid Owen Kennedy is having a wee bit of troll trouble: Turns out when you stiff a troll, it's not water under the bridge. Meanwhile, Granuaile is desperate to free herself of the Norse god Loki's mark and elude his powers of divination—a quest that will bring her face-to-face with several Slavic nightmares.

As Atticus globe-trots to stop his vampire nemesis, the journey leads to Rome. What better place to end an immortal than the Eternal City? But poetic justice won't come without a price: In order to defeat Theophilus, Atticus may have to lose an old friend.

Don't miss any of The Iron Druid Chronicles:
HOUNDED | HEXED | HAMMERED | TRICKED | TRAPPED | HUNTED | SHATTERED | STAKED | SCOURGED | BESIEGED
About the Author
---
Kevin Hearne hugs trees, pets doggies, and rocks out to heavy metal. He also thinks tacos are a pretty nifty idea. He is the New York Times bestselling author of The Iron Druid Chronicles, the Ink & Sigil series, and the Seven Kennings series, and is co-author of The Tales of Pell with Delilah S. Dawson.
Praise For…
---
Praise for The Iron Druid Chronicles

"[Kevin] Hearne is a terrific storyteller with a great snarky wit. . . . Neil Gaiman's American Gods meets Jim Butcher's Harry Dresden."—SFFWorld

"[The Iron Druid books] are clever, fast-paced and a good escape."—Boing Boing

"Hearne understands the two main necessities of good fantasy stories: for all the wisecracks and action, he never loses sight of delivering a sense of wonder to his readers, and he understands that magic use always comes with a price. Highly recommended."—The Magazine of Fantasy & Science Fiction

"Superb . . . plenty of quips and zap-pow-bang fighting."—Publishers Weekly (starred review)

"Celtic mythology and an ancient Druid with modern attitude mix it up in the Arizona desert in this witty new fantasy series."—Kelly Meding, author of Chimera

"[Atticus is] a strong modern hero with a long history and the wit to survive in the twenty-first century. . . . A snappy narrative voice . . . a savvy urban fantasy adventure."—Library Journal

"A page-turning and often laugh-out-loud funny caper through a mix of the modern and the mythic."—Ari Marmell, author of The Warlord's Legacy

"Outrageously fun."—The Plain Dealer

"Kevin Hearne breathes new life into old myths, creating a world both eerily familiar and startlingly original."—Nicole Peeler, author of Tempest Rising