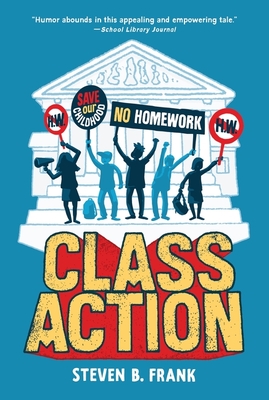 $7.99

Usually Ships in 1-5 Days
Description
---
One sixth grader takes his battle against homework all the way to the Supreme Court! 

Sixth-grader Sam Warren is sick of stressing over assignments, and that's exactly what he tells his teacher: NO. MORE. HOMEWORK! 

Suspended from school, Sam recruits his elderly neighbor, ex-attorney Mr. Kalman, to the cause. He's ready to file a class action suit on behalf of all the children in Los Angeles, and eventually the country. Their argument? Homework is unconstitutional.  

With his sister, Sadie, Mr. Kalman, and his besties, Sam takes his case to Washington, D.C., and the highest court in the land. Will Sam's case pay off and allow him and his friends some time to grow and play, or will he just look like the laziest kid in America?
About the Author
---
Steven Frank is the author of The Pen Commandments, a guide to writing that Booklist called "funny, inspiring, personal, moving, and often hilarious."  His middle grade short fiction and plays have appeared in Weekly Reader's Writing and Read magazines. He is also a beloved middle school teacher at Le Lycee Francais of Los Angeles, where his students often intentionally misbehave because he punishes them with fun writing assignments.
www.stevenbfrank.com
Twitter @stevenbfrank
Praise For…
---
"Likely to appeal to both educators and burned-out students [...] More amusing than your average civics class."--Kirkus, review "A surprisingly compelling legal drama."--Bulletin for the Center of Children's Books —