Global Warning (Hardcover)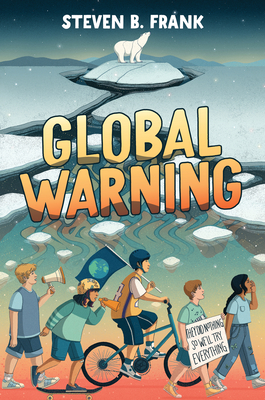 $18.99

Usually Ships in 1-5 Days
Description
---
A group of 12-year-old friends concerned about climate change proposes a new way to save the earth: amending the U.S. Constitution. Their project propels these activists on an amazing journey across America—and all the way to Norway—with plenty of outside-the-box hijinks and civil disobedience, as they work to save the planet and their futures on it. 
For sixth grader Sam Warren and his friends Catalina, Alistair, Jaesang, and Zoe, the effects of climate change are too pressing to ignore. Adults don't seem to be up to the challenge of taking action to make real change, but kids know it's their futures on the line. If their parents, teachers, and government officials won't step up well, then, they will! 
And these young people will stop at nothing to save the planet and their futures on it. With a little help from a retired kids' rights lawyer and a grandma who knows how to march, they are ready to think big: Constitutional amendment big. But can a bunch of 12-year-olds really draft an amendment that protects the planet, get it to pass in Congress, and change enough hearts and minds across the country to get it ratified before the clock runs out? 
Steven B. Frank crafts another funny and fast-paced story of heightened-reality wish-fulfillment, loaded with the witty patter of smart kids, in this book that reads like Aaron Sorkin for middle grade and plumbs the complexities of the Constitution and the critical turning point of global climate change. 
About the Author
---
Steven Frank is the author of The Pen Commandments, a guide to writing that Booklist called "funny, inspiring, personal, moving, and often hilarious."  His middle grade short fiction and plays have appeared in Weekly Reader's Writing and Read magazines. He is also a beloved middle school teacher at Le Lycee Francais of Los Angeles, where his students often intentionally misbehave because he punishes them with fun writing assignments.
www.stevenbfrank.com
Twitter @stevenbfrank
Praise For…
---
"Implausible but engagingly suspenseful—and not, tantalizingly, actually impossible." — Kirkus Reviews (starred review)