Couplets: A Love Story (Hardcover)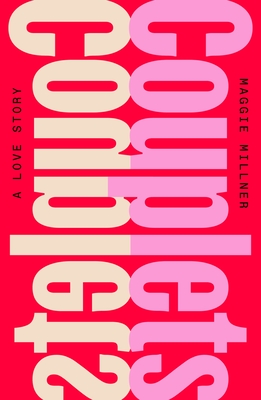 $25.00

Usually Ships in 1-5 Days
Staff Reviews
---
A beautiful story of self-discovery and new love, told in rhyme. Maggie Millner performs this short audiobook with a spare, confessional, and self-questioning style that gives shape to the transformation of her self-identity.
— Mike
Description
---
"An astounding debut."
—Adrienne Raphel, The New York Times Book Review

A dazzling love story in poems about one woman's coming-out, coming-of-age, and coming undone
A woman lives an ordinary life in Brooklyn. She has a boyfriend. They share a cat. She writes poems in the prevailing style. She also has dreams: of being seduced by a throng of older women, of kissing a friend in a dorm-room closet. But the dreams are private, not real.

One night, she meets another woman at a bar, and an escape hatch swings open in the floor of her life. She falls into a consuming affair—into queerness, polyamory, kink, power and loss, humiliation and freedom, and an enormous surge of desire that lets her leave herself behind.

Maggie Millner's captivating, seductive debut is a love story in poems that explores obsession, gender, identity, and the art and act of literary transformation. In rhyming couplets and prose vignettes, Couplets chronicles the strictures, structures, and pitfalls of relationships—the mirroring, the pleasing, the small jealousies and disappointments—and how the people we love can show us who we truly are.

"An endlessly inventive, wise, exhilarating book."
—Garth Greenwell, author of Cleanness and What Belongs to You
About the Author
---
Maggie Millner was born and raised in rural upstate New York. She teaches writing at Yale and is a senior editor at The Yale Review. Her poems have appeared in The New Yorker, The Paris Review, and Poetry. Couplets is her first book.
Praise For…
---
"An astounding debut. Ugh: astound? A word too easily tossed around, like 'lyric,' 'stunning,' 'heartbreaking,' 'gripping'—but, here, all are true . . . This is a book that seduces the brain . . . Millner's couplets enact high-wire acts of wit and poignancy."
—Adrienne Raphel, The New York Times Book Review

"Maggie Millner uses rhyme, confession, and surprising metaphor to create a fresh portrait of desire . . . Tremendously moving . . . In its most thrilling moments, Couplets dwells among the 'little folds' that join instinct and decision, and that thereby make up a life."
—Kamran Javadizadeh, The New Yorker

"Restless, imaginative and daring, Couplets advances the canon of the erotic."
—Kristen Millares Young, The Washington Post

"If you're on the hunt for a good book to reset your own brain, might I suggest Maggie Millner's Couplets: A Love Story? It's a story of romantic attachment and romantic betrayal told almost entirely in rhymed couplets, and it's a balancing act of such sly virtuosity that it may give you vertigo."
—Gregory Cowles, The New York Times Book Review (Editors' Choice)

"From an artistic standpoint, the perfection of Millner's aesthetic choices raise the erotic, emotional, and existential mess of a personal awakening toward the epic. The entirety of the action seems to take place in a little over a year, yet several lifetimes' worth of reflections and experiences are embedded in its pages."
—J. Howard Rosier, Vulture (Best New Books)

"Copulative pleasures abound in this spectacular debut . . . As the perfectly paced narrative unfolds, self-scrutiny about life and writing deepens . . . Erudite but never overbearing, this is a remarkable achievement."
—Publishers Weekly (Starred Review)

"Political and poetic considerations of storytelling—the pitfalls of narrativizing one's own life and the lives of others—infuse this absorbing tale of falling out and in and out of love . . . Reading Millner's poetry is as satisfying as submitting to a lover's touch."
—Ana Cecilia Alvarez, The Los Angeles Review of Books

"Couplets compelled me like a love affair—I didn't want to eat, didn't want to go to bed, didn't want to get off the subway, I just wanted to hear the story it was telling, which was, ultimately, a story about form–what are the forms (of intimacy, vocation, domesticity, verse, pleasure) we want to be held by, and to break free from? I cannot remember the last time I was this gripped by a voice or its questions. Reading it was a thrill, a rearrangement of my psychic molecules."
—Leslie Jamison, author of Make It Scream, Make It Burn

"A dazzling, feather-light tour de force—witty and effervescent and insightful, and so sexy, and so real. I want a time machine so I can give this book to my Eugene Onegin-obsessed teenage self!"
—Elif Batuman, author of Either/Or

"In this riveting debut, Maggie Millner makes the rhyming couplet—that supposedly staid, outmoded vehicle of 18th century moralism—an engine of radical metamorphosis and scorching sex. Couplets plunges us into desire so fierce it overwrites existence, exiling us from the lives we know. This is an endlessly inventive, wise, exhilarating book."
—Garth Greenwell, author of Cleanness and What Belongs to You

"In her luminous, electric debut, Millner creates an original form to express the headlong revelations, obsessions, and erotic geometry of love. Couplets is propulsive, poignant, and terrific at showing the way carnality is tethered to vulnerability."
—Dana Spiotta, author of Wayward

"Lovers of horny, rhyming poetry rejoice: Millner's 'love story in poems' arrives a week before Valentine's Day, just in time to tie your brain to its bedposts. Kink and queerness, power and polyamory—this debut by the senior editor of the Yale Review has it all."
—The Millions (Most Anticipated)

"Millner's story-in-verse is a metafictive marvel . . . Rich and unexpected . . . a gorgeous lesson in form."
—Barbara Egel, Booklist

"Millner's story-in-verse—trying to classify this wonderfully amorphous book about the fluidity of desire is entirely beside the point—centers on a woman who falls in love with another woman for the first time, a relationship that upends her ideas of intimacy and herself."
—Electric Literature (Most Anticipated)

"I want to throw this book across the room in rage at how good it is. Thrilling in its sincerity and intelligence, Couplets gives us everything: artistry, pathos, hilarity, style, and the sense (rare and wondrous) of a beautiful mind at work."
—Sarah Thankam Mathews, author of All This Could Be Different (National Book Award Finalist)

"Maggie Millner takes the stateliest of forms and feeds it to the flames of a consuming passion. Engined by rhyme, propelled by lust and hunger, Maggie Millner's Couplets—effortlessly learned and endlessly sexy—is already an exquisite exemplar of my queer poetic canon."
—Richie Hofmann, author of A Hundred Lovers

"A dazzling, virtuosic debut––and one of the best books I have read in a long time . . . This book has changed me."
—Aria Aber, author of Hard Damage

"A stunning debut, an instant classic . . . Sexy, sophisticated, surprising, propulsive, worldly, tender, formally masterful: who knew the nineteenth-century novel would find an astonishing critical efflorescence in poetry, in Brooklyn, in the twenty-first century?"
—Maureen N. McLane, author of More Anon