At Home: Special Illustrated Edition: A Short History of Private Life (Hardcover)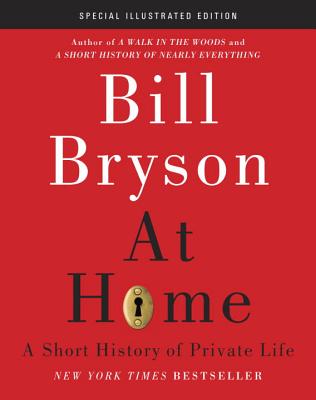 Staff Reviews
---
It's a fascinating and charming take on something we take for granted--our home. Bryson takes us on a tour of his Victorian English country home. Room by room he delves into history through anecdotes and well-researched tidbits, not to mention the delightful Bryson humor.
— Suzie
October 2010 Indie Next List
---
"This literary horn-of-plenty is brimming with an astonishing amount of information, all related with Bryson's trademark clarity and humor. To read this is to embark on a wonderfully meandering journey through history, sociology, science, and more. The thread that connects it all is Bryson's own house. He guides us through his home, a charming former church rectory in a small English village. His kitchen, for example, inspires writing on the rise of tea as a favored beverage, the huge portions consumed by Victorian diners, the grueling work expected of servants, and even the use of imported ice as a food preservative. Enjoy the tour!"
— Christopher Rose, Andover Bookstore, Andover, MA
Summer 2012 Reading Group
---
"Using his own home, an 1851 rectory in England, as a jumping off point, Bryson focuses his immense curiosity and incomparable writing skills on every aspect of 'home' to explore the history of why we live where we do and how we live. He takes us from room to room in this dynamic survey. You'll immediately want to share this with someone else. It's an 'Oh, let me read you just one more thing!' kind of book."
— Banna Rubinow, The River's End Bookstore, Oswego, NY
Description
---
From one of our most beloved authors, a fascinating excursion into the history behind the place we call home—now richly illustrated with more than three hundred images.

National bestseller At Home is Bill Bryson's epic chronicle of domestic history. In this handsome new edition, his riveting room-by-room journey of discovery around his house—a Victorian parsonage in southern England—is enhanced by more than three hundred carefully curated illustrations, the large majority
of them in full color. As he did in the hugely successful A Short History of Nearly Everything: Illustrated Edition, Bryson complements his sparkling prose with striking illustrations selected from a wide array of sources to create a feast for the eyes as well as the mind. He has one of the liveliest, most inquisitive brains on the planet, and he is a master at turning the seemingly mundane into an occasion for the most diverting exposition imaginable. When you've finished this book, you will see your house—and your daily life—in a new and revelatory light.
     In Bill Bryson's hands, the bathroom provides the occasion for the history of hygiene; the bedroom for an account of sex, death, and sleep; the kitchen for a discussion of nutrition and the spice trade. From architecture to electricity, from food preservation to epidemics, from the telephone to the Eiffel Tower, from crinolines to toilets—and the brilliant, creative, and often eccentric minds behind them—Bryson demonstrates that whatever happens in the world ends up in our houses, in the paint and the pipes and the pillows and every item of furniture.
About the Author
---
Bill Bryson's many bestselling books include A Walk in the Woods, I'm a Stranger Here Myself, In a Sunburned Country, Bryson's Dictionary of Troublesome Words, A Short History of Nearly Everything (which earned him the 2004 Aventis Prize), The Life and Times of the Thunderbolt Kid, and Bryson's Dictionary for Writers and Editors. He lives in England with his wife.
Praise For…
---
Praise for At Home

"Delightful . . . Bryson's enthusiasm brightens any dull corner . . . He is fascinated by everything, and his curiosity is infectious."
—The New York Times Book Review

"If this book doesn't supply you with five years' worth of dinner conversation, you're not paying attention."
—People

"An exuberant, shared social history . . . Told with Bryson's habitual brio . . . A personal compendium of fascinating facts, suggesting how the history of houses and domesticity has shaped our lives, language, and ideas."
—The New York Review of Books

"A treasure trove . . . Playful, yes, but Bryson is also a deft historian."
—Los Angeles Times

"The experience of reading a Bill Bryson book is something you don't want to stop—a pip and a spree and, almost incidentally, a serious education. And never tiresome, for Bryson has the gift of being the student and not the tutor."
—The Washington Post

"Readers who enjoyed Mr. Bryson's apparently inexhaustible supply of nifty facts in such previous books as A Short History of Nearly Everything . . . will be happy to find the author's pen as nimble and his narrative persona as genial as ever."
—The Wall Street Journal

"Reading Bill Bryson is like having one of those friends around who's always discovering something new—some pastime or place or piece of information—and can't wait to breathlessly pass it along."
—The Dallas Morning News