Night Boat to Tangier: A Novel (Hardcover)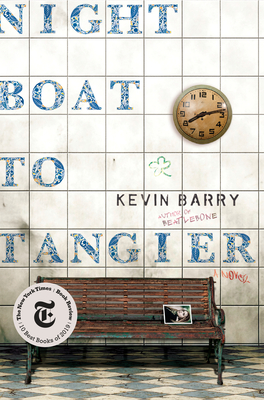 $25.95
Email or call for price.
Staff Reviews
---
It's Waiting for Godot if Didi and Gogo were two aging Irish drug dealers spending their days in a dingy Spanish ferry terminal. It's astounding BEAUTIFUL WRITING.
— Samantha
Description
---
One of The New York Times Book Review's 10 Best Books of 2019 
Named a Best Book of the Year by The New York Times Book Review, Lit Hub, The Millions, The Paris Review, and NPR 
No. 1 Irish Times Bestseller
Longlisted for The Booker Prize 

From the acclaimed author of the international sensations City of Bohane and Beatlebone, a striking and gorgeous new novel of two aging criminals at the tail ends of their damage-filled careers. A superbly melancholic melody of a novel full of beautiful phrases and terrible men.

In the dark waiting room of the ferry terminal in the sketchy Spanish port of Algeciras, two aging Irishmen -- Maurice Hearne and Charlie Redmond, longtime partners in the lucrative and dangerous enterprise of smuggling drugs -- sit at night, none too patiently. It is October 23, 2018, and they are expecting Maurice's estranged daughter, Dilly, to either arrive on a boat coming from Tangier or depart on one heading there. This nocturnal vigil will initiate an extraordinary journey back in time to excavate their shared history of violence, romance, mutual betrayals and serial exiles, rendered with the dark humor and the hardboiled Hibernian lyricism that have made Kevin Barry one of the most striking and admired fiction writers at work today.
About the Author
---
Kevin Barry is the author of the novels Beatlebone and City of Bohane and the story collections Dark Lies the Island and There Are Little Kingdoms. His awards include the International Dublin Literary Award, the Goldsmiths Prize, The Sunday Times EFG Short Story Award and the Lannan Literary Award for Fiction. His stories and essays appear in The New Yorker, Granta, and elsewhere. He also works as a playwright and screenwriter, and he lives in County Sligo, Ireland.
Praise For…
---
"A pleasure to have and hold." —Dwight Garner, The New York Times 

"Dark, haunting. . .Gripping. . .[It] calls to mind Samuel Beckett's Waiting for Godot. . .Barry's a remarkable sentence-level writer who's capable of extraordinary turns of phrase. . .Night Boat to Tangier is remarkable, a novel that's both grim and compassionate, and it features gorgeous writing on every page. Barry never asks the reader to pity his characters; rather, he makes it nearly impossible not to relate to them, which is a remarkable trick."—Michael Schaub, NPR

"Kevin Barry channels the music in every voice, from lowlife philosopher to slow-footed thug, ponderous wit to fluting child — and the comic genius in everyone, whether unfunny fool or God's own comedian." —Ellen Akins, The Washington Post 

"[A] high-low style of philosophical clowns out of Beckett or Jez Butterworth. . .Kevin Barry has a fine instinct for the sweet spot where the comforting familiarities of genre blend into the surprises and provocations of art. . .Barry has a great gift for getting the atmospheres of sketchy social hubs in a few phosphorescent lines, and much of the pleasure of the book is in being transported from one den of iniquity to another, effortlessly and at high speed. . .If you like your dark deeds illuminated by Dostoyevskian insight this might not be the book for you. But the sheer lyric intensity with which it brings its variously warped and ruined souls into being will be more than enough for most readers. It certainly was for me." —James Lasdun, The New York Times Book Review  
 
"A darkly incantatory tragicomedy of love and betrayal, haunted lineage and squandered chances. . .Barry rightly landed on the Booker Prize longlist with this, his beautifully paced, emotionally wise third novel. Spare in its prose, capacious in its understanding, it's as eerily attuned as his last one, Beatlebone, to the ancient spirits that flit through the Irish landscape, and as festering with unsavory personages as his debut, City of Bohane. . .Barry will lull you right under his spell and into a wary sympathy for the pain of these men with their battered, hopeful hearts." —Laura Collins-Hughes, The Boston Globe

"Capacious. . .It's Barry's voice that propels us through the work, through paragraphs punctuated by turns of phrase that deliver little jolts of pleasure. Like their author, his characters are aware of the implications and ironies of language. . .Maurice and Charlie aren't just career criminals; they're comedians, philosophers, poets, and social critics. Their conversation has rhythm and snap; it's funny, lyrical, obscene, metaphysical, unflaggingly alive. . .Formally daring and inventive. . .Night Boat to Tangier—and much of Barry's work—inspires us to rethink our ideas of character, of compassion and forgiveness." —Francine Prose, The New York Review of Books 

"Goodness, can the Irish talk? And can Barry write? Yes and yes." —PBS NewsHour

"Let me sing you a love song about Kevin Barry's Night Boat to Tangier. As much as a book about two criminally minded old Irishmen sitting at port, shooting the shit, and looking for a daughter gone missing can be a love story, this is a grand one. . .The book is brutal and funny about sadness and pain and I dare you to find a more narratively or stylistically thrilling chapter than "The Judas Iscariot All-Night Drinking Club." The prose is a glory. . . Hilarious, and seedy, and thrilling, but it's more than that, too, because in the end, the reader has to reckon with what it means to glamorize violence and Rumblefish-style machismo." —CJ Hauser, The Paris Review

"Tautly written. . .Dreamlike." —The New Yorker 

"Try the name Flann O'Brien. Try James Joyce. Try Roddy Doyle. Try Patrick McCabe. Try Wilde, try McGahern, try Behan. And now try the name Kevin Barry. See how it fits in perfectly among the others--Kevin Barry is one of the most original, daring, and seriously funny writers ever to come out of Ireland. I'd walk a hundred miles for a new Barry book and I would make the happy journey home, laughing." —Colum McCann, author of Let the Great World Spin 
 
"You read this, and you can tell Barry doesn't take his sentences lightly. It'd kill him to mess one up. And he doesn't waste them. So what you get is his style's flawless, and yet it isn't soft. There isn't anything nice about the story, just that it's told beautifully."  —Nico Walker, author of Cherry
 
"It's a Kevin Barry novel, so the brilliance is expected; everything else is a brilliant surprise." —Roddy Doyle, author of Paddy Clarke Ha Ha Ha 
 
"I devoured Night Boat to Tangier. I loved the potent truth of it all, drenched in damage and romance. The Barry turn of phrase is a true wonder of this world." —Max Porter, author of Grief is the Thing With Feathers
 
"A bloody mighty novel. It's audacious, but also it's Kevin Barry at his most tender. The novel carries a beautiful, mournful undertow to it, which is particularly affecting in a book so heavy with old myth and new poetry. May he keep twisting literature forever."—Lisa McInerney, author of The Glorious Heresies

"Wildly and inventively coarse, and something to behold. As far as bleak Irish fiction goes, this is black tar heroin."—Publishers Weekly