I Remember You (Paperback)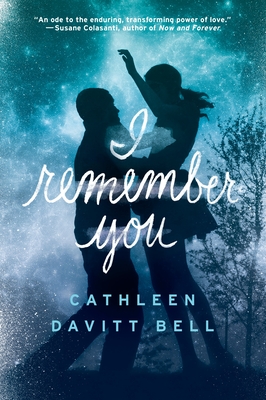 $9.99
Email or call for price.
Description
---
For fans of THE FUTURE OF US comes an engrossing story of two teens, whose love for each other is tested by time and fate.
 
Lucas and Juliet couldn't be more different from each other. But from the moment Lucas sees Juliet, he swears he remembers their first kiss. Their first dance. Their first fight. He even knows what's going to happen between them—not because he can predict the future, but because he claims to have already lived it.
 
Juliet doesn't know whether to be afraid for herself or for Lucas. As Lucas's memories occur more frequently, they also grow more ominous. All Juliet wants is to keep Lucas safe with her. But how do you hold on to someone you love in the present when they've begun slipping away from you in the future?

"An ode to the enduring, transforming power of love."  - Susane Colasanti, author of Now and Forever

"This is a book that shows you what true love is: heart-stopping, mind-bending, life-changing."
          - Melissa Cantor, author of Maybe One Day
About the Author
---
CATHLEEN DAVITT BELL is the author of Slipping and Little Blog on the Prairie, and a co-author of The Amanda Project. She received her undergraduate degree from Barnard College and her MFA in Creative Writing from Columbia University. She lives in Brooklyn, New York, with her husband and two children.
Praise For…
---
Praise for I Remember You

"Suspenseful, poignant, and devastatingly romantic, I Remember You perfectly captures the intense, ephemeral magic of first—and forever—love." —Micol Ostow, author of Amity

"A unique romance about a girl who is solidly rooted in the present and a boy who 'remembers the future' as if he's already experienced it. Is it possible to alter the future, and, if so, how?" —Lois Duncan, author of Stranger with My Face and Locked in Time

"Cathleen Davitt Bell gets all the gorgeous details right in this smart, fast-paced, romantic thriller about the love you choose and the love that chooses you." —Arlaina Tibensky, author of And Then Things Fall Apart

"I was breathless reading I Remember You, wishing I could time-travel to the end and find out exactly what happens—and yet, not wanting to miss a minute of the drama along the way. It read like a younger version of The Time Traveler's Wife." —Jen Calonita, author of Side Effects

"Bell's tense plot will keep readers invested in the dramatic and sometimes dangerous emotions evoked by first love." —Publishers Weekly

"Well-developed and multidimensional supporting characters contribute to the book's even pace. This romance novel has elements of science fiction, yet remains true and authentic to the intensity of feelings adolescents experience with their first loves." - School Library Journal