Besieged: Stories from The Iron Druid Chronicles (Hardcover)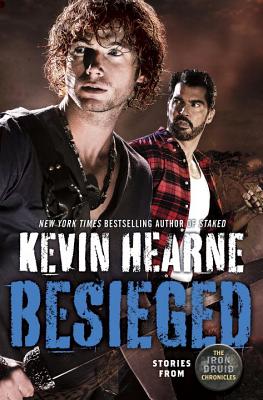 $27.00
Email or call for price.
Description
---
The ancient gods are alive and well in the modern world in this hilarious, action-packed collection of original short stories featuring Atticus O'Sullivan, the two-thousand-year-old Irishman from Kevin Hearne's New York Times bestselling Iron Druid Chronicles.

• In ancient Egypt, Atticus agrees to raid a secret chamber underneath the library of Alexandria, dodging deadly traps, only to learn that on-site security includes two members of the Egyptian pantheon. 
• At a Kansas carnival, fun and games turns to murder and mayhem, thanks to soul-snatching demons and flesh-craving ghouls luring visitors into an all-too-real house of horrors. 
• Verily, in olde England, striking up a friendship with William Shakespeare lands both Atticus and the Bard in boiling hot water with a trio of infamous witches. 
• During the Gold Rush, the avatar of greed himself turns the streets of San Francisco red with blood and upsets the elemental Sequoia. Atticus may have to fight fire with fire if he's going to restore balance.

More, you say? Indeed there is—including bogeymen, vampire hordes, wrathful wraiths, and even a journey to the realm of the dead. Prepare to be besieged with nine tantalizing tales—not to be missed, never to be forgotten.

Praise for Kevin Hearne's Iron Druid Chronicles

"Clever, fast paced and a good escape."—Jason Weisberger, Boing Boing

"Celtic mythology and an ancient Druid with modern attitude mix it up in the Arizona desert in this witty new fantasy series."—Kelly Meding, author of Chimera

"Outrageously fun."—The Plain Dealer, on Hounded

"Superb . . . plenty of quips and zap-pow-bang fighting."—Publishers Weekly (starred review), on Hounded

"An exciting mix of comedy, action, and mythology . . . [Atticus] is one of the best main characters currently present in the urban fantasy genre."—Fantasy Book Critic, on Tricked

"Funny, razor-sharp . . . plenty of action, humor, and mythology."—Booklist (starred review), on Shattered
About the Author
---
Kevin Hearne hugs trees, pets doggies, and rocks out to heavy metal. He also thinks tacos are a pretty nifty idea. He is the author of A Plague of Giants and the New York Times bestselling series The Iron Druid Chronicles.
Praise For…
---
Praise for Kevin Hearne's Iron Druid Chronicles

"Clever, fast paced and a good escape."—Jason Weisberger, Boing Boing

"Celtic mythology and an ancient Druid with modern attitude mix it up in the Arizona desert in this witty new fantasy series."—Kelly Meding, author of Chimera

"Outrageously fun."—The Plain Dealer, on Hounded

"Superb . . . plenty of quips and zap-pow-bang fighting."—Publishers Weekly (starred review), on Hounded

"An exciting mix of comedy, action, and mythology . . . [Atticus] is one of the best main characters currently present in the urban fantasy genre."—Fantasy Book Critic, on Tricked

"Funny, razor-sharp . . . plenty of action, humor, and mythology."—Booklist (starred review), on Shattered