Vietnamese Food Any Day: Simple Recipes for True, Fresh Flavors [A Cookbook] (Hardcover)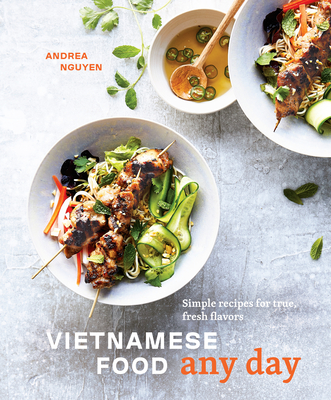 $24.99
Email or call for price.
Staff Reviews
---
Need a taste of the world while staying at home? Consider trying a new cuisine or recreating restaurant favorites with a new cookbook thanks to A Great Good Place for Books.
Like most of us, I'm cooking from my pantry and freezer and whatever is on my local supermarket shelves or can be delivered to my home. I definitely not going from store to store looking for specialty items. Fortunately, Andrea Nguyen has our backs. Her Vietnamese Food Any Day: Simple Fresh Recipes for True, Fresh Flavors (Ten Speed Press) adapts classic and Vietnamese-inspired recipes for American kitchens and grocery store ingredients.
Bo Kho (Beef Stew) prepared by Faith Kramer
The book features 80 vegetarian, meat, fish, and chicken-based recipes from basics to snacks, soups, salads, main courses, side dishes and dessert. Whether you make her shaking beef or tofu, smoked turkey pho, beef stew (bo kho), coconut-kissed chicken and chile in caramel sauce, sandwiches or salad rolls, the results are delicious, the recipes streamlined and the suggestions, advice and explanations timely and helpful even for a Vietnamese food novice.
Coconut-Kissed Chicken & Chili prepared by Faith Kramer
Nguyen, the author of several other Vietnamese cookbooks, knows both the authentic versions of the classic dishes and the workarounds her refugee mother had to create from the supermarkets in her new country. She continues this evolution in her cookbooks where writing for a broader audience meant sourcing more ingredients in America's supermarkets. The recipes, which she calls "streamlined, not dumbed down" use ingredients found at most "mainstream market chains" and don't use special pots or utensils. (Some recipes do have a pressure cooker option.)
The book offers a section on ingredients and recommended brands and suggests substitutes and gives recipes for basics. All throughout she gives comprehensive instruction on how to get flavor-packed results the first time with detailed explanations, photographs and hands-on advice.
About Faith Kramer:
Faith Kramer is an Oakland resident and a longtime GGPB customer. She writes a twice-a-month food and recipe column for www.jweekly.com. She also blogs her food at www.clickblogappetit.com. Her first cookbook is due out in 2021. Send questions and comments to her at clickblogappetit@gmail.com.
— Faith Kramer (guest reviewer and food blogger)
Description
---
Delicious, fresh Vietnamese food is achievable any night of the week with this cookbook's 80 accessible, easy recipes.

IACP AWARD FINALIST • NAMED ONE OF THE BEST COOKBOOKS OF THE YEAR BY NPR • The Washington Post • Eater • Food52 • Epicurious • Christian Science Monitor • Library Journal

Drawing on decades of experience, as well as the cooking hacks her mom adopted after fleeing from Vietnam to America, award-winning author Andrea Nguyen shows you how to use easy-to-find ingredients to create true Vietnamese flavors at home—fast. With Nguyen as your guide, there's no need to take a trip to a specialty grocer for favorites such as banh mi, rice paper rolls, and pho, as well as recipes for Honey-Glazed Pork Riblets, Chile Garlic Chicken Wings, Vibrant Turmeric Coconut Rice, and No-Churn Vietnamese Coffee Ice Cream. Nguyen's tips and tricks for creating Viet food from ingredients at national supermarkets are indispensable, liberating home cooks and making everyday cooking easier.
About the Author
---
A bank examiner gone astray, Andrea Nguyen is living out her childhood dream of being an award-winning writer, editor, teacher, and consultant. Her impactful books—Into the Vietnamese Kitchen, Asian Dumplings, Asian Tofu, The Banh Mi Handbook, and The Pho Cookbook—have been recognized by the James Beard Foundation, International Association of Culinary Professionals, and National Public Radio for their excellence. She edited Unforgettable, a biography cookbook about culinary icon Paula Wolfert. Andrea has contributed to many publications, including the Washington Post, Wall Street Journal, Lucky Peach, Saveur, and Cooking Light.
Praise For…
---
"Nguyen cleverly incorporates techniques and ingredients from other parts of the world into her Vietnamese recipes to make it possible for someone almost anywhere to shop and cook on any old weeknight."
—Bon Appetit

"Nguyen's newest is as utilitarian as it is innovative."
—Publishers Weekly

"Packed with bold new recipes and expert advice, Vietnamese Food Any Day opens up a world of exciting flavors to cooks at any level. WIthin hours of getting my hands on this book, I charged into the kitchen to make Shaking Beef and Easy Soy Sauce-Glazed Zucchini. Both winners! I'll be adding these and many more of Andrea Nguyen's thoughtfully crafted recipes to my weeknight repertoire."
—Molly Stevens, author of All About Roasting and All About Braising

"Andrea Nguyen is a masterful and irrepressible guide to Vietnam's cuisine and culture. Vietnamese Food Any Day delivers big, bold flavors translated for the American kitchen. It's exotic simplicity at its best."
—Christopher Kimball, founder of Milk Street

"From beginners to more experienced cooks, everyone will benefit from Vietnamese Food Any Day, which demystifies ingredients and techniques so anyone can make extraordinary, authentic Vietnamese food at home. I've been using Andrea's recipes for years and each one has been a sure-fire hit. I'm thrilled to have this collection of favorites that are easy to master, from snacks and soups, to shaking beef and spicy sweet tofu!"
—David Lebovitz, author of My Paris Kitchen and The Perfect Scoop


Praise for The Pho Cookbook:

"With the same clarity and care displayed in her previous books, Nguyen guides even the nervous first-time pho navigator to slurp-worthy success."
—NPR.org, Best Books of 2017

"Nguyen's recipes are a cook's dream...This is not unique to The Pho Cookbook; cooking from any of Nguyen's books is like listening to an incredibly patient friend explain a recipe over the telephone."
—Lucky Peach

"Nguyen is a master teacher when it comes Vietnam's national dish, and in her new book she provides meticulously clear instructions for every imaginable variety--we recommend you cook through every chapter."
—Food & Wine

"Nguyen is teaching a master class that ninth-graders can comprehend....[she] is respectfulof our time without diminishing quality."
—Food52