The Fish Who Cried Wolf (Hardcover)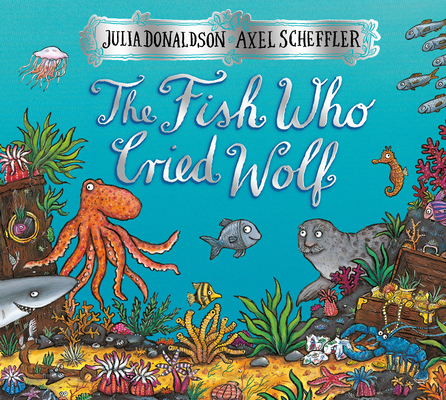 $17.99

Usually Ships in 1-5 Days
Description
---
Now back in print from the award-winning team behind Room on the Broom -- a very fishy story about very fishy stories!The little fish Tiddler comes late to school every day, but always with an elaborate excuse that charms his classmates -- and annoys his teacher! One day, as he's thinking up his next story, a net sweeps him up and hauls him far away. How will Tiddler find his way home? All he has to do is follow the trail of his biggest, fishiest story yet!For every parent or teacher who knows the boundless creativity of a perpetually late child, this book is sure to become the next read-aloud favorite from the bestselling author-illustrator team behind The Gruffalo and Room On the Broom.
About the Author
---
Julia Donaldson served as the UK Children's Laureate from 2011 to 2013 and has written many bestselling and beloved picture books and novels for young readers. She lives in Glasgow, Scotland, with her husband, Malcolm.
Axel Scheffler's award-winning books include Room on the Broom, The Snail and the Whale, and The Gruffalo. His illustrations have been published in more than 30 countries. He lives in London, England.
Praise For…
---
Praise for The Fish Who Cried Wolf"A charmingly illustrated story about a plain gray fish who 'blew small bubbles' but 'told tall tales..." Donaldson's gently paced cautionary tale is populated by Scheffler's comical undersea creatures... and the effect is always amusing." -- New York Times Book Review"Donaldson's rhyming text is crisp and clean, leaving plenty of metaphorical room for Scheffler's expansively imagined art. Always gifted at conjuring up entire worlds (even his spot illustrations feel animated and lovingly detailed), he creates an ocean effervescent with texture, color and vividly expressive personalities. And Tiddler is an excellent reader surrogate: spunky, wide-eyed and ultimately triumphant." -- Publishers Weekly"The colorful, detailed illustrations feature an endearing cast of undersea denizens with the text woven through on clean white space... An engaging book to share." -- School Library Journal

Praise for The Fish Who Cried Wolf"A charmingly illustrated story about a plain gray fish who 'blew small bubbles' but 'told tall tales..." Donaldson's gently paced cautionary tale is populated by Scheffler's comical undersea creatures... and the effect is always amusing." -- New York Times Book Review"Donaldson's rhyming text is crisp and clean, leaving plenty of metaphorical room for Scheffler's expansively imagined art. Always gifted at conjuring up entire worlds (even his spot illustrations feel animated and lovingly detailed), he creates an ocean effervescent with texture, color and vividly expressive personalities. And Tiddler is an excellent reader surrogate: spunky, wide-eyed and ultimately triumphant." -- Publishers Weekly"The colorful, detailed illustrations feature an endearing cast of undersea denizens with the text woven through on clean white space... An engaging book to share." -- School Library Journal