Been There, Done That: School Dazed (Hardcover)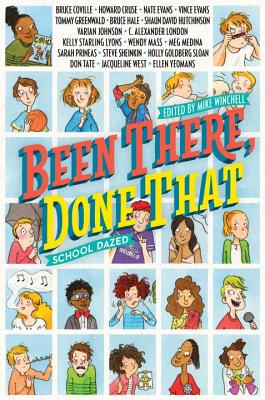 Description
---
School is in session as celebrated authors share their real-life academic experiences and turn them into fiction!

To some kids, school means homework, bus rides, or band practice. To others it means bullies, tough teachers, or pranking the substitute. In this second collection in the Been There, Done That series, authors describe a standout story from their school days. As with the first anthology, each author will contribute a narrative nonfiction account that serves as the inspiration for an original fictional short story. The contributing award-winning and best-selling middle-grade authors include Holly Goldberg Sloan, Kelly Starling Lyons, Tommy Greenwald, Wendy Mass, Bruce Hale, Jacqueline West, Ellen Yeomans, Vince Evans, Nate Evans, Sarah Prineas, Steve Sheinkin, Shaun David Hutchinson, Don Tate, Varian Johnson, Howard Cruse, Meg Medina, C. Alexander London, and Bruce Coville.
About the Author
---
Mike Winchell is a veteran English teacher and a secondary education curriculum specialist. He lives in upstate New York with his wife and two children, where he writes middle grade fiction and edits middle grade and young adult anthologies.

Eglantine Ceulemans was born in the flemish Belgium and lived there for 10 years. She then moved to France, where she currently resides in Lyon. In 2007, she joined the Emile Cohl School of Art there, transforming her passion for illustration into a vocation. She loves combining humor and sensitivity in a way that touches both children and their parents in her illustrations. Eglantine has been published in France and abroad for both fiction and illustrated books.